The domestic aviation sector is on the 'upswing' and is at an inflection point: Civil Aviation Minister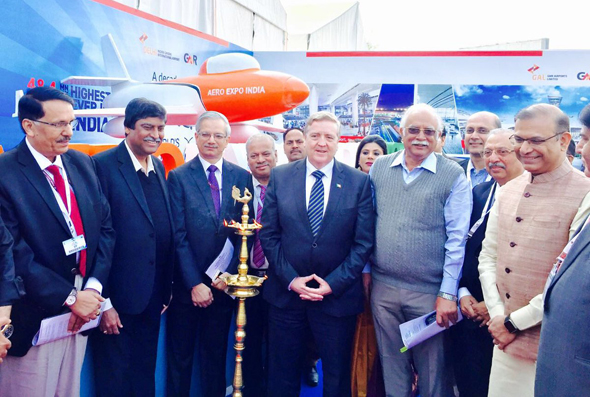 Inaugurated the Aero Expo India at IGI airport on November 18, 2016, first such initiative at New Delhi to bring all aviation stakeholders together
The general aviation and business aviation segment is keenly watching how the regional connectivity scheme (RCS) will evolve in due course as its future is inter-connected. At the inaugural two-day Aero Expo Conference, organised by the PHD Chamber of Commerce in New Delhi recently, the general aviation and business aviation community was in good numbers to voice its requirements and concerns.
It was more a conclave of the general aviation and business aviation community as the regional players were conspicuous by their absence. The dominant regional player Air Costa, who is going national, was missing, so was TruJet. We all know the story of Air Pegasus which has got suspended by the DGCA for financial reasons.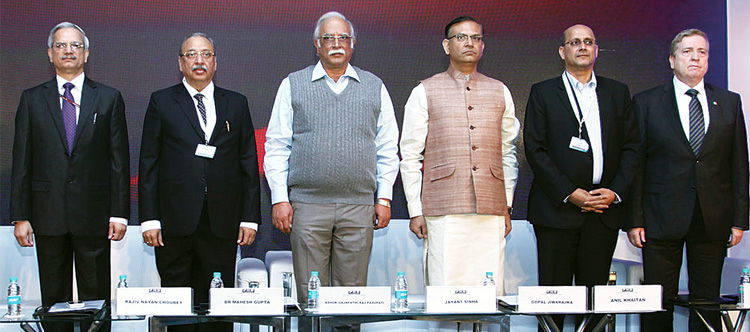 (L-R) R.N. Choubey, Secretary, MoCA; Dr Mahesh Gupta, President, PHD Chamber of Commerce; P. Ashok Gajapathi Raju, Minister, MoCA; Jayant Sinha, Minister of State, MoCA; Gopal Jiwarajka, Senior Vice President, PHD Chamber of Commerce; Pat Breen T.D., Minister for Employment and Small Business, Ireland
The heartening aspect was that there were a number of business aviation and general aviation players with the Business Aircraft Operators Association (BAOA) as one of the co-associates of the conference. The event was supported by GMR, Gyrox, Execujet Avaition Group, Pawan Hans, Airports Authority of India, Air India, Zoom Air, Airbus Helicopters, ATR, Embraer Commercial Aviation, Airawat, Club One Air, Arrow Aircraft, Airawat, FSTC Simulators, Continental Carriers and a few others.
Inaugurating the conference, the Minister of Civil Aviation, Ashok Gajapathi Raju said the government is exploring all possibilities for capacity expansion of leading airports in the country as many of them are choking at the seams, even as around 30 airports are non-operational. The government would ensure that regional air connectivity is accomplished as outlined in the UDAN (ude desh ka aam nagrik – the common man will fly) initiative. The domestic aviation sector is on the 'upswing' and is at an inflection point.
The Minister also stressed that though the domestic civil aviation industry has been growing at a rate of more than 20% in the last few years, higher passenger growth in civil aviation sector is still a challenge for the government which could be won with addition of capacities in India's leading airports. "We are taking all possible steps in making India the 3rd largest aviation market", he added.
The Minister of State for Civil Aviation, Jayant Sinha said 'UDAN" is off to a very strong start. The sector has potential to catch up with China which at present has 500 million passenger movement compared to India's 150 million passengers every year. The ministry, he mentioned, had adopted a three-pronged strategy under its 'UDAN' initiative – expansion of airport capacities; ensuring regional connectivity and equipping the passenger with better level of satisfaction and experience under its Air Sewa initiative.
The Civil Aviation Secretary, R.N.Choubey said the priorities were regional air connectivity, ensuring air travel is comfortable and convenient, and expanding airport capacities. Domestic aviation sector is expected to see more than 20 per cent growth in the next three years which also poses challenges. The Irish Minister, Pat Breen emphasized that India and Ireland should have stronger partnership to expand India's civil aviation sector as Ireland is one of the global leaders in this sector, particularly in aviation leasing. Appreciating the Aero Expo 2016, Mr. Breen said that it was a hit show and Ireland looks forward to it every year.
The Chairman of the Civil Aviation Committee, PHD Chamber, K Narayana Rao proposed that the civil aviation sector should be brought under priority lending scheme of the government, especially for acquiring smaller aircraft for enhanced regional air connectivity. The co-Chairman of the Civil Aviation Committee, Bhupesh Joshi along with Secretary General and Director of the Chamber Saurabh Sanyal were also present on the occasion in which a knowledge report by Auctus Advisors was released and an MoU was signed between FSTC Simulators and ATR, turboprop manufacturers. The vote of thanks for the inaugural session was by Bhupesh Joshi, Co-Chairman of the Civil Aviation Committee and CEO of Club One Air.
There were a number of exhibitors who drew attention and they included Arrow Aircraft, Gyrox Aviation, FSTC, Club One Air, Pawan Hans, Zoom Air, Airawat, GMR etc. Arrow Aircraft's Rohit Kapur and former President of BAOA was very vocal about regional connectivity and the potential for business and general aviation operators.
Arrow Aircraft was showcasing the Viking Twin Otter Series 400 aircraft which is suitable for remote connectivity and seaplane operations. This is going to be a game-changer as for as coastal surveillance, remote connectivity and other aviation related activities are concerned. Arrow Aircraft is the only authorised sales representative for Gulfstream in India and also for Jet Aviation, MRO which is based in different countries. Arrow Aircraft is into air charters, aircraft management, aircraft acquisitions and appraisals.
The President of Airbus Helicopters (India) Xavier Hay said India with 270 odd helicopters was a market with low penetration, less than the number of helicopters either in Switzerland or Netherlands. The potential for growth in the next decade was huge, considering how the number of pilgrims to Kedarnath was on the rise. Tourism and other services would open up opportunities for helicopters which had substantial capital investment. Airbus, he said, would continue to grow its long-standing partnership with Pawan Hans which has a huge helicopter fleet.
The Managing Director of Business Aircraft Operators Association (BAOA), Capt. R.K.Bali said VGF is a contentious issue and sought differential VGF based on the seating capacity of the aircraft, factoring in the 10 to 20 seaters. The VGF of Rs. 4270 for one hour flight was not realistic for a small aircraft. As regards permitting self ground-handling, the non-scheduled operators can be 'testing ground' in the scheme. However, he underlined that the intent of the Ministry was appreciated, it was shortfalls in implementation which could derail any initiative.
The panel discussion on leasing chaired by Mr. Bhupesh Joshi, CEO of Club One Air, dwelled at length on how to navigate the complicated waters of leasing, muddied by Kingfisher Airlines. Mr. Joshi mentioned the meaningful discussions industry professionals had with the delegation from Ireland which has many aircraft leasing companies. Getting an aircraft on lease, particularly in general aviation, is a major issue.
Mr. Uday Naidu said one concern in the sector, particularly in aircraft acquisition and maintenance, is the issue of GST (goods and services tax) which may be detrimental to the aviation sector where aircraft and aircraft parts are mostly imported.
Nanda Kumar said aviation leasing was basically a techno-financial-legal contract and it is skewed in favour of the lessor. The lessee has to fight his way out in the deal and unless one is well-versed with the leasing business, the chances of a person losing heavily was high. Lessees, he suggested, should go for 6 years to 12 years leasing as it would not only give better rates, but also help in knowing what direction the company is heading.
In the session on skill development, Mr. Naidu said that one lakh skilled technicians were required in the next five years, considering the massive induction of aircraft that is likely to happen in India. Presently, the quality of training of maintenance engineers and other staff was not good and students who graduated from the many institutions needed further training on the job.
P.S.Nair said that the sector which employs one million directly and 3 million indirectly, would require a huge number of highly skilled persons in the near future. The skill gap would further widen by 2035, if measures were not initiated now.
Vikas Khanna of FSTC said his company was a one-stop-shop for training of cabin crew and other airline and airport staff. The company had imparted training to 8,500 flight crew in less than one year, reflecting the trust that airlines in India have on FSTC. He mentioned that FSTC had tied up with ATR with regard to training of personnel.
It was felt that training currently being imparted for prospective civil aviation human resource and personnel are substandard and needed significant improvements for their sustained employment to effectively serve the passenger and cargo services of the civil aviation sector. Since investments in such training institutes are meagre, the equipment and other facilities in them are not up to the mark to provide training and skills that are required for coming times in aviation. It was also recommended for the government to open a series of training and skills institutions for growth of the domestic civil aviation and its effective operations on lines of IITs and IIMs.
Col. Rampal Suhag, Chairman and Managing Director of Gyrox Aviation, presented the Gyroplane which when approved by the DGCA has the possibility of becoming a mode of transportation for the rich class. The Gyroplane is a twin-seater aircraft which can takeoff with just 100 metre runaway and runs on high octane and costs less than Rs. two crores.
The two days event concluded with felicitating industry leaders in various categories such as - Lifetime achievement Award in Aviation - G.M.Rao of GMR Group; Aviator in Public Service - Rajiv Pratap Rudy, Minister of State (IC), Ministry Of Skill Development And Entrepreneurship; Turnaround Turk in Aviation (Public Sector) - Ashwani Lohani, CMD, Air India; Largest Aviation Operator-Offshore & North East - Pawan Hans; , Exemplary Greenfield Initiatives in Aviation - Airports Authority of India; and Significant State Contribution towards Aviation – Gujarat.