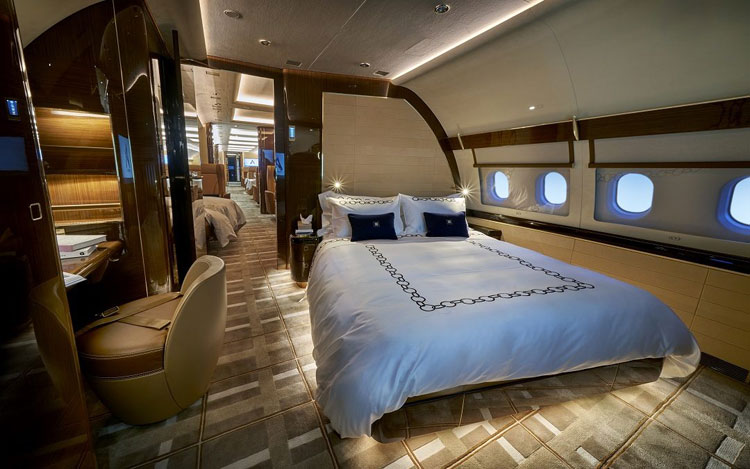 ACJ 320neo: study desk in master bedroom
AMAC Aerospace is pleased to announce that the very first Airbus ACJ 320neo has been returned to service to UK based Acropolis Aviation after a 13 months green completion at AMAC's headquarters in Basel, Switzerland.
The Airbus ACJ 320neo was the very first aircraft of this type delivered by Airbus Corporate Jets for VVIP configuration in early 2019. The launch customer for the Airbus ACJ 320neo, Acropolis Aviation, is enhancing its bespoke aviation services with the addition of this VVIP aircraft. Building on the success of its existing Airbus ACJ 319, the ACJ 320neo will provide additional range via new high-efficiency engines and the addition of drag-reducing sharklets.
Acropolis Aviation, based at Farnborough Airport, UK, selected the well-known design studio 'Alberto Pinto' for the bespoke interior design of its Airbus ACJ 320neo. Precious materials like finest leather and exquisite wood veneers have been used to outfit the cabin in an exclusive and elegant design, and pure craftsmanship represents the quality of AMAC's work. In addition to that, the latest technologies provided by Rockwell Collins such as HD cabin management and entertainment systems, audio/video on demand, AVOD streaming solution, Moving Map and LED interior lighting system have been installed inside the aircraft.
"With great pleasure, we have executed this completion project with Acropolis Aviation, as one of the world's leading private aviation operators. This unique mission adds to the excellent reputation that AMAC has gained in the market which we continuously demonstrated over the last 20 VIP/ 25+ VVIP and refurbishment/modification projects at AMAC Aerospace," said Mr. Bernd Schramm, Group Chief Operating Officer of AMAC Aerospace.
"The quality offered by AMAC Aerospace is second-to-none. We needed to select the right outfitter to bring our vision to life, and from our point of view AMAC demonstrated to us they had the skill and creativity to do this better than anyone else," said Mr. Jonathan Bousfield, CEO of Acropolis Aviation. "We are extremely pleased to see the aircraft now returning to service and be at full disposal for our esteemed customers."