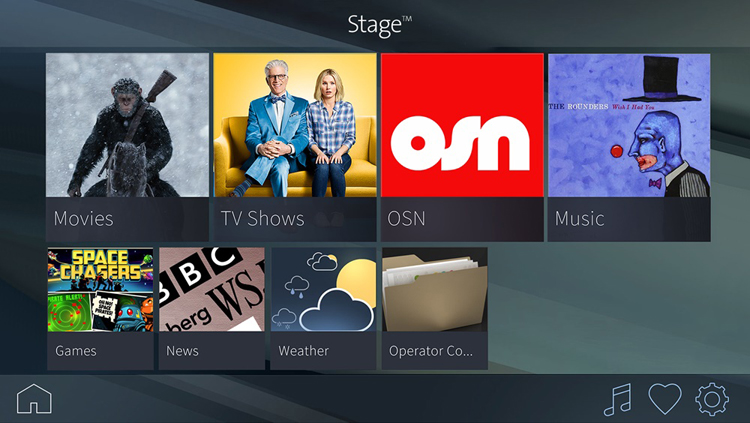 Orbit Showtime Network (OSN) programming is now available on StageTM wireless streaming and content management service
Rockwell Collins has signed an exclusive agreement with Orbit Showtime Network (OSN), the leading entertainment network in the Middle East and North Africa, for premium Arabic TV series on its Stage™ wireless streaming and content management service for business aircraft. The multi-year agreement provides Rockwell Collins with 3,000 hours of high-definition (HD) content, including dramas, comedies and lifestyle programming.
"This is a great opportunity for our customers in the Middle East region to get the content they want, right at their fingertips," said Taylor Prosba, director, Cabin Information Systems for Rockwell Collins.
Elie Kawkabani, senior vice president, Business Development at OSN said, "We are excited to be entering this business relationship which will extend our suite of Arabic content to Rockwell Collins' customers. Both OSN and Rockwell Collins are dedicated to delivering elite experiences, and I'm delighted that the best of our Arabic dramas, TV series and movies will be enjoyed on Stage. This new deal solidifies our commitment to promoting entertainment made in the region, for the region."
OSN has a history of providing exceptional value for customers with its focus on offering the latest and most in demand content. OSN's unbeatable range of Arabic programming has been well-established through its partnerships with international and regional studio majors, making OSN an industry-leader in the Middle East.
Stage is a total content delivery solution that enables passengers to stream and manage media including digital rights management (DRM) protected movies and TV shows. Rockwell Collins has secured content licensing rights with major Hollywood studios and other content providers to ensure proper management and acquisition of the latest content available.
OSN content will be available on Stage beginning this month.