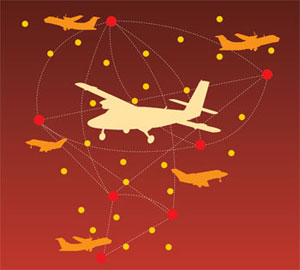 The release of National Civil Aviation Policy 2016 (NCAP) by the government was the first recognition by national policy makers of the important role played by business aviation (BA) in a fast developing nation that aspires to be in the list of elite economies of the world. Let's make no mistake about it — having efficient and reliable connectivity to each nook and corner of a country is the first sign of sincerity of a national government aiming genuinely for inclusive growth. India cannot hope to become a developed nation if seamless and affordable air connectivity is not achieved on pan-India basis soon. The very first area NCAP touched upon is the regional connectivity, with focus on reviving unserved and underserved routes and destinations. Subsequently, the Ministry of Civil Aviation (MoCA) launched the specific Regional Connectivity Scheme (RCS) in October last year, christened as UDAN, offering tax incentives and Viability Gap Funding (VGF) to kick-start the ambitious plan to provide air connectivity to all parts of India.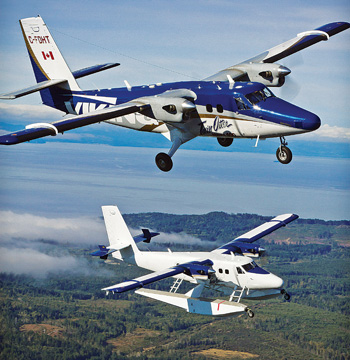 India Bound?
Dassault Viking DHC-6 Series 400 Twin Otter
Business Aviation & RCS. The emphasis on unserved or underserved airports and routes in RCS leads to the indirect acceptance of the role played by BA, hitherto, in connecting remote parts of the nation. While there is nothing wrong about categorising aircraft participating in RCS as per seating capacity, it is the category of less than 20 seats that would remain most relevant for future success of RCS. Indian BA industry predominantly comprises aircraft in this very category. RCS also provides for bulk of VGF (70 per cent) for the unserved airports, presently being served only by BA flights. The runway length available at most unserved airports allows for only smaller aircraft (<20 seats) to operate to connect small cities and towns with each other. While the underserved routes would develop on its own when average income levels go up in India, the unserved ones would need greater support in terms of creation of the right ecosystem. The first step forward would be breaking the myth of BA providing just charters for the rich class.
BA in India. Business aviation in a fast developing economy like India provides efficient connectivity to places not connected by airlines. That is the bulk part of flying undertaken by non-scheduled operators (NSOP) in India. Even the majority of privately-registered aircraft are being used to connect with industrial towns where no airline is operating. It implies that NSOP aircraft, which are part of BA, would remain the main source for immediate launch of RCS. It was, therefore, expected that RCS would do everything possible to facilitate seamless use of NSOP aircraft for connecting unserved airport, for which big chunk of VGF has been earmarked. While there has been never any doubt on government's firm commitment to make RCS a real success, the response has been limited, as indicated in the first round of bidding process. The reasons behind this are more to do with the dire need to change the way BA's role is being perceived in our country as that of just serving some business houses.
If RCS and country's economy are to progress fast, both the regulator and tax authorities would have to soon get themselves aligned with treating BA and SCA at par
BA & RCS Need Same Taxation/Regulations. Looking forward to RCS fully meeting its stated purpose, the need is to distinguish between commercial BA and private BA. There are big industries that need exclusive aircraft for meeting business demands and undertake revenue flights to unserved destination for efficiently running their establishments. And, there are others which have limited need for such flights due to size or scale of their establishments in remote areas. Both of these can be facilitated to utilise spare capacity for planning RCS flights. This would require adequately addressing the taxation issues due to prevailing differential tax structure between BA (NSOP) and scheduled commuter airlines (SCA). Being part of same commercial transportation system, the tax structure should be same, zero import duty for NSOP and SCA to ensure seamless use of the spare capacity of the same aircraft in RCS. The regulatory issues should also be addressed before the next round of RCS bidding. The International Civil Aviation Organisation (ICAO) does not distinguish between different types of commercial operations and professional regulators around the world make proportional regulations for commercial operations based on type, size, passenger capacity and area of operation. This philosophy has to still take root with regulator in India. While showing more flexible approach than ever before, the Directorate General of Civil Aviation (DGCA) is not yet agreeable to single-engine operations in RCS in spite of the fact that such aircraft have been undertaking NSOP operations for years. There are still unresolved issues regarding CAP 3100 certification which is a must before launch of any commercial operations.
Fast-tracking RCS. There is no doubt that RCS is bound to succeed, given the resolve shown by the MoCA's team working on this great initiative by the government. The need of the hour is paradigm shift in the way BA has been perceived so far by the regulator and taxation regimes. Rather than being restrictive while framing regulations, DGCA has to focus more on self-regulation through SMS and deal wilful violation with exemplary punishment. Immediate introduction of e-filing system, as already followed by many ministries, and implementing e-DGCA without further delay is a must. The taxation authorities would do country's exchequer a favour by abolishing import duty on aircraft and focusing on getting much higher kitty of indirect taxes through more number of revenue flights than impeding growth of aircraft import through irrational taxes on BA aircraft. If RCS and country's economy are to progress fast, both the regulator and tax authorities would have to soon get themselves aligned with treating BA and SCA at par.