BAOA is quite confident that further improvements in existing RCS would continue to take place as more experience is gained by all – regulators, government and the operators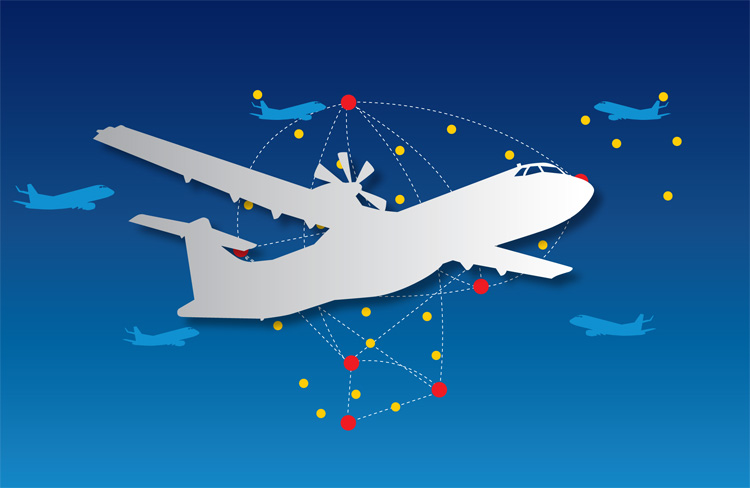 In the past, regional airlines have not been successful in India. The most recent cases have been of Air Pegasus and Air Costa. It would, therefore, remain a big challenge to develop new routes from scratch and make them commercially viable in the near future. The government, having understood this challenge, has come up with a regional connectivity scheme (RCS) christened as 'UDAN' which stands for 'Ude Desh ka Aam Naagrik' – to enable every citizen of India fly on hinterland domestic routes.
Viability gap funding (VGF) is a very important component of UDAN. The whole idea behind 'VGF' is to provide government's support or 'hand holding' to an enterprising operator, who believes the domestic routes, involving un-served/under-served airports, being proposed for VGF, might not have been viable earlier but, have reasonable potential to become progressively profitable in the next two to three years.
Five operators in first round
First response to UDAN has been quite satisfactory and full credit must be given to the entire team at the Ministry of Civil Aviation (MoCA) for tirelessly working to make it happen. Five operators have taken up the challenge to develop new air routes and two of them are existing non-scheduled operators (NSOP). Flexibility exists in UDAN to operate up to 80-seat aircraft, with VGF seats being limited to 40. It would be advisable to carefully select aircraft, specifically for each route. It is possible that, for the very first bidding process, there might have been some rush to put bids in time. Therefore, operators of UDAN must do weekly review of traffic trends on routes chosen by them and start thinking 'out of the box' to find ways and means to quickly ensure reduced dependence on VGF. Every UDAN operator must aim to commercially develop such new routes, hitherto unused/underused airports, within a period of one to two years for optimal and fair utilisation of limited funds available for UDAN.
Capitalisation being critical aspect in aviation business, there ought to be well-justified requirement for 'paid up' capital. This is to ensure only serious players take part in UDAN scheme. However, here government should also step in to offer cheaper loans for 'start up' companies bidding for RCS. There have always been visionary planners in every nation, who may not have enough capital but, have the right plans and are gritty enough to emerge winners out of very challenging situations.
Fast-tracking multiple applications
In the past, the Director General of Civil Aviation (DGCA) had been taking long time to process first time applications for AOPs (air operator permit). It has done very well for UDAN by fast-tracking multiple applications for AOP to help launch UDAN in a very tight time-frame. Positive changes are, thus, taking place at a fast pace in the Indian aviation industry. The Ministry has been making sure that, for all the stakeholders meetings, senior representatives from the DGCA, headed by the DG himself, are present to address genuine concerns of the operators. The DGCA functioning is being constantly improved. While the e-GCA implementation, for ensuring all approvals are given online, has gone much beyond the NCAP's target date of December 2016.
The Business Aircraft Operators Association (BAOA) has been consistently urging the government to implement e-filing system in the DGCA immediately for ensuring quick movement and tracking of each file. This would bring greater accountability and address concerns regarding regular misplacement of files in the past. However, it is the duty of each RCS operator to diligently and correctly prepare all the required papers for timely processing by the regulator.
Having started this ambitious scheme to provide air connectivity to remote areas of India, it is imperative to do constant 'risk assessment' to make sure that participating airlines do not collapse the way some of them did in the past even when support from the State Government. was there. While the DGCA is expected to maintain the optimal level of safety oversight, the risk analysis applies more to financial institutions than the regulator. Financial institutions have fair degree of freedom in India and they must do comprehensive risk analysis before advancing further loans and carry out constant monitoring of airline's balance sheets in terms of meeting financial obligations.
Gradual upgradation of airports
The Airports Authority of India (AAI) will also need to be vigilant in committing financial resources while activating scores of unused airports – hire new staff, create new assets like mobile air traffic control (ATC) towers and spend large sums of money to support new routes. Learning from the past experience, it would be advisable to plan for gradual upgradation of airports and ensure judicious use of limited funds. The unutilised air strips, where RCS would start first time, should have the DGCA's approved SOPs (standard operating procedures) in place for safe operations when existing facilities are not being upgraded to the required standards due to lack of adequate funds. As the frequency of flights increases, more funds could be pumped in to move gradually towards developing air strip to higher standards.
UDAN gives the wings to Indian hardworking citizens who have begin to value their time as they acquire better skills in our fast growing economy. Surely, this would provide the much desired impetus to our economy and catapult growth rate to double digit in coming years.
The anxiety of airline operators on levy being imposed, varying from 7,500 to 8,500 per flight, to raise funds for UDAN, is largely misplaced. It need to be appreciated that the levy being imposed by the government is in public interest and for long-term development of aviation infrastructure in India that would ultimately benefit the airlines when UDAN passengers graduate on to fly on longer routes flown by airlines.
Niggling regulatory issues
There are some non-scheduled operators who are not too happy at not being part of the first phase of UDAN. Some of these could not be in the group of successful bidders. Then, there are some waiting and watching to see how successful the RCS would prove to be. There are some regulatory issues holding some of the operators, interested in low density routes, like approved passenger capacity for singleengine aircraft. Some of the operators have issues concerning the proposed 'high initial' application fee in the draft SCA's (schedule commuter airline) CAR (civil aviation regulations). It is expected that government would remain open-minded to address these issues when it comes to reviewing the whole RCS prior to inviting bids again for new routes under UDAN.
BAOA had actively participated in all the deliberations that were held before the launch of RCS, where many suggestions, like increased VGF cap for smaller aircraft and minimum number of VGF seats for helicopters, were accepted. It is therefore, expected that all the pending issues would also be addressed through a very participative process before the second bidding process starts. BAOA is quite confident further improvements in existing RCS would continue to take place as more experience is gained by all – regulators, government and the operators.
Finally, UDAN gives wings to Indian hardworking citizens who have begin to value their time as they acquire better skills in our fast growing economy. Surely, this would provide the much desired impetus to our economy and catapult growth rate to double digit in coming years. Well done MoCA!
Prime Minister launches UDAN — from Shimla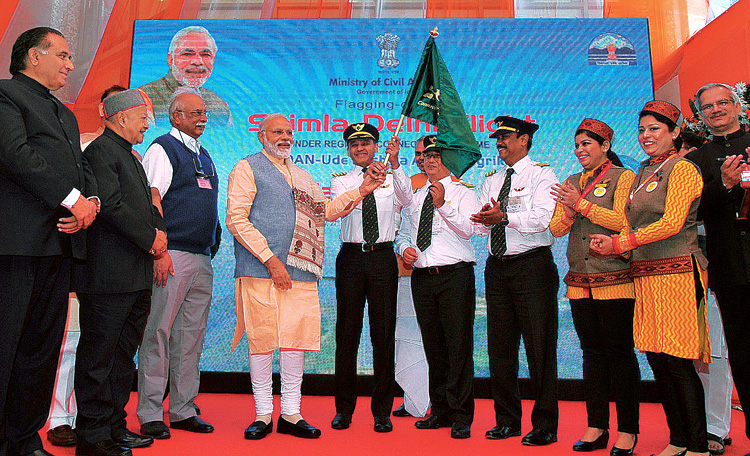 Prime Minister Narendra Modi flagging-off the first UDAN flight by Alliance Air (a subsidiary of Air India) from Shimla, on April 27, 2017. The Union Minister for Civil Aviation P. Ashok Gajapathi Raju, the Chief Minister of Himachal Pradesh Virbhadra Singh and the Secretary, Ministry of Civil Aviation, R.N. Choubey are also seen.
Prime Minister Narendra Modi launched UDAN — the Regional Connectivity Scheme (RCS) for civil aviation — from Shimla Airport on April 27, 2017. Under this scheme, flights have begun from Shimla, Nanded and Kadapa airports.
The Prime Minister addressed the gathering at Shimla Airport, and also at Nanded and Kadapa via video link.
He said the lives of the middle class are being transformed, and their aspirations are rising. He said that given the right chance, they can do wonders. He added that the aviation sector in India is filled with opportunity. Mentioning the scheme name 'Ude Desh ka Aam Naagrik' (UDAN) — he said that aviation was once considered the domain of a select few, but that has changed now. He said the new civil aviation policy marks an opportunity to cater to the aspirations of the people of India. He said Tier-II and Tier-III cities are becoming growth engines, and enhanced aviation connectivity between them will be beneficial. He said the UDAN scheme will help the tourism sector in Himachal Pradesh.
The Ministry of Civil Aviation (MoCA) is committed to providing air connectivity to currently underserved and unserved airports. To make air travel accessible to citizens in regionally important cities, the Ministry launched UDAN RCS in October 2016. The UDAN scheme was developed through extensive consideration of various issues and consultations with stakeholders. This is a first-of-its-kind scheme globally to stimulate regional connectivity through a market-based mechanism.
The UDAN scheme is a key component of the National Civil Aviation Policy (NCAP) which was released by the MoCA on June 15, 2016. The Airports Authority of India (AAI) followed a transparent bidding process by inviting interested bidders and airline operators to submit their initial proposals under the provisions of RCS and subsequently inviting counter proposals against such initial proposals. The routes and networks are awarded to bidders who submitted valid proposals and quoted the lowest Viability Gap Funding (VGF) from the government for such routes and networks.
The AAI, the implementing agency, have issued letter of awards for 27 proposals received under RCS-UDAN. Key features of the proposals awarded by AAI include:
Airports to be connected: 27 currently served airports, 12 currently underserved airports and 31 currently unserved airports (for a total of 70 airports) will be connected through these 27 proposals.
Geographical spread: There is a good geographical spread in the proposals: 24 airports in the western, 17 in north, 11 in south, 12 in east and 6 in north-eastern regions are proposed to be connected. 22 states and 2 union territories will be connected through these 27 proposals.
Routes and network: 16 awarded proposals are for single routes (connecting two cities) and 11 are for networks (connecting three or more cities). Six proposals have been bid with zero Viability Gap Funding (VGF) reflecting the fact that there is potential latent demand.
VGF Outflow: 27 proposals will require a VGF of around 200 crore and will provide around 6.5 lakh RCS seats.
The airfare for a one-hour journey of approximately 500 km on a fixed-wing aircraft or for a 30 minute journey on a helicopter would be capped at 2,500, with proportionate pricing for routes of different stage lengths and flight duration. The selected airline operator would have to provide 50 per cent of the flight capacity (subject to a minimum of nine and a maximum of 40) as RCS seats for operationsthrough fixed wing aircraft and a minimum of five and a maximum of 13 RCS seats on the RCS flights for operations through helicopters and would be given a three years exclusivity of operations.
To reduce the cost of operations of airlines on flying such routes, a financial stimulus in the form of concessions from Central and State government, airport operators and the VGF to the interested airlines would be provided to kick-off operations from such airports, so that the passenger fares are kept affordable. State government will provide a certain share of VGF (20 per cent for States other than north-east states where the ratio will be 10 per cent of VGF determined). In this regard, till now 19 states and three UTs have signed MoU whereas five more states have given consent to sign MoU.