SRC Aviation has been an industry leader in Corporate and Private Aviation since 1976, providing a single window to handle the entire range of flight management requirements for business aviation. Neetu Dhulia of BizAvIndia, in conversation with Bobby Chadha, Chairman & Managing Director, SRC Aviation.
Bobby Chadha, CMD, SRC Aviation
SRC's USP
SRC Aviation has maintained international standard for excellence in safety management.
SRC Aviation is the only Indian company to have the ISBAH 1, 2 and 3 certifications.
SRC Aviation is handling the top echelon of clients including the VVIP's, Presidents, Prime Ministers, Heads of States, World families, Entrepreneurs and CEOs.
SRC Aviation handles international private flyers and cargo flights flying into South-Central Asia.
Crucial Points
Urgent requirement of favorable policies to encourage General Aviation and Business Aviation to come to India and to grow within the country.
Business Aviation is looked as luxury in this country, while in the West they are a necessity, a business tool.
Business aviation brings in millions of dollars in foreign exchange to the country.
BizAvIndia (BAI): SRC Aviation has been a global leader in business aviation especially in the critical area of safety standards. Can you elaborate on this?
Chadha: The international standard for excellence in safety management is the ISBAH (International Standard for Business Aircraft Handling) certification which is given to a company after an extensive audit conducted under the aegis of the National Air Transportation Association (NATA). ISBAH is a voluntary, performance-based programme for ground handlers developed by the International Aviation Business Council (IBAC) based on industry best practices for ensuring quality and managing risk.
SRC Aviation was the first company in the world to earn the ISBAH 1 certification in 2015, followed by ISBAH 2 in 2017. We are proud to have recently been awarded ISBAH 3 in 2019, making us the only company outside North America to earn this stringent certification. As we speak, there are only two companies in the world to have the ISBAH 3 certification. It entailed that all our activities are in sync with the safety management system and are fully integrated in the Ground Handling service provider/agencies. Further, it speaks of a positive safety culture sustained throughout SRC Aviation.
We are focused on the quality of our services, and while ISBAH audits are extremely challenging we were very confident that we would meet all their safety protocols – self-checks, emergency response systems, backups to cover exigencies, safety management. We had already developed internal safety and training manuals before the ISBAH audits because safety is deeply imbedded in how we train our staff and in all our operations. We believe that we have been the best in the world at this and the ISBAH certifications validate our belief.
BAI: How do you ensure the highest levels of safety standards?
Chadha: It all starts at Aviation Conventions where we meet potential customers. There is this general worry about flying to India. Unfortunately, the foreign media presents a negative picture of the country. The West thinks that standards for ground handling in India are very poor. We have to work very hard to change that perception and let the world know that not only are we capable of providing global services, that we are the best in the world.
It helps that we have a large number of clients worldwide who are extremely comfortable and confident in using our services. They feel safe flying to unfamiliar airports in India because they know that they are in good hands with us. We provide them the best service, which meets or beats the level of service they would get anywhere else in the world.
SRC is the first company in the world to be certified by the International Standard for Business Aircr aft Handling and recently becoming the only company outside North America to earn the coveted ISBAH 3 certification
As a company we invest heavily in safety training. We believe that excellence in providing service is a byproduct of the training we provide our staff. We follow ICAO and IATA manuals for our in-house training and conduct regular audits to confirm that proper procedures and protocols are being followed. It takes good teamwork, diligent training of staff, stringent and regular audits to be a benchmark for safety standards. And that's why we are the only Indian company to have the ISBAH 1, 2 and 3 certifications.
I have been in the business for the last 43 years, and yet I learn every single day. One never stops learning. Experience of yesteryears makes one a better service provider for the future. We are very consistent in the high level of service we provide and that commitment stays the same irrespective of the client.
BAI: Please provide a background of SRC Aviation since its inception?
Chadha: The Company started in 1976. Back in those days Business Aviation was a young nascent industry even in North America. There were very few NSOPs and only a handful of private jets. US corporations with mining business in Indonesia would use India as a stopover point. They had to use the US Embassy to get the necessary clearances and permits. I met the then American Ambassador to India and he suggested SRC assist with these permits and we were ready for business.
Over the years, Business Aviation became big in North America. The 1970s and 1980s saw the oil industry boom and executives from various multinational companies started using corporate jets to fly to India and other South-Central Asian countries for exploration, and to sell their equipment. Later on, with the growth of the financial services industry, India became a frequent stop for corporate executives.
In the last 20 years India has also caught the attention of the world as a manufacturing destination. Many large multinationals have started putting plants in India and their top brass now come frequently in their corporate jets. In the late 1990s and 2000s, European companies started emulating their American counterparts and executives started to fly in their corporate jets. Corporate Aviation has now become a necessity for the companies and has become a major business tool.
At one time SRC Aviation was the only company to do charters—there were very few brokers back then. We were the first ones to have an Air Ambulance service in the country. In 2004 a team of doctors conducted mid-air operations in our air ambulance.
It is our strict adherence to best practices which has helped us to grow year on year. Our revenues grew even during the global financial meltdown in 2008.
BAI: What services does the company provide?
Chadha: We have been successfully providing Flight Management Services to Fortune 500 companies, and handling the top echelon of clients including the VVIP's, Presidents, Prime Ministers, Heads of States, World families, Entrepreneurs, CEOs and more.
SRC Aviation handles corporate flyers, international private flyers, non-scheduled passenger and cargo flights flying into South-Central Asia. We provide the entire range of general aviation services starting with all the permits and clearances for landing, parking, overflight, including at military airports. We handle VIP facilitation through customs and immigration, baggage handling, ground transportation, aircraft refueling, flight dispatching, catering, security, weather reports, aircraft charters, ground transportation, hotel reservations. We tell our clients—please come to India and leave all your worries to us. We will handle everything.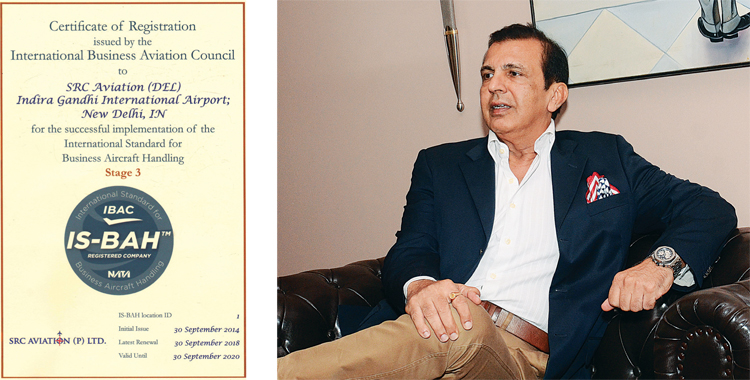 (Left) IS-Bah 3 Certificate and (Right) Bobby Chadha.
The company has more than four decades of experience in the aviation industry. We have a team of top-notch professionals from the industry who are dedicated to providing quality services to our clients. We handle every customer uniquely and have an in-depth understanding of their needs and habits which helps us in precision planning and coordination with various agencies. We can't afford to have even a minute of delay with the high level of clientele that we serve, so there are procedures and backups to handle every situation.
We have several examples of companies that use an international trip provider for their global trip, and even if that trip provider has an office in India, the CEO of these companies insist on using SRC's services for their visit to India.
And what could be a better testimony of it than having a near hundred percent client retention rate, extremely loyal customers who return to us repeatedly? Till date, we have never lost a customer to the competition. In fact, our best advertisement comes from our customers and we have posted a small sample of these testimonials on our website.
And all this has not happened by accident. It is four decades of hard work, a very strict Code of Conduct and Ethics which is signed by every employee of the company, and diligently following international protocols for service excellence and safety management.
BAI: What is your perception of the country's overall aviation growth?
Chadha: In the last 20 years, business aviation has caught the attention of Indian corporate houses. Overall air traffic has increased tremendously in the last decade and airports are getting busier. While a major chunk of the space is still given to commercial aviation, which has grown exponentially, there is increased focus towards business aviation in the last 10 years. It brings in millions of dollars in foreign exchange and huge tax revenues. The government should give more attention to this sector, since it assists in boosting the economy and provides good well-paying jobs.
BAI: It is perceived that owners of business aircraft have an edge over competitors that don't use them. NBAA's 'No Plane No Gain' initiative specifically points towards this factor. How do you view this?
Chadha: There is no doubt that business aviation has become an important Business Tool. We handle the top Fortune 500 companies and can share from experience that the territory a business leader can cover using a corporate jet will likely require 5-6 days of flying commercially. With their own planes our customers can cover 5-6 airports in a day, which is impossible if they were flying on commercial airlines. They can accomplish so much more in a much shorter amount of time, and since time is very valuable for these business leaders, they cannot afford to lose that time waiting in lines, delayed flights, cancelled flights and all the other time-consuming hassles that come with flying commercial.
BAI: What are your suggestions to the Ministry of Civil Aviation and the DGCA to facilitate the growth and functional efficiency of business aviation and general aviation?
Chadha: General/Business Aviation is still not looked at with the right vision. We need the government to develop policies to encourage General Aviation to come to India or grow within the country. Whether it be taxes, regulations, lead times for permits or ease for business travelers. For example, in India, it takes seven working days to get a permission to land, which defeats the whole idea of a company owning a business jet which is to allow their executives to fly anywhere and anytime. Imagine how much easier it would be for global executives to fly into India to explore business opportunities if they didn't have to wait seven days to get a simple landing permit. This is an important factor in 'the ease of doing business.' Recently, the ministry has reduced the number of days to 4 for most of the countries and that's clearly a step in the right direction. But much more is required. India should aim to be the easiest country for global executives to fly into and conduct business.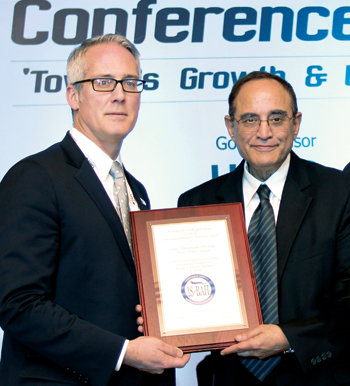 Brigadier M.K. Idnani receives the IS-BAH 1 certificate from Kurt Edwards, DG IBAC
A city, like Pune, is a big hub for the automotive industry. But since it is a military airport it requires 3-4 weeks to get clearances. To fly to these places, a person has to start planning four weeks in ahead, giving his passport details and getting clearances. That level of advanced planning is not always possible when companies are managing global operations. If this executive were to fly commercial, he/she would not have to share their details for clearances in advance. Plus, the regulators are very strict about the crew flying with the aircraft. Only one crew revision is allowed. So, a corporate wanting to fly into Pune would have to plan on engaging the crew for a much longer period of time to meet regulatory norms. All these burdensome regulations making it very difficult for corporate travelers.
For domestic charters, taxes on MROs are high, royalties on the airports are exorbitant –up to 40 per cent. The big airports have a total monopoly on the fees they charge with Delhi and Mumbai airport being amongst the most expensive airports to land in the world. That is not encouraging corporate aviation at any level. Then there is the huge tax on aviation fuel, and not to forget that the MROs are very expensive. We don't have facilities for parts and so if a part needs to be repaired, it has to be sent out or totally replaced making the operating expenses very high.
Business Aviation still gets the step-motherly treatment in this country. They are looked at as a luxury in this country, while in the west they are a necessity, a business tool. We want government to look kindly towards corporate aviation and rationalise the taxes considerably. The high taxes are nor helping anybody. We have two MROs for Business Aviation in the country and these units can't grow because of high levels of taxation which increase operating costs in a market which is very sensitive to the price. Parking of planes is a major challenge at many airports and has become a major inconvenience. India should be looked at as a business friendly country because in the long run it helps with the growth of the economy and brings in higher tax revenue. Business aviation brings in millions of dollars in foreign exchange to the country, and huge tax revenues to the government exchequer, and provides employment and business to a host of ancillary industries. With the overly regulated environment, we are killing the goose that lays the golden egg.
BAI: What factors do business owners consider before buying of an aircraft?
Chadha: The decision depends entirely on the envisaged usage. Is it for use by their executives or for the purposes of chartering to others? The company also needs to identify the purpose, the geographical area to be covered, and airport infrastructure like runways etc. For smaller distances turboprops are preferable. So, for example, if an executive has to go to Pant Nagar for business—a distance of about 150 km—the driving time is seven hours plus. There is no ways one can do business and come back the same day. But with the turboprop it is a two-hour trip. It just makes the executive so much more productive.
If the purpose is charter service, one looks at the needs of the prospective customer/s. The range the plane would need to fly would be diverse. A long-range aircraft may suit one client, and a light jet more suitable for another. One needs to see also where the business is located, and what kind of runway that town has? Price too is an important consideration – India is a very cost-sensitive market.
BAI: What have been the major milestones of SRC Aviation?
Chadha: SRC Aviation has had consistent growth over the last four decades. We maintain a low profile and believe that action speaks louder than words. We concentrate more on doing the right things rather than talking about them.
We have a trained and dedicated team with an average age of around 29 years. We hire smart people and invest a lot in training our employees. These training sessions can last more than twelve months. Everything we do is geared to offer a benchmark in quality.
We have a near 100 per cent retention of customers, and an extremely loyal clientele that demands and receives the best service. In 2008, when the world was facing an aviation meltdown we grew in our business.
SRC enjoys a dominant market share in India. Our major clients include the top Fortune 500 companies who fly into India for business. We have hundreds of testimonials from these satisfied clients vouch for our quality service. We have a great knack for problemsolving and with our four-decade experience in the business we can often anticipate problems before they occur.
We have recently been involved in delivering the Chinook helicopters for the Indian Air Force. We provided all the support operations. The Chinook team was very impressed with our service and has written a great testimonial for our service. We have been assisting Boeing for all the ground support services. We also handled the first Jet to land at Mysore airport.
At SRC Aviation, customer satisfaction is paramount and we strive hard to provide a wide range of corporate aviation clients worldwide with the highest level of service and hassle free-flying into all airports in India and four other countries.