From newer business jets to latest turbo technologies and a sneak peek into the coming-of-age flying, the International Paris Air Show marked some significant business aviation episodes.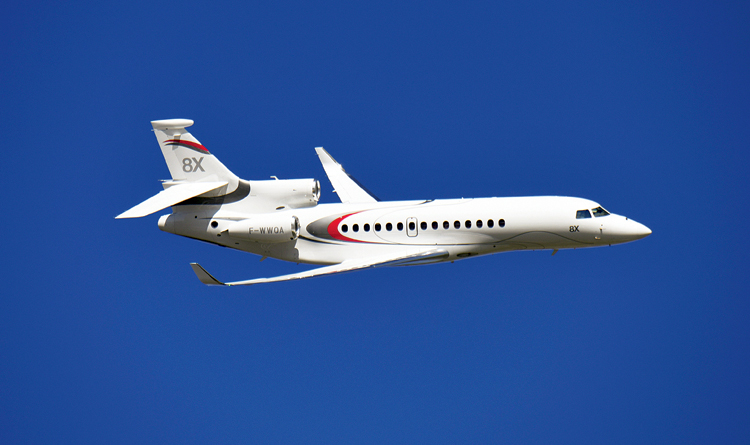 During the Paris Air Show, Dassault Falcon 8X (which took over the skies at Le Bourget) was promoted as having the quietest cabin in
Staying true to its slogan, 'where the aerospace leaders get down to business', the largest and the oldest international Paris Air Show was the focal point for some of the major global aviation business happenings from June 17 to June 19, 2019. Business aviation had a fair presence throughout the show, paving way for an exciting future ahead of the industry. With a lot simultaneously happening, some major developments that business aviation players witnessed at the biennial show's 53rd edition were:
GULFSTREAM
The American aircraft company Gulfstream Aerospace Corporation's Gulfstream G600 made its first appearance at the air show. Provided with the new symmetry flight deck, G600 is the latest addition in Gulfstream's business jets. Also on static display were Gulfstream's recognised business jets Gulfstream G280, Gulfstream G550 and Gulfstream G650ER.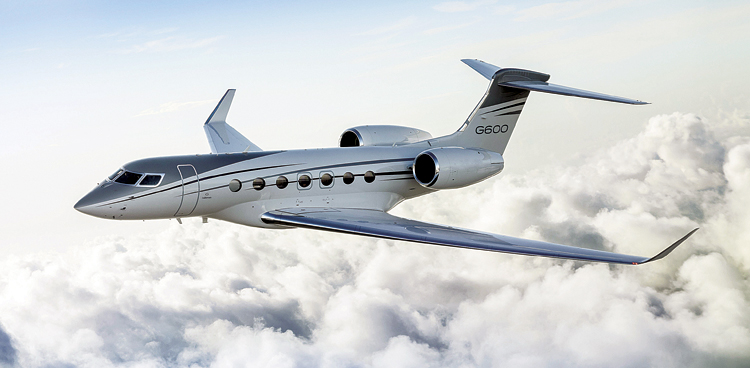 The Gulfstream G600, that comes with the new symmetry flight deck, made its debut at the air show and is the latest addition in Gulfstream's business jets.
During the Paris Air Show (PAS), Gulfstream also announced receiving the US Federal Aviation Administration (FAA)-certification for rollout and touchdown using an Enhanced Flight Vision System (EFVS) for many more of its aircraft including its flagship Gulfstream G650ER as well as the Gulfstream G650, Gulfstream G550 and Gulfstream G450. This allows increasing operational safety for nearly 1500 in-service Gulfstream aircraft.
DASSAULT FALCON
Dassault Aviation had its Falcon 8X flagship, the Falcon 2000S and the cabin mockup of the brand new Falcon 6x on exhibition at the 53rd International PAS. Falcon 8X was promoted as having the quietest cabin in business aviation. Falcon 8X was also seen parading over the Paris skies during the flying display hours along with the Falcon 900LX that captivated the crowd.
EMBRAER
Brazilian aerospace multinational, Embraer is celebrating 50 years of its coming into existence this year and the company well utilised PAS as a platform to let the celebrations begin. From its business jets fleet, Embraer put up its state of the art, technologically advanced, super midsize business jet, Praetor 600. The latest aircraft also performed a demonstration flight during the air show.
BOMBARDIER
Another significant debut during PAS 2019 was marked by the Global 7500, from Bombardier, one of the established multinational aircraft manufacturer.
Near completion of a divestment deal was also announced by the company during the show for Mitsubishi to acquire its CRJ regional jet programme. Last year, Bombardier had sold its business jets C-Series programme to Airbus and had finished the sale of its Dash 8 turboprop line to Longview Aviation Capital early this year.
PRATT & WHITNEY
From Embraer to Gulfstream to Dassault and many others, Pratt & Whitney's presence was not limited to itself, rather extended to many of the big names whose aircraft had Pratt & Whitney's engines installed and were on display.
The debuting Gulfstream G600 comprised of a pair of Pratt & Whitney PW815GA engines that give 15,680 pounds of take-off thrust each, for a take-off distance of 5,900 feet and 51,000 feet of maximum cruising altitude.
Powered by PW307D, Dassault's Falcon 8X also took over the skies at PAS.
The American aerospace manufacturer with global service operations, Pratt & Whitney, also exhibited the inside technologies of their business aviation programmes as well through their PW800 engines. The PW800 engine powers the next generation of business aircraft and is thoughtfully designed with people, performance and customer service at heart, backed by one of the most extensive service programmes ever offered.
DAHER
French aircraft and service maker, Daher brought its latest TBM 940 turbo aircraft at PAS 2019, allowing visitors to gain a first-hand experience of the aircraft that had just received its EASA (European Aviation Safety Agency) certification. The very fast turboprop aircraft, with its automated throttle and enhanced flight data analysis and sharing is certainly one to watch out for.
The acquisition of Quest Aircraft Company, Kodiak 100's manufacturer was also announced by Daher. This major possession will place Daher to be the seventh largest aircraft manufacturer in the world in business aviation. The latest addition in Daher's range of aircraft, Kodiak 100, was also on display at PAS. Kodiak 100 which is certified in 67 countries has been successfully used as an air-taxi, by leisure operators, for business deals, as well as humanitarian purposes.
Daher also announced the collaborative partnership with Airbus and Safran for the development and design of the hybrid aircraft, EcoPulse. A small model of the distributed hybrid propulsion system was on display as well. The maiden test flight is scheduled for 2022.
LEONARDO
Italian multinational company, Leonardo that specialises in aerospace, defence, and security announced the signing of a contract, for two AW139 intermediate twin engine helicopters, with Germany's Wiking Helikopter.
Signing of a Letter of Intent (LoI) for the purchase of an AW139 Level D FFS for the AW139 intermediate twin engine helicopter between Leonardo and Suzuyo of Japan also saw the light of the day.
AW169 has established itself successfully in Northern Europe for emergency medical service, VIP/Corporate transport, wind-farm support, and law enforcement. These contracts will further expand the reach.
ELECTRIFYING AVIATION
Acknowledging the rising environmental concerns that the aviation emission could possibly cause, the aviation industry is taking significant steps like the eventual shift towards sustainable alternative fuels and alternate electrical aircraft. Many of these concepts and prototypes like EcoPulse mentioned earlier graced PAS 2019.
Alice: Gathering the maximum attention among electric aircraft was the prototype of Israeli startup Eviation Aircraft's all-electric airplane christened as Alice. Expected to be ready by 2021, the debuting vehicle that can fly nine passengers up to 650 miles on a single charge, announced a deal at the air show with US regional airline Cape Air to launch commercial flights.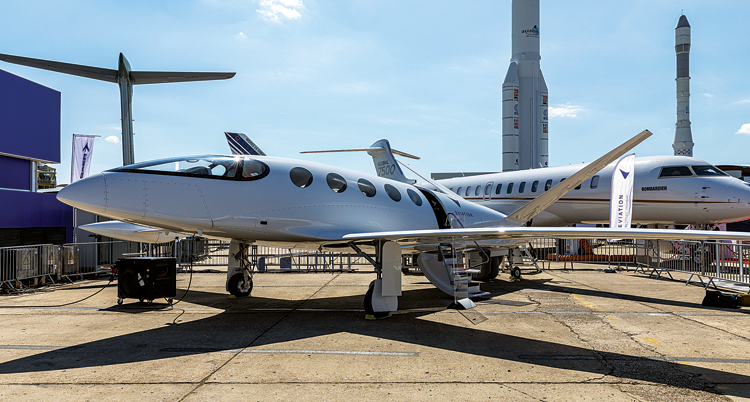 Israeli startup Eviation Aircraft's all-electric airplane Alice prototype on display at PAS 2019
Vahana: An all-electric vehicle demonstrator, Airbus' Vahana is the prototype, which was on display at PAS. A single-seat, tilt-wing vehicle demonstrator that focuses on advancing self-piloted, electric vertical take-off and landing (eVTOL) flight.
Project 804: A hybrid-electric project dubbed as Project 804 was also unveiled by United Technologies (UTX). Built on a midsized regional turboprop, the plane innovates with batteries and a two-megawatt hybrid-electric propulsion system and is aimed for a 2022 launch.
E-Fan X: The purchase of the electric and hybrid-electric aerospace propulsion business of Germany's Siemens eAircraft was announced by the UK engineering company Rolls-Royce at the air show. In collaboration with Airbus, a hybrid-electric propulsion system entitled E-Fan X, big enough to power a large jet plane is planned.
Flying Taxi: Another futuristic aircraft prototype on display was Boeing's Passenger Air Vehicle (PAV), an eVTOL air taxi. PAV is asserted to be able to autonomously transport passengers, plan routes, respond to contingencies and detect and avoid unexpected obstacles. Aurora Flight Sciences is developing both two and fourpassenger variants with cargo options.