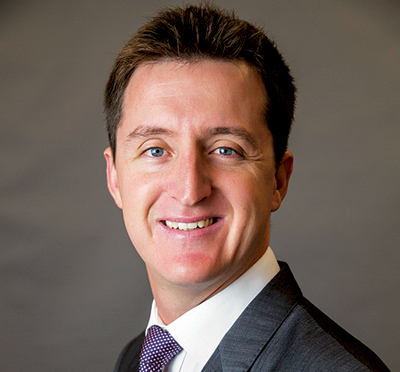 Nicolas Robinson
Regional Vice President International Sales, Middle East and South Asia, Gulfstream
BizAvIndia (BAI): Can you indicate on what all factors are kept in mind when you design and manufacture a jet?
Nicolas Robinson (Robinson): Safety is the highest priority at Gulfstream. After we have ensured the safety of our aircraft, processes and manufacturing, we consider what our customers want most from their business jet, and that is speed, performance and cabin comfort.
BAI: What are the key features of the technologies that are involved in your business jets?
Robinson: Gulfstream invests heavily in research and development to ensure we are bringing advanced safety technologies to our customers and the industry. The Symmetry Flight Deck on the G500 and G600 is the latest example. It features the first active control sidesticks in civil aviation, the most extensive use of touchscreen technology in a flight deck, the next generation of Gulfstream's Enhanced Flight Vision System and a robust and highly redundant data concentration network, all of which reduce pilots' workload and enhance safety.
BAI: Recently G650ER has been interpreted as the fastest business jet. What all has enabled this factor?
Robinson: Speed is a differentiator for Gulfstream, and with a maximum operating speed of Mach 0.925, the G650ER can fly farther, faster than any other business jet in the industry. This is achieved through advanced aerodynamics designed by Gulfstream engineers and high-powered yet fuel efficient engines. Gulfstream incorporated similar aerodynamics into the all-new G500 and G600, which share that maximum operating speed of Mach 0.925.
BAI: The interiors and the windows, in particular, which enable panoramic view during the flight; seem to be one of the best in the industry. What all efforts go behind ensuring such ambience, comfort beyond the performance factor?
Robinson: Gulfstream's panoramic windows are the largest in business aviation and suffuse the cabin with natural light. They are complemented by interior innovations to create the most comfortable cabin in business aviation, one that actually promotes wellness and helps passengers arrive at their destinations rejuvenated and refreshed. These innovations include 100 per cent fresh air suffused every two minutes, a low cabin altitude and whisper-quiet sound levels. Passengers can work or rest well whether they are crossing the country or a hemisphere.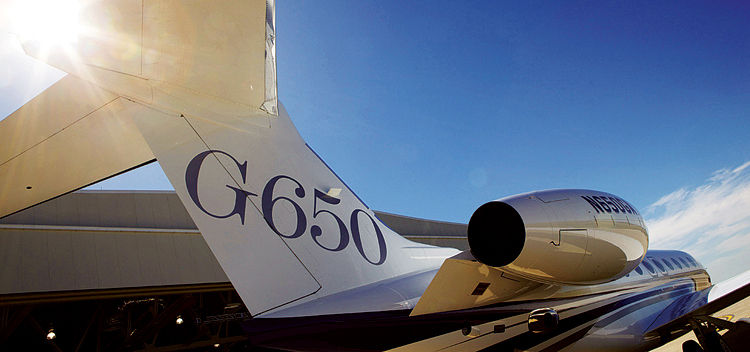 G650 family holds more than 100 speed records, including the farthest, fastest business jet in flight history
BAI: One of your statements is: the G650 family holds more than 100 speed records, including the farthest, fastest business jet flight in history. How do you substantiate this?
Robinson: Gulfstream documents all speed records and submits them to the US National Aeronautic Association (NAA) for approval. Once approved by the NAA, the records are submitted to the Fédération Aéronautique Internationale in Switzerland for recognition as a world record.
Gulfstream was excited about One More Orbit's mission and not at all surprised to see the aircraft do what it set out to do. If any business jet can accomplish that mission, it's the Gulfstream G650ER.
In April, the G650ER flew from Singapore to Tucson, Ariz., at an average speed of 597 miles per hour/960 kilometres per hour over a distance of 8,379 nautical miles/15,518 kilometres. This feat beat a previous speed record by 44 minutes and more than 225 nm/417 km and remains unbeaten.
BAI: Your G650ER was involved in the recently held mission: One More Orbit which coincided with the 50 years' celebration of Apollo 11. How do you perceive this mission and the engagement of G650ER with the same?
Robinson: Gulfstream was excited about One More Orbit's mission and not at all surprised to see the aircraft do what it set out to do. If any business jet can accomplish that mission, it's the Gulfstream G650ER.
BAI: Why do you call G280 an agile performer and "Super-Midsize"?
Robinson: The G280 is so agile thanks to its superb handling qualities. It has the highest thrust-to-weight ratio of any Gulfstream aircraft, which means it can reach high altitudes quickly and fly above weather and commercial aviation traffic; access short runways and hot and high-altitude airports; and fly at a maximum speed of Mach 0.84. With its long range and spacious cabin, the G280 offers the performance capabilities and comfort of a large-cabin aircraft with class-leading fuel efficiency of a super midsize. It can seat up to 10 and sleep up to five passengers.
BAI: Which jet out of your fleet has been the most selling jet around the world? If you can give some complementing reasons for that as well?
Robinson: Gulfstream offers a carefully curated mix of aircraft sizes and performance capabilities to suit many different mission requirements, and, as a result, we have a healthy fleet mix around the world. In particular, the G650 and G650ER continue to see great demand; more than 380 G650 and G650ER aircraft are in service around the world. Gulfstream is also seeing widespread interest in our newest aircraft, the G500 and G600.
BAI: What is the normal age of the business jets belonging to Gulfstream family?
Robinson: Gulfstream aircraft have quite a long life cycle, thanks to their great reliability, durability and Gulfstream's worldwide Customer Support network. The stalwart G550, for example, entered service in 2003 and is still in production today. The aircraft is especially popular for special missions use with government and militaries around the world, in part because its reliability and performance capabilities present a great value. Reliability and durability have been Gulfstream pillars from the company's beginning, as evidenced by the Gulfstream I aircraft, which entered service in 1958 and are still flying today.