From tax tolls to insufficient infrastructure, broad policies to inaccurate awareness, the business aviation industry in India is still waiting for the big boom.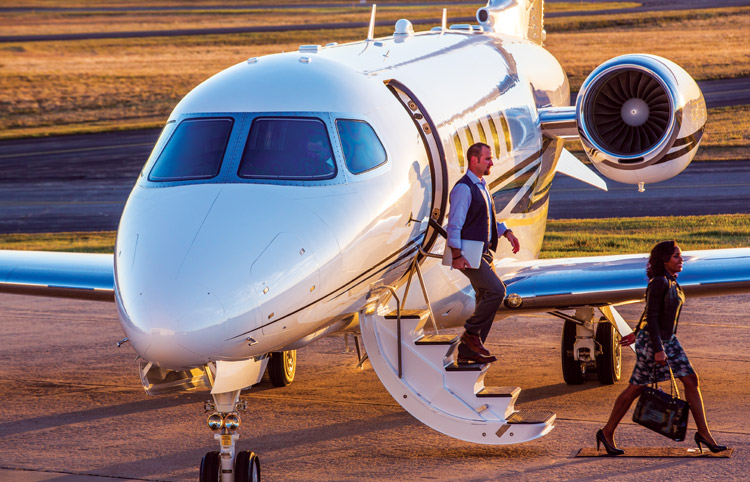 THE UTILITY OF BUSINESS AVIATION, AS A PRODUCTIVITY TOOL AND A CONTRIBUTOR TO ECONOMIC DEVELOPMENT, CAN ENABLE THE INDUSTRY'S GROWTH
The role that the business and general aviation industry can play in shooting up the economy of the country has been well put out there but still, hindrances remain on a large scale level for this industry in India. While the Government seems to be finally shifting focus on the industry, the priority is still amiss. With its role of being the coordinator amongst industry stakeholders, regulatory authorities and the Government, Business Aircraft Operators Association (BAOA) has a crucial task at hand. Amid that, the upcoming 5th edition of the BizAvIndia Conference being held on March 11, 2020, in Hyderabad is eagerly awaited. This year, the conference aims to capture the social and economic impact of business and general aviation (BA/GA) in India as the overarching theme, to encourage discourse on the meaningful contribution of BA/GA on the nation's economy, at a time when the Indian Government seems to be drawing a long term vision for the development of aviation. The theme also scopes out discussions on infrastructure requirements in order for BA/GA sector to grow its potential in the coming times.
BAOA recognises that the business aviation (BA) industry has undergone a huge transformation over the past decade in India and has gained much recognition as well in recent years. The utility of business aviation, as a productivity tool and a contributor to economic development, is becoming more evident and needs to be looked at as the prime rationale to put in place an appropriate framework that can enable the industry's growth and its role in channelising economic and social benefits throughout the nation. The sector comprises aircraft owners, pilots, engineers, technicians, operations staff, and also the regulator, who continue to contribute directly and indirectly to the GDP (Gross Domestic Product) in a significant manner.
The financial year 2018 did witness some positive growth in the industry with the number of High Networth Individuals (HNIs), going up, the fleet size being diversified, development of airports, stress on regional connectivity, efforts to change industry perceptions, growth in the oil industry and the rising demand. Private charters being used by HNIs, politicians, celebrities, business executives for transportation of good, business commute, along with the development of infrastructure and air ambulance uses helped in the revival of the industry. While all of this gave hope for the industry, the last year again saw dip in the economy and it's after effect on the business aviation industry as well.
INDIA HAS FAILED TO GARNER DUE DILIGENCE WITHIN THE EYES OF GOVERNMENT AND REGULATORS WHO SEE IT AS A LUXURY SEGMENT, NOT REALISING THE WAYS IT ACTUALLY CONTRIBUTES TO THE ECONOMY, ENABLES CONNECTIVITY, INDUSTRIAL WORKS, MEDICAL EVACUATIONS, TOURISM , ETC. INDUSTRY SUFFERS A MAJOR PERCEPTION PROBLEM LEADING TO THE APATHY THAT HAS RESULTED IN SOME MAJOR CHALLENGES.
From infrastructural restrictions to rigid regulations, higher taxes and operating costs to lack of awareness and accessibility, India's business aviation market is facing problems while each company is trying to expand the size of its fleet, regional presence and operational services to capture a higher market share. However, things have not been very stable with the sector. In September last year, India had 99 nonscheduled operators (NSOPs) which came down from 130 in a bit more than a year, according to Directorate General of Civil Aviation (DGCA) data.
The high operational cost, challenges in ease of doing business, complications with the tax structures, inadequate infrastructure and complicated processes to obtain operating licenses have resulted in subdued growth of the business aviation market.
Group Captain R.K. Bali (Retd), Managing Director of the Business Aircraft Operators Association (BAOA) had remarked in an interview with BizAvIndia magazine that these are challenging times for the business. "Growth was 26 per cent in 2007. The BAOA had 139 operator-members in 2012. However, today about thirty operators have shut down business during this period. The smaller operators are more vulnerable to changes like the sharp and arbitrary hike in ground handling charges. They need more regulatory protection and support. Seventy per cent of our operators have one or two aircraft only."
The time is here now when the growth of business aviation needs to be accelerated and an effective approach with innovation should be taken. This could be in the manner of access to new locations, aircraft management and use of a helicopter in various applications like traffic management, aerial photography and healthcare through ambulance services.
The ability of business aviation to breakthrough and prosper a powerful economy needs to be appreciated. As the demand and awareness about the industry see a rise in the country, the challenges that are hampering its growth also need to be efficiently addressed soon.
The BAOA had stated that general and business aviation has emerged as an essential part of national transportation systems around the world. It is especially critical for connectivity and for businesses that need to move efficiently in growing economies like India. Yet, India has failed to garner due diligence within the eyes of Government and regulators who still tend to see it as a luxury segment, not realising the ways it actually contributes to the economy, enables connectivity, industrial works, medical evacuations, tourism , etc. Industry suffers a major perception problem leading to the apathy that has resulted in some major challenges.
As we await BAOA to address some of these critical issues for the industry and present a solution, here we go through some of the reasons that are hindering the business aviation industry's growth in India.
INFRASTRUCTURE
As also highlighted by the BAOA, insufficient infrastructure for business & general aviation has been a major deterrent for the sector in India. The planning and roadmap for aviation infrastructure so far have not adequately taken note of the requirements of this industry. It is of utmost importance that the needs of the industry are incorporated into the planning process for existing as well as the new airports that will come in future. The success of business aviation largely depends upon the infrastructure available to operate a private aircraft.
The non-availability of efficient hanger for maintenance is another prevailing issue. Captain Bali had pointed out, "Scheduled airlines have long-term hanger lease. For us, the hanger requirement is for a short duration, at it comes at very high rates which are determined as a non-aeronautical tariff. The Delhi airport has raised it by three times over the 2012 figure. We want regularisation of hanger availability as per housing charges decided by AERA as an aeronautical requirement. This is an essential requirement for ensuring airworthiness and safety. Aircraft need to be serviced regularly and maintenance checks carried out as the OEM's manual."
MRO (Maintenance, Repair & Overhaul) facilities also need to be sufficiently present in the country, offering quality product and services.
POLICIES
BAOA highlights that the current operational environment lacks a compatible regulatory framework to allow proportionate treatment for aircraft operators based on size, complexity, and type of operations.
The National Civil Aviation Policy is a Government policy approved by Union Cabinet in 2016, covering the broad policy areas, such as Regional connectivity, Safety, Air Transport Operations, Bilateral traffic rights, Fiscal Support, Maintenance, Repair and Overhaul, Air-cargo, Aeronautical 'Make in India'. However, broad categories still remain challenging. Launched in 2017, UDAN (Ude Desh ka Aam Nagrik) Scheme, is a key component of the NCAP. And now in the recent budget of 2020, the Finance Minister Nirmala Sitharaman has announced the Krishi Udaan scheme. This scheme, an extension of the UDAN scheme, will subsidise international and domestic flights. For these flights, the Government subsidises the cost of operations and also provides other incentives too like no landing and parking charges and low tax on fuel. But the proper implementation and efficient planning is still uncertain when it comes to the practical aspect of these.
Capt. Bali had also highlighted, "the UDAN case so far has been based on 30-40-seater aircraft. Ours are 6-to-20 seaters. The 4th phase of UDAN is expected to have a helicopter element for connectivity to remote hill areas. Here, we will have a big role to play. We have over 10 helicopter operators amongst our members. This should be a good utility to the public."
The Indian Government's Regional Connectivity Scheme (RCS) has the opportunity to connect more of India's population via air transport but here again the recognition that business aviation is a key tool to enhance business productivity is necessary.
TAXATION
The requirement to rationalise and simplify the tax regime to promote the growth of the industry, encourage leasing activity and allow seamless transfer of assets within the country is long overdue.
BAOA stated that the authorities need to realise that aircraft purchase is a capital investment and its operations lead to creation of more jobs, while providing efficient and flexible connectivity to remote and under-developed area, thus ensuring inclusive and faster economic growth. Furthermore, indiscriminate and unregulated charges being levied in terms of airport usage, ground handling, hangarage and parking have made operations expensive across the country, hence hampering the growth of the industry.
Major stakeholders in the industry feel that the structural challenges including taxation on MRO, the Government's efforts on creating a leasing ecosystem and announcements towards addressing the very weak liquidity the situation for airlines still remains overlooked.
A GST (Goods and Services Tax) of 18 per cent is there on the MRO operations because of which a lot of repairing activity takes place overseas. While this is something that could very well be taken care of in the country itself.
Aviation turbine fuel (ATF) prices which make up for about 40 per cent of the costs for an Indian carrier are taxed higher in India compared to anywhere else in the world. The Centre charges a 14 per cent excise duty on ATF. The states pile on their own sales tax that can go as high as 29 per cent.
With the announcements on building 100 airports for regional flights, the Union Budget aims to improve regional air connectivity in the country but will it be of some help to the industry is something the future will only tell.
RUPEE
The rupee depreciation is another aspect that's hitting carriers hard. Approximately 25-30 per cent of their costs, excluding fuel, are dollar denominated—from aircraft lease rents and maintenance costs to ground handling and parking charges abroad. The industry has been constantly bogged down by high aviation fuel prices, rupee depreciation against the dollar, excessive parking and landing charges, loads of debt and fare wars, inefficient operations, etc.
LEASE
Leasing holds big potential in India. Capt. Bali had informed that BAOA is working with the Economic Advisor to the Ministry of Civil Aviation for Indian leasing to promote the growth of the business aircraft sector in a significant way. "At the moment, there are no Indian players, and all business aircraft are owned. The terms of a lease are easier for big operators or corporates, and need to be rationalised for smaller players," he had said.
GROUND HANDLING CHARGES
Capt. Bali had also stated that ground handling charges for nonscheduled operators at airports like IGIA Delhi have been increased by 60 per cent. "A 6-seater business aircraft like the B-200 attracts ground handling charges of 29,700 in Delhi. This quantum of charge is unbearable. The average flight of a business aircraft is 1 hour and 15 minutes. The revenue is between 85,000-90,000 per flight hour. Business aircraft operators work on margins of 5 per cent. The huge, arbitrary increase in ground handling charges is exploitation by airport concessionaires, and threatens to cripple business aircraft operators," he added.
PERCEPTION OF LUXURY
There has always been a sense of luxury and opulence attached to private jets and the business aviation industry. That perception is also a hindrance in the growth of this industry especially in a country like India is largely a low-cost market. Appropriate information and awareness about the uses of the business aviation industry need to be out there and the various applications that the business aircraft can be used for must be tapped into.
As India hopes for the ambitious target of 5 trillion USD economy by 2025, this can be majorly contributed by BA and GA if supported with certain badly needed reliefs including tax subsidies, etc. as mentioned-above.