Flying like a bird in the sky, looking like an airplane amid the clouds and soaring like a jet, these Jetmen are all set to leave you stunned during the Expo 2020, Dubai.
AMAZING FEAT: JETMEN IN FLIGHT OVER PALM ISLANDS DUBAI
All of us at some point of time fantasized Superman and wished to have that red cape around us to be able to fly. Be it to feel the fresh wind right in our face, or to literally feel at the top of the world, be it to glide around freely like a bird or just to escape from the mess of traffic, many of us have aspired for the superpower to fly. Being amid the clouds in an airplane, or free- falling during ky diving, para sailing through the wind or gasping in the view in a parachute in the air are all near about experiences to feel like you are flying. But it isn't flying still. However, have you ever thought about literally flying like a bird through the air above the world with wings of your own? Sounds too fictional, right? What if I were to tell you that a reality version of Superman actually exists under the name of Jetman who has developed the superpower to fly.
Yes you read that right. And in his quest to achieve 100 per cent autonomous human flight, Jetman is ready to present this human flight mission at the Expo 2020 in Dubai. Jetman has been there for a while now but the excitement and amazement around this has not gone down a bit and neither has Jetman. Constantly expanding and re-inventing the possibilities towards an entirely autonomous human flight, Jetman recently achieved a world's first. On February 14, 2020, Jetman pilot Vince Reffet successfully launched into the air from the runway of Skydive Dubai and flew up to 1,800m altitude. This milestone proved that Jetmen can now fly directly upwards from a standing start without the need for an elevated platform. This take-off from the ground, transitioning into a high-altitude flight is a crucial and significant step towards autonomous human flight.
Earlier, Jetmen have launched into the air by leaping downwards off elevated platforms such as a helicopter in flight. This also included jaw-dropping stunt in late 2019 – also part of Expo 2020's Mission: Human Flight programme – when Reffet and fellow Jetman Fred Fugen floated through Tianmen Cave (also known as the 'Heaven's Gate') in China's Hunan Province.
However, the recent feat performed on February 14 was the first time that a Jetman pilot has taken off from a runway, and has combined hovering safely at a low altitude and flying aerobatics at a high altitude in the same flight.
Based on the information provided by the brand, Jetman Dubai, Reffet was equipped with a carbon fibre wing powered by four mini jet engines for this flight. Controlled by the human body, the equipment enables the Jetman to reach speeds of 400 kmh, as well as hovering, changing direction and performing loops.
ON FEBRUARY 14, 2020, JETMAN PILOT VINCE REFFET SUCCESSFULLY LAUNCHED INTO THE AIR FROM THE RUNWAY OF SKYDIVE DUBAI AND FLEW UP TO 1,800M ALTITUDE. THIS MILESTONE PROV ED THAT JETMEN CAN NOW FLY DIRECTLY UPWARDS FROM A STANDING START WITHOUT THE NEED FOR AN ELEVATED PLATFORM. THIS TAKE-OF FROM THE GROUND, TRANSITIONING INTO A HIGH-ALTITUDE FLIGHT IS A CRUCIAL AND SIGNIFICANT STEP TOWARDS AUTONOMOUS HUMAN FLIGHT.
After becoming airborne at the aerial centre by Jumeirah Beach, Reffet hovered five metres above the waters of the Arabian Gulf for 100 seconds. Having demonstrated his full control of the flight by performing stops, turns and backward moves, he landed back smoothly onto the Skydive Dubai runway.
After this, Reffet took off again and headed south towards Jumeirah Beach Residence, building speed and height. Travelling at an average speed of 240 kmh, he climbed 100m in the air in eight seconds, 200m in 12 seconds, 500 m in 19 seconds and 1,000 m in 30 seconds.
At the end of his three-minute flight, Reffet performed a roll and a loop as well at 1,800 m altitude, before opening his parachute at 1,500 m and landing back at Skydive Dubai.

One of the three engineers who made this flight possible is from India. Mohammed Rashid Chembankandy from India, André Bernet from Switzerland and chief engineer Matthieu Courtois from France - developed the pioneering technology. They built and adjusted a manually controlled thrust vectoring nozzle that allows the pilot to control rotations around the yaw axis at zero speeds, making human control of the wing possible in all flight phases without the aid of any electronic stabilisation systems.
The research done by these engineers with support from Expo 2020 Dubai, has also focused on drastic risk reduction by studying speed profiles, engine parameters and flight attitudes.
"We are so happy we achieved this incredible flight. It's the result of extremely thorough teamwork, where each small step generated huge results. Everything was planned to the split second, and I was overjoyed by the progress that was achieved. It is another step in a long-term project. One of the next objectives is to land back on the ground after a flight at altitude, without needing to open a parachute. It's being worked on," said Vince Reffet shortly after his landing.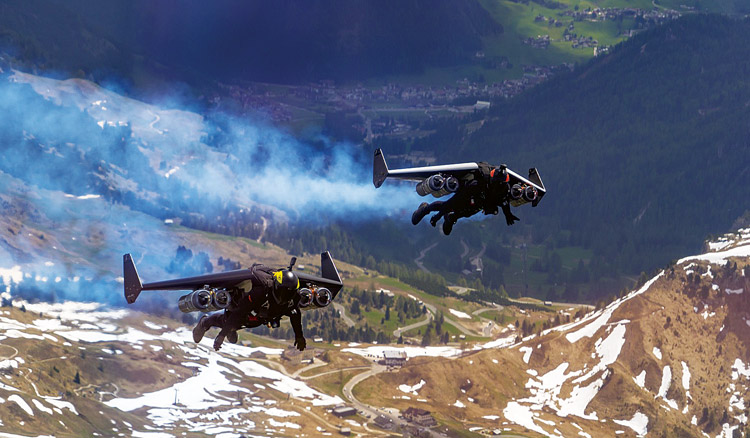 BY CONTROLLING THE CARBON FIBRE WING POWERED BY FOUR MINI JET ENGINES, THE JETMAN CAN ATTAIN SPEEDS UP TO 400 KMH
Development will continue in the coming months. Mission: Human Flight has also been training Ahmed Alshehhi, the first Emirati Jetman, as the UAE prepares to welcome 192 nations and millions of global visitors for Expo 2020 Dubai (from 20 October 2020 to 10 April 2021).
Being held under the theme 'Connecting Minds, Creating the Future', Expo 2020 will be the first World Expo ever hosted in the Middle East, Africa and South Asia (MEASA) region since the first edition in London in 1851.
"We're delighted to celebrate a landmark moment in the quest to achieve 100 per cent autonomous human flight. It's fitting that the stunt was performed here in the UAE, the nation of no limits, as Expo 2020 and Jetman Dubai continue to highlight that anything is possible when you combine innovation, passion, creativity and hard work," said Aysha Al Nuaimi, who is leading the project for Expo 2020 Dubai.
HOW ARE THESE MEN FLYING?
Well remember Iron Man's suit in the movie Avengers? Imagine the Jetman adorning a cool suit like Tony Stark and shooting in the air as if a jet; only that in this case it's not a suit but the Jetwing. It is too hard to believe but it is true as not just one but two-three Jetmen have been blurring the gap between science and fiction as they float around the tall minarets in Dubai, the high peaks in China and many more.
It took man millions of years to evolve from the era of Stone Age tools and have machines at his disposal and eventually enter into the era of powered flight. Some decades later, we were taking flight not just over earth but we also landed on the moon. And now as we await unmanned aerial vehicles, it also seems that the next leap for humankind is coming with the age of personal aircraft or personal flying and Jetman Dubai is leading the charge with its compact, jetpowered Jetwing.
The jet-powered wing suit that appears like aircraft wings, is attached to a jetman literally giving them wings. As of now, the Jetwing can cover a maximum distance of 50 km and has achieved 6100 m as the highest altitude with a 12 minutes flight duration. With a 4k action camera, and an action camera 360, it can hover for a minimum speed hover and go up to 220 KTS as maximum speed.
Four engines power this rigorous wing system which has a 6.5 foot (2 meter) wingspan, and weighs 121 lbs (55 kg).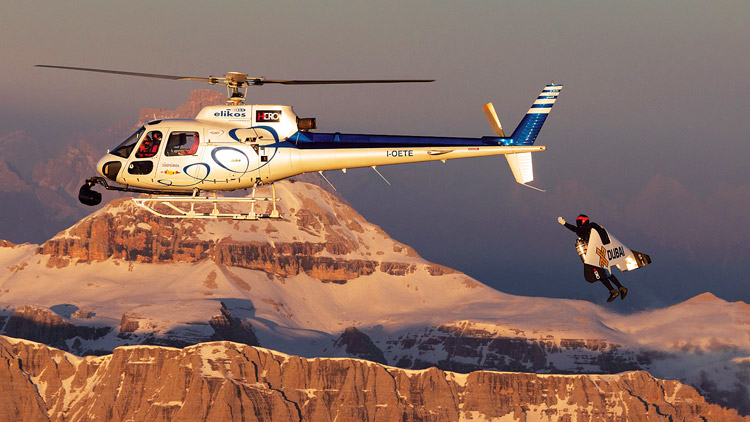 NO FEWER THAN 50 PREPARATORY FLIGHTS WERE CONDUCTED UNDER A CABLE AND WITH THE SAFETY OF A FALL ARRESTING SYSTEM, AS WELL AS IN-FLIGHT TESTS NEXT TO A HELICOPTER TO ENSURE THE SUCCESS OF THIS PROGRAMME
WHAT ABOUT SAFETY?
For an emergency situation, if at all an engine failure would have occurred at low altitude during the flight that Reffet took on February 14, he was backed by a pyrotechnic safety parachute that reduces the critical phase of his flight to four seconds (when his altitude is between five and 50m).
Like earlier, the health and safety of the Jetman was an absolute priority even in this recent stunt. No fewer than 50 preparatory flights were conducted – comprising more than 100 take-offs and landings under a cable and with the safety of a fall arresting system, as well as in-flight tests next to a helicopter. The thorough training that these Jet wing pilots go through over the years also ensures that they are well prepared and well equipped.
ONE OF THE THREE ENGINEERS WHO MADE THIS FLIGHT POSSIBLE IS FROM INDIA. MO HAMMED RASHID CHEMBANKANDY FROM INDIA, ANDRÉ BERNET FROM SWITZERLAND AND CHIEF ENGINEER MATTHIEU CO URTOIS FROM FRANCE – DEVELOPED THE PIONEERING TECHNOLOGY.
THE JETMAN HISTORY
The original and the first Jetman, Yves Rossy, developed the Jetwing wingsuit system comprising a backpack equipped with semi-rigid aeroplane-type carbon-fiber wings—with a span of about 2.4 metres and powered by four Jetcat P400 jet engines that were modified from large kerosene-fueled model aircraft engines.
In 2006, Rossy became the first man to successfully fly horizontally for six minutes using four jet engines and wings strapped on his back. Since 2007 Rossy has constantly updated and conducted flight tests towards ensuring the experience of being completely free in the air.
The history of Jetman Dubai goes back to 2013 when an early version of its Jetwing flew a successful formation flight with an acrobatic plane. Two years post that, the company completed a manned flight alongside an Emirates A380 jumbo jet over Dubai. These initial proof-of-concept flights were all launched from a moving aircraft or an elevated platform, unlike the latest one where Reffet took off from a runway. In a worldfirst, the Jetwing pilot launched to more than 3,000 feet in under 30 seconds from a standstill on the ground and topped out at nearly 6,000 feet before pulling his safety parachute.
Launched by Expo 2020, Mission: Human Flight is a programme with the highoctane organisation 'XDubai' to achieve 100 per cent autonomous human flight. In a series of milestone stunts, Jetmen will embark on a journey of discovery, while also amazing and entertaining the planet. Pilots from the Jetman team will perform four stunts – flying faster, higher and lower than ever before – creating a new benchmark for the world of aviation. On the team is Ahmed Alshehhi, on an inspirational yet gruelling journey to earn his wings as the UAE's first ever Jetman and introduce himself to the world in 2020.
THE JETMEN
Yves Rossy was the first man in the history of aviation to fly with a jet-propelled wing. Rossy is a Swiss military-trained pilot with both the fighter jet and passenger airliner experience. He is also known to be the inventor of a series of experimental individual jet packs, which he has flown over the Grand Canyon and the Alps mountain range. Rossy, the world's first man to fly with fitted jet-fuel powered wings strapped to his back, has flown over the Grand Canyon, the English Channel and Mount Fuji. While Rossy is the original Jetman, the team has now expanded and more pilots have been trained to take forward what Rossy started.
The JETMAN STUNTS
THE LAUNCH OF JETMAN DUBAI – THE NEXT CHAPTER
A new milestone is marked in the chapter of human flight to explore the limits in the city of dreams as XDubai and Jetman come together for the brand Jetman Dubai in 2015.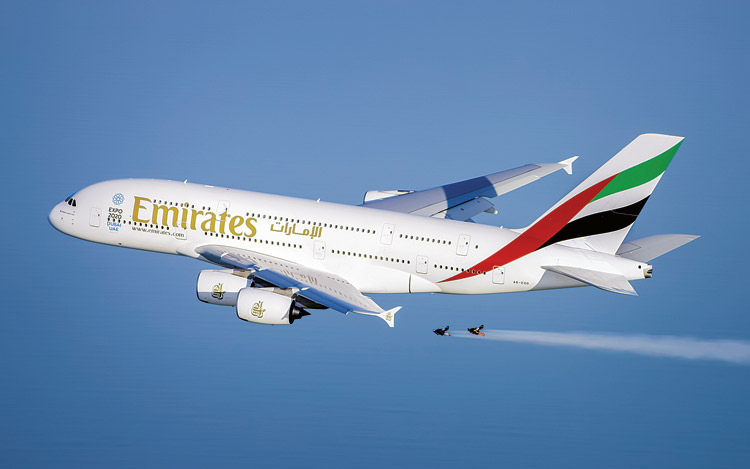 FORMATION FLIGHT OF JETMAN DUBAI & EMIRATES A380
Jetman Dubai and Emirates A380 take to the skies of Dubai for an exceptional formation flight. An aerial showcase was conducted in 2015 over the Palm Jumeirah and Dubai skyline, involving the world's largest passenger aircraft and the experienced Jetman Dubai pilots.
JETMAN FLY ALONG ACROBATIC AIRCRAFT
In a world first, three men and eight French Airforce planes flew alongside each other in a spectacular formation. The Patrouille de France are known for their skillful aerobatic demonstrations around the world and the Jetmen; Yves Rossy, Vince Reffet and Fred Fugen took this stunt flight with them in 2016 over the South of France involving16 different aircraft. Lasting for about nine minutes, the display team and Jetmen flew together at an altitude of 1200 m and a speed of 140 knots.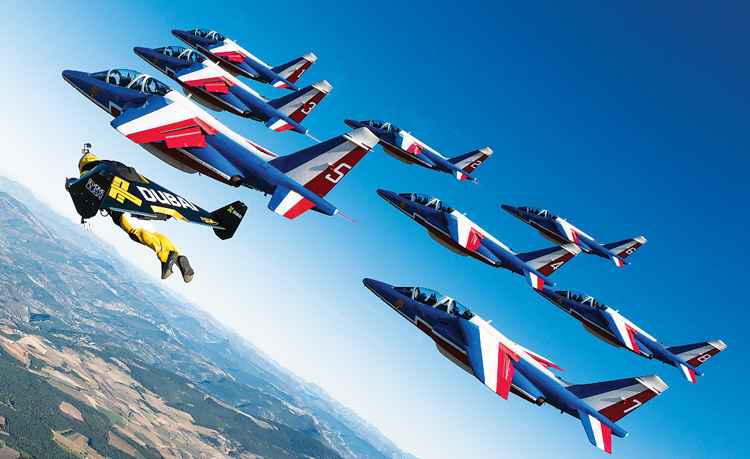 LOFT: THE JETMAN STORY
Jetman Dubai in collaboration with XDubai released a teaser in 2018 for upcoming documentary LOFT: The Jetman Story. The teaser revealed a Jetman Dubai worldfirst, a ground take-off, as it hints at other unprecedented feats. Jetman pilots Yves Rossy, Vince Reffet and Fred Fugen are seen performing various stunts in scenic Norway, including triple Jetman formation.
JETMAN GLIDE THROUGH THE TIANMEN MOUNTAIN, CHINA
Two Jetmen soared through the stunning Tianmen Cave, also known as 'Heaven's Gate' in China in 2019. With the topography of the landscape containing both overhead and underlying obstacles, the Jetmen, aimed to fly as low as 50 metres above ground. This was the first stunt for Mission: Human Flight performed by Vince Reffet and Fred Fugen.
JETMAN IN DUBAI
In 2019, for the first time a Jetman tested low-altitude flying in an urban environment. A plethora of skyscrapers line both sides of Sheikh Zayed Road, the main transport artery of Dubai, creating a manmade canyon with no option for failure. Two Jetmen flew at about one-third of the height of the lowest buildings, before zooming towards Burj Khalifa in Downtown Dubai and 'buzzing' the world's tallest tower.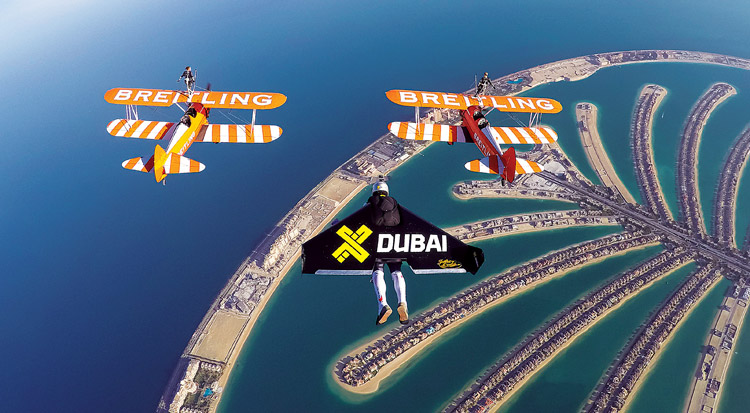 JETMAN DUBAI AND THE BREITLING WINGWALKERS
The world's only aerobatic formation wing-walking team joined the Jetman team Yves Rossy and Vince Reffet to perform a new aerial feat with the Breitling team over the Palm Jumeirah and Dubai Marina skyline.
Jetman Dubai, the brand behind the first man in history to independently fly using a jet-engine powered carbon fibre wing, together with action sports brand XDubai are setting the tone for autonomous human flight with upcoming Expo 2020, Dubai.
The team now has Fred Gugan and Vince Reffet as Jetman Pilots. It took five years of training and preparation before Reffet was cleared for his maiden flight as an official member of the 'Jetman' team, fulfilling a long-time dream for the world renowned skydiver and holder of the world record for the highest base jump from Burj Khalifa in Dubai. Ahmed Alshehhi, who is currently under training, will be the latest addition.
WHAT IT TAKES TO BE A JETMAN?
To earn their wings, candidates have to a fitness test and a Federal Aviation Administration medical. They must also have completed 7,000 skydives and 600 base jumps, and hold a private pilot licence.
The candidate needs to learn how to operate the Jetman equipment, including the wing and parachute systems plus fault-finding methods, as well as helicopter scheduling and comprehensive emergency response training.
In addition to that, skydive training, seven written exams and a solo cross-country flight are just a few more measures that any candidate needs to successfully navigate on their journey to become a Jetman or Jetwoman.