From July through the first few days of August, just over 23,000 business aviation aircraft operated a combined total of 500K flight hours, according to WingX Advance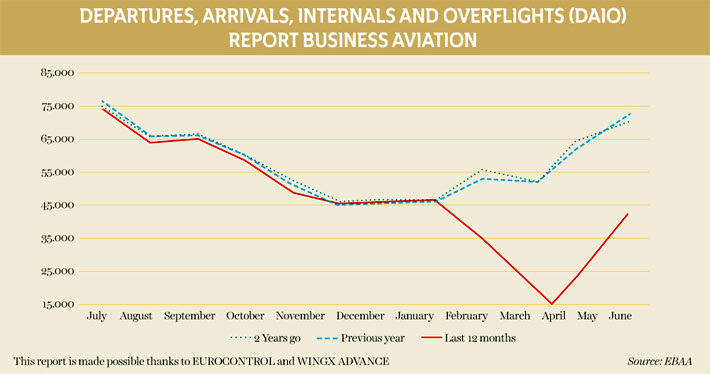 While the entire world battles to restart the life as lockdowns begin to open after the pandemic hit every industry, the business aviation industry seems to be showing signs of recovery in some parts of the world. The recovery in global business aviation appears to have hit a mid-summer ceiling of around 80 per cent of normal activity, according to the global data analytics and consulting company, WINGX Advance's. From July through the first few days of August, just over 23,000 business aviation aircraft operated a combined total of 500K flight hours, as stated in WINGX Advance's Global Market Tracker issued on August 5, 2020. The trend hasn´t been smooth, with some relapse in the 2nd half of July, then renewed recovery in the last week. But business aviation still looks in better shape than the Scheduled Airlines, where sectors flown over the same period are still down by almost 60 per cent.
BIZAV RESILIENT IN EUROPE
Europe continued to be the region where business aviation is coming back strongest, with July-August trends up to 89 per cent of comparative activity in 2019. The 7-day rolling average daily activity climbed above 2,200 sectors by the end of July, compared to 1,800 at the start of the month, and just 452 in the April trough. Regionally, Central Europe saw the strongest recovery, with Germany slightly up year-on-year (YoY), and flights from Austria as well as Switzerland around 5 per cent up compared to last year. Croatia and Belgium are two other outliers trending above 2019. Core markets like France are also noted to be in much better shape, having reached flights within 10 per cent of normal levels. Much more robust recoveries are coming through in Turkey, Russia, and Netherlands, all within 5 per cent of activity for last July and August.
In its European Business Aviation Traffic Tracker of June issued on July 16, 2020 by the European Business Aviation Association (EBAA), the association had observed a slight upturn in business aviation traffic towards the end of May. This recovery was confirmed and accelerated over the whole month of June, showing traffic levels at 42 per cent compared to 2019. The start of the recovery was taking place at the beginning of the summer period. Therefore seasonal aspects were expected to generate variations in the speed of recovery across European countries. The use of small aircraft favoured during the crisis, turboprop and light jets accounted for 70 per cent of the traffic in June, EBAA noted.
OVER THE LAST 30 DAYS, THROUGH 11TH AUGUST, GLOBAL BUSINESS AVIATION ACTIVITY HAS TRAILED LAST YEAR BY 17 PER CENT. IN THE FIRST 10 DAYS OF AUGUST, THE OVERALL PICTURE HAS NOT CHANGED MUCH BUT EUROPEAN BUSINESS AVIATION ACTIVITY HAS SIGNIFICANTLY BRIGHTENED, SHOWING A 0.1 PER CENT INCREASE IN SECTORS FLOWN COMPARED TO AUGUST 2019, ACCORDING TO A WINGX REPORT ISSUED ON AUGUST 12, 2020.
As Europe prepared to reopen on July 1, the EBAA had urged governments in the EU (European Union) and the EFTA (European Free Trade Association) Member States, and the United Kingdom, to lift travel restrictions in a carefully coordinated manner. EBAA Secretary-General, Athar Husain Khan, had said, "A coordinated approach to lifting travel restrictions is vital to avoid the confusion experienced by some business aviation operators when Europe reopened its internal borders earlier in June, and effectively restart air travel."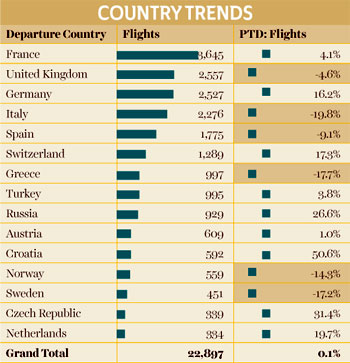 Over the last 30 days, through 11th August, global business aviation activity has trailed last year by 17 per cent. In the first 10 days of August, the overall picture has not changed much but European business aviation activity has significantly brightened, showing a 0.1 per cent increase in sectors flown compared to August 2019, according to a WingX report issued on August 12, 2020.
There has been very strong pent-up demand for Bizav flights in several countries in Europe. According to the tracker, the activity in Croatia went up 50 per cent YoY while Czech Republic witnessed 30 per cent more flights compared to August 2019. The flights from Russia were up by 26 per cent and France received 5 per cent more flights YoY. Even though the United Kingdom (UK) is still down by 5 per cent this month, it has made significant improvement from the 30 per cent decline in UK activity during July.
Ninety-seven per cent of the Bizav flights flown in Europe until the early August have had destinations within Europe. The biggest intra-regional gains came from flights within France, 1,558 in the first 11 days of the month, an increase of 25 per cent YoY. The busiest connection was noted from Paris to the south of France, with flights from Le Bourget to Nice up by 12 per cent, and from Le Bourget to Cannes, an 85 per cent YoY increase. Getaway holiday destinations in Corsica, Brest, Brittany saw record numbers.
Richard Koe, Managing Director of WingX Advance commented, "Business aviation activity has weathered the virus 2nd wave concerns in Europe so far. The overall result is that activity is bobbing around at 80 per cent of normal, which is still a lot better than Scheduled Airlines, operating at around 50 per cent of normal levels for August. What we have seen so far is a limited recovery in the leisure market, distinguished by demand for lighter aircraft, domestic flights, and popularity for remote rural and island destinations. The corporate demand is still largely parked. As the scale of the economic recovery materialises, we will see how that demand is affected as we move towards the end of the summer."
US BIZAV ACTIVITY COMPARATIVELY UNDER STRAIN
In contrast, the recovery in business aviation activity in the United States (US) has lost some ground recently. A month ago, trends were coming within 15 per cent of usual, now they are more than 20 per cent behind. Colorado and Arizona appear to be thriving as getaway destinations, with flight hours operated in and out trending at least 5 per cent above July-August 2019, noted WingX. At the other end of the spectrum, East Coast States like New York, New Jersey and Illinois are still around 30 per cent behind normal activity.
The recent issue of the report added that the deadweight has been the US market, where the recovery stalled in early July. Only in the last few days some momentum returned, regaining the 7-day rolling average activity from end of June. Since then, the US has seen a YoY deficit of just over 75,000 business aviation flights.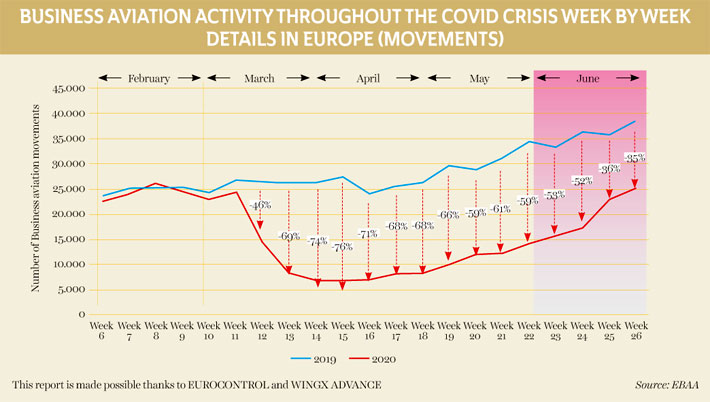 According to WingX, in the US, the slowdown in June's precipitous recovery in business aviation activity is a result of lockdown 2.0, especially in the country's primary user regions in California, Texas, and Florida. The busiest US State through early summer and the quickest to regain and then surpass 2019 traffic, Florida is also now trailing YoY activity by 8 per cent. While California and Texas have seen some recovery in flight operations, but still down 17 per cent YoY so far in August. Of the other busiest States, Colorado is one of the bright spots, with arrivals up 7 per cent this month, and notably flight hours up 14 per cent, attracting visitors from across the country. Bizav flights out of New York State are still down almost 40 per cent YoY.
The report although did highlight some destinations that showed recovery signs. "There is significant variation across US airports, with Dallas Love Field the busiest in August, flights up by 12 per cent compared to last year. Denver Centennial is popular, arrivals up 7 per cent, and Aspen continues to draw a big crowd, Bizav visitors up by 26 per cent. National Park destinations such as Eagle County airport have seen much more traffic than normal. Van Nuys has remained pretty buoyant, activity down 3 per cent this month," the report stated.
Richard Koe also mentioned earlier, "The mid-summer comeback in business jet activity has been weaker than anticipated due to the stop-start lockdowns in the US. In particular, the East Coast is still in a slump, and Florida, the recovery engine so far, is now spluttering. Europe is doing much better. August usually sees a lull in the US market so we don´t expect a turnaround there in the next few weeks, but leisure demand in Europe should continue to boost the charter market over here. The missing piece is the corporate market, and we will probably need to wait until the autumn to see how the business traveller adapts."
Outside the US and Europe, there are mixed trends in other regions, with flight activity in Africa still in quite gloom, Asia stabilised around 20 per cent below par, and Oceania maintaining a 5 per cent delta keeping head above water. Although, there is a lot more variation within these regions: Middle East flight activity is well behind par, but UAE is bucking the trend with strong growth; within South America, Brazil and Colombia have strong growth; across Asia and Oceania, activity out of Chinas is hovering at just under 85 per cent of usual, and whilst Australia and New Zealand have been solid recoveries the last few months, their flight activity is now starting to erode, stated WingX.