To regain passenger confidence and ensure a safer commute, business aviation industry is also taking advanced innovative steps to rework the cabin interiors of the aircraft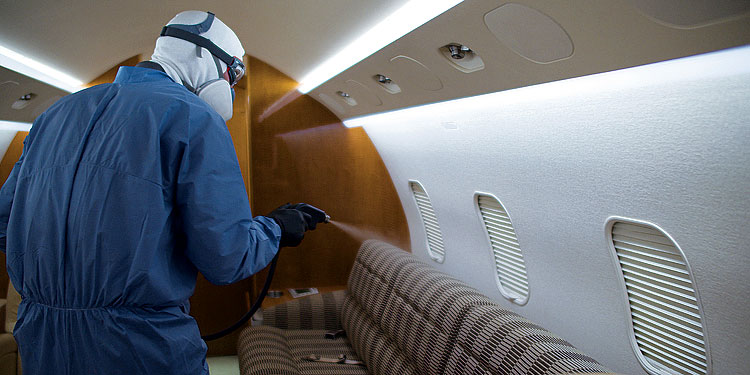 (Top) Duncan Aviation has implemented an aircraft disinfection service; (above left) The Pure Skies Zone features a combination of staggered and non-staggered seat configurations helping to maximise the feeling of personal space; (above middle) Each Pure Skies Zone seat features a fold down table with wireless charging and integrated UVC cleaning, a backlit safety card and a device holder; (above right) Dividing screens every other row in the Pure Skies Zone help alleviate passenger anxiety.
As the coronavirus pandemic took over, travel was one of the most affected sectors because of the immediate halt that was exercised on the industry in an attempt to curb the spread of the virus. However, the way forward is always adaptability and innovation which is what the industry has been moving towards.
Amid many other possible reasons for the spread of the virus, one major concern that had emerged, when it comes to air travel, was the low relative humidity levels in aircraft cabins. Health experts had highlighted that low humidity levels are a critical factor in the spread of COVID-19 because dry indoor air is like an accelerant that turns small viral outbreaks into massive viral bombs. Low relative humidity in aircraft cabins tends to create a host of problems including vulnerability to the disease. It was also pointed out by some that this could especially be problematic on long intercontinental flights with fewer people on board because the breath of passengers supplies much of the humidity that does exist in aircraft cabins. This drew the business aircraft as well into focus even though it is among the safest mode to travel in a corona-like situation. A study by European charter operator Globe Air although found that the air supply on a business jet is better overall, due to the smaller aircraft dimensions and lower passenger numbers.
As the perceived risk of spreading airborne viruses in the cabin came to the forefront, the use of High Efficiency Particulate Air (HEPA) filters came into the focus. This system uses 50/50 fresh air from outside the cabin and recirculated air, which passes through filters. HEPA filters capture over 99 per cent of airborne viruses and are as effective as those found in hospital operating theaters, according to IATA.
As the months have passed since the arrival of the novel coronavirus and activities have started to resume with precaution, the business aviation industry is also coming up with enhanced assurances to accelerate confidence in the passengers. A major aspect of these practices is the cabin experience. Industry experts had also remarked earlier that as the virus will initiate structural changes in the market, it will pave way for new cabin layouts.
PRIESTMANGOODE HAS INTRODUCED UVC LIGHT AND HEAT CLEANING, IN COMBINATION WITH PHOTOCHROMIC AND THERMOCHROMIC INKS IN THE MATERIALS AND FINISHES. AS THE HEAT FROM CLEANING REACTS WITH THE INKS, A MESSAGE OF REASSURANCE APPEARS ON SEATS, HELPING ALLEVIATE PASSENGER ANXIETY ABOUT HYGIENE DURING BOARDING.
In a recent report by National Business Aviation Association (NBAA) also highlighted how COVID-19 is changing business aircraft cabins. "Aircraft manufacturers and interior completions specialists have responded to the COVID-19 crisis by rethinking cabin designs and materials and developing various ways to combat pathogens," the report stated.
To protect and reassure passengers, airlines are undertaking high-profile measures to help make cabins safer. "Air filtration systems have been beefed up, and airline interior specialists are exploring ways to cocoon individual passenger seats with protective barriers," added NBAA's report.
However when it comes to the business aircraft, NBAA said that business jets' pressure and air filtration systems are already superior to those of commercial airliners especially due to smaller cabin volume. Business jets also do not have nearly as many passengers to protect from each other and flights in those aircraft tend to be shorter, thus reducing the risk of infection. But that does not mean that business aircraft cabins do not require any consideration at all.
Here are some examples from the industry who are taking certain steps in the direction of achieving a healthy cabin space in the aircraft.
NBAA stated Meghan Welch, interior design specialist for Elliott Aviation, agrees that while operators should certainly observe best practices when it comes to cleaning and disinfecting cabins and vetting the health of passengers, her company has not made major alterations to the interior designs of the airplanes that it typically deals with (from turboprops to mid-size jets). However, Elliott Aviation is making use of antimicrobial materials in some of its upholstery, side panels and other often-touched surfaces. This technology involves incorporating virus-fighting elements into fabrics and other interior materials. A coating with a chemical compound that is toxic to micro-organisms can be applied to surfaces to minimise the chance of a virus surviving very long. Such compounds also can be absorbed in a polymer material.
Nordam Group, which specialises in fabricating composite components used in aircraft interiors, is exploring the potential of Ultraviolet-C lighting as a possible replacement for standard lighting over hightouch areas, such as tray tables, because of its disinfectant qualities.
While Duncan Aviation has put together a group from the interiors segment to look at products with more safety measures in mind. It has also changed its procedures to include a comprehensive cleaning of every aircraft coming into its shop, using a fogging process and wiping down the cabin and the flight deck.
As far as cabin systems are concerned, Duncan Aviation has reportedly been impressed with Aviation Clean Air's bipolar ionisation system. The unit floods the cabin and flight deck with positive and negative ions that attach to oxygen and hydrogen atoms that then "surround" particles of most known viruses and render them inert. The system has been STCed on numerous large-cabin business airplanes, and Duncan is looking at possible applications on smaller aircraft.
London-based design studio, PriestmanGoode, revealed a new design concept 'Pure Skies' that includes a complete review of Business and Economy Class cabins and addresses pressing consumer, business and environmental concerns.
The concept has been developed around three main factors:
Personal space
Hygiene
Touch-free journey
Nigel Goode, Co-founding Director at PriestmanGoode stated in a press release, "This latest work from the studio represents pragmatic innovation. With the benefit of over 30 years' experience, we know how to harness design to achieve long-term positive change. We've looked ahead to imagine future scenarios and taken into account new passenger behaviours driven by the global pandemic to ensure our designs can be implemented within a few years and will meet user and airline requirements for many years ahead."
PriestmanGoode has introduced UVC light and heat cleaning, in combination with photo-chromic and thermo-chromic inks in the materials and finishes. As the heat from cleaning reacts with the inks, a message of reassurance appears on seats, helping alleviate passenger anxiety about hygiene during boarding.

(left) Seat fabrics include photochromic and thermochromic inks that react to new cleaning methods like UVC and heat cleaning; (right) GULFSTREAM DOUBLES DOWN ON CABIN AIR PURIFICATION
However it will take at least three years to develop and certify future cabin products. PriestmanGoode has started to outline what these new products should be to ensure the future success of the airline industry. The new built-in design, technology and material innovation improve personal space and hygiene, and facilitate touch-free journeys. The innovative cabin also includes features that empower passengers to tailor products around individual preferences.
Many OEMs are also protecting passengers and crews from viruses in several ways.
Bombardier's Global business jets have a 100 per cent fresh-air system, in addition to an air purification and circulation system known as Pur Air. A HEPA filter captures up to 99.9 per cent of allergens, bacteria and viruses and can completely replace cabin air in as little as 90 seconds, according to the company.
Also, Bombardier service centers offer Microshield 360, an EPA- and FDAapproved antimicrobial coating used for decades in the food industry to protect against viruses, bacteria, fungi and algae.
A global leader in international aircraft sales and ownership strategies, Jetcraft highlights that HEPA filters have been used in business aircraft for years, including the long-range Bombardier Global 6000, 6500 and 7500 models. In the midsize market, they are also found in the new Cessna Citation Longitude, and the popular Latitude jet. Even Embraer offers them on its new Praetor 500 and 600 jets.
GULFSTREAM AEROSPACE IS ALSO MAKING ITS CABIN AIR ADDITIONALLY CLEANER WITH A NEW PLASMA IONISATION SYSTEM THAT OPERATES WHEN THE AIRCRAFT ENVIRONMENTAL CONTROL SYSTEM IS ACTIVE
Gulfstream Aerospace is also making its cabin air additionally cleaner with a new plasma ionisation system that operates when the aircraft environmental control system is active. It emits positive and negative oxygen ions that inactivate harmful molecules on surfaces and in the air, stated the manufacturer. Further, it neutralises particulate matter including bacteria, viruses and unpleasant odors from organic material such as cigarette smoke.
"The plasma ionisation system further enhances the cabin health benefits customers can expect from the signature Gulfstream Cabin Experience. By adding such a system in tandem with already 100 per cent fresh air and the proven Gulfstream airflow design, customers can fly their families and teams with even more peace of mind," said Gulfstream President Mark Burns.
Besides airborne virus transmission, many infections – including Covid-19 – can also be spread through particles that land on surfaces. Thus Jetcraft has teamed up with interiors specialist F/LIST to treat all eligible inventory aircraft with MicroShield 360, an innovative antimicrobial treatment for cabins.
Jetcraft highlighted that MicroShield 360 forms a barrier of nano-scopic spikes on the treated surface, which kills germs on contact, destroying the outer cell membrane like bursting a balloon. The system is colourless, odourless, hypoallergenic and FDA-approved. As it's a 'mechanical' treatment rather than chemical, it can't be wiped away or removed by regular cleaning, protecting the cabin for 12+ months after a two-hour application.
"It goes without saying that we're committed to safeguarding our customers, so wherever they are in the buying process – taking a tour, enjoying a demo flight, or receiving the aircraft – they can be confident while on board," stated Jetcraft.