After air charter companies, it is the infrastructure and construction sector which owns quite a number of aircraft and has become a key driver of private aircraft sales in India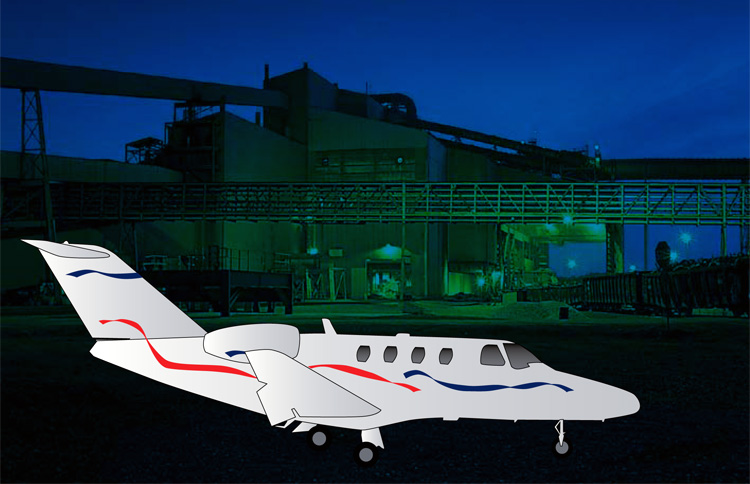 Key driver of private aircraft sales: Infrastructure and construction sector owns quite a number of aircraft
The Bellary-Koppal region in Karnataka is a dusty region. But at one time, it was known for three things – mining, jeans manufacture and private jets. And all the three have taken a hit. Mining is in doldrums and mine owners, who at one time showed off their Land Rovers and private jets are in deep trouble since the government banned illegal mining in Karnataka some years back. At one time the region had two private airports, eight helicopters and six aircraft.
Only MSPL, iron ore mining company, is holding on to its P-180 Avanti II aircraft and Santosh Lad has a Fokker 50. The mining baron Janardhan Reddy had his assets seized including his helicopter. At one time it was called the 'private aircraft capital' of India. That is a thing of the past.
Be that as may, but these private aircraft were needed for these companies as they were located in backward regions which had poor connectivity by road and rail. These companies ferried in buyers, investors and others to the mining sites in their private jets. Mining, like the oil and natural gas sector, remained one of the drivers for private aircraft, be it a fixed-wing or a rotary. For the offshore drilling, helicopters are a must. The Oil and Natural Gas Corporation (ONGC), the public sector enterprise, uses extensively aircraft to ferry its executives, VIP visitors, and others to the drilling sites on sea. ONGC, which has a stake of 49 per cent in Pawan Hans Ltd, uses helicopters.
Infracon is major buyer
But now after charter companies, it is the infrastructure and construction sector which owns quite a number of aircraft and has become a key driver of private aircraft sales in India. Take B.G. Shirke Construction and Technology it has one King Air C90; two Hawker 800XP; one Bell 407 and one Super King Air B200. The housing giant DLF has a Gulfstream GIV and Agusta AW 139; GVK Projects has one Agusta 109E and Falcon 2000DX; GMR Group has one Falcon 2000E, Bell 412 and Hawker 750; Hiranandani has one Sikorsky 76C; L&T Aviation has two Hawker HS125 900XP; Punj Lloyd has one Gulfstream G200; SKB infracon has one King Air C90A, Mandke & Mandke Infrastructure has one Robinson R; Sobha Puravankara has Gulfstream G200 and there are few more such buys. In the the steel sector there is Jindal Steel and Power Limited which has one Cessna 560XL; Indian Metals and Ferro Alloys Ltd has one Cessna Citation CJ2. The Reliance group owns one ACJ319-115CJ; two Falcon 900EX; Global Express BD700 Global 6000 and two Sikorsky S76C.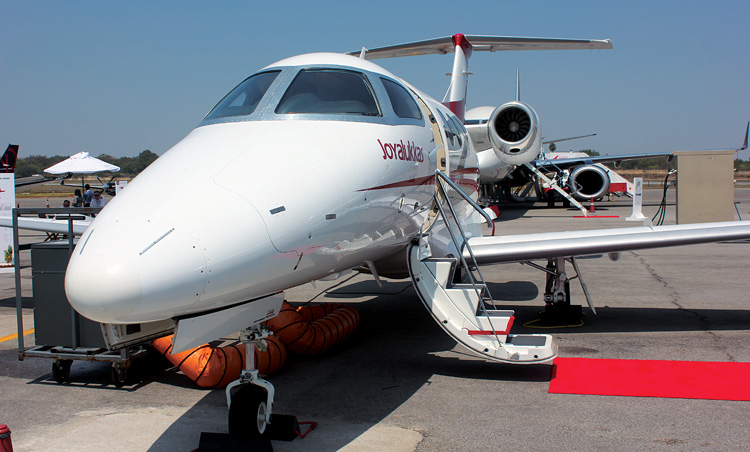 Phenom 100E owned by jewellery retail chain Joyalukkas
Flying to tourist destinations
The tourism sector is one which is also finding renewed interest from vendors of private jets and helicopters. The Taj Group has got three jets – Falcon 2000; Falcon 2000LX and Piaggio P180 Avanti II; the East India Hotels (Oberoi group) has one Hawker 850XP; and Bharat Hotels (Lalit) has one Beechcraft Super King Air B300 and one helicopter Agusta 109S Grand.
Jewellers picking up planes
Another trend we witness is that major jewellers are looking at private jets. The big jewellery retail chain of Joyalukkas (Joy Jets) has one Phenom 100 and a Phenom 300. Also from Kerala is Kalyan Jewellers which has acquired three aircraft – Phenom 100, a Bell 427 helicopter and now an Embraer Legacy 650 executive jet. The Chairman and Managing Director T.S. Kalyanaraman said on these acquisitions, "Most of the towns where we have showrooms and places where we are planning to open stores, don't have direct flights and lot of time is wasted on transit," he said. The aircraft is not a luxury but a necessity since it helps save time.
More companies which have their businesses spread out and invariably in backward regions with poor transportation connectivity are looking at owning private aircraft. One of the advantages they find in having an aircraft is that it meets their travel needs and when the company is not using it, they also outsource their aircraft, thus making money from idle time. The President of Business Aircraft Operators Association (BAOA) Jayant Nadkarni states that businesses such as automotive, pharma, mining and construction sectors are buying aircraft and giving it to thirdparty operators for operations.
Awaiting liberal policies
Right now the business aviation segment is awaiting for a push in reforms such that aircraft acquisition becomes easier. Rohit Kapur former President of BAOA and Managing Director of Arrow Aircraft Sales & Charters Pvt Ltd, has pointed out how one has to navigate a minefield before one really gets to acquire an aircraft in India. In fact at this point of time, there is a wee bit of interest in the private jet market after having gone through turbulent times in the recent past. The reverse was happening when private aircraft from India were getting sold outside. Rohit Kapur mentions that in financial year 2015, about 10 private jets and helicopters were sold and the previous year too, about 19 aircraft were sold outside India. The buys were few.
With the present government there is hope that it will ease policies such as to boost the business aviation segment which hitherto has received stepmotherly treatment.