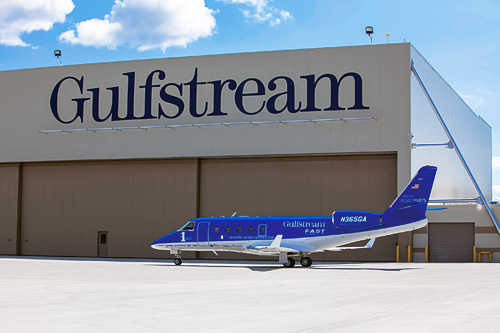 Gulfstream Aerospace Corp recently completed its 5,000th airborne support flight, achieving the milestone more than 13 years after Gulfstream launched business aviation's first airborne maintenance and support service in May 2002.
The Gulfstream Field and Airborne Support Teams, otherwise known as FAST, use two dedicated aircraft to deliver flight-essential parts and technicians to operators in North America, Central America and the Caribbean. The service, which has accumulated more than 16,600 flight hours and 8 million nautical miles since its inception, operates 24 hours a day, seven days a week.
The airborne support element of FAST comprises two G150 aircraft, more than 50 technicians and pilots and a support team of more than 230 people. FAST also includes support vehicles throughout the US and Europe, including a 74-foot (22.6-metre) tractortrailer based in Savannah, seven custom-equipped trucks and a custom-equipped van. Along with the airborne unit, which went on more than 580 missions and accumulated 2,378 flight hours in 2015, FAST has a ground unit that includes 12 dedicated maintenance engineers who can be dispatched by airplane, train, automobile or van from their bases in Europe, Asia and the Middle East to resolve maintenance issues.