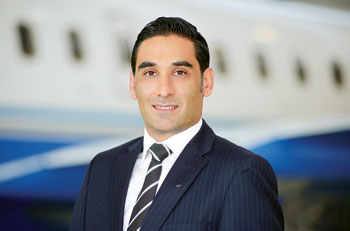 BizAvIndia (BAI): What solutions does Jet Aviation offer?
Kani Saritas (Saritas): As a leading business aviation services company, Jet Aviation's service offerings include maintenance, completions and refurbishment, engineering, FBO and fuel services, along with aircraft management, charter and staffing. Geographically, our global operations are roughly divided into three regions: The Americas; Europe, Middle East and Africa (EMEA); and Asia. From a service perspective, we have an integrated "hub and spoke" business service model, operating four major MRO hubs — located in St. Louis, (Missouri, United States); Basel (Switzerland) Dubai, (United Arab Emirates) and Singapore — which are supported by other global maintenance facilities to meet regional demand. Our two Completions Centres are based in Basel and St. Louis, while we operate 20 FBOs around the world and manage a global fleet of approximately 300 aircraft.
BAI: What are the most important markets for Jet Aviation?
Saritas: Our most developed markets are in the US, Europe and the Middle East, which we strive to sustain by differentiating our services through quality, constant expansion of our capabilities and, of course, our global network. We also invest in markets where services are needed, and emerging markets in India and Asia are very important to us.
BAI: How is Jet Aviation supporting the Indian operators through its various facilities in Dubai, Singapore, Geneva and Basel?
Saritas: Jet Aviation relies on its entire global network to provide tailor made solutions for all aspects of business aviation operation, whether our Indian-based customers are travelling in Asia, the Middle East, Europe, America or the Caribbean. That said, we hold repair station certificates from the Directorate General of Civil Aviation (DGCA), the governing civil aviation regulatory body in India, at all of our facilities in Basel, Dubai, Geneva and Singapore. These approvals permit us to service and certify all Indian-registered aircraft types that are supported at the individual facilities.
BAI: How do you foresee India market in the coming years?
Saritas: Like all markets, the business aviation market in India is subject to economic and political events and happenings in the region and world, but given relative constants, we see stability to light growth in India in the coming years. We also see operators and suppliers maturing within India and expect to see consolidations for several service companies (MRO, flight support, brokers, etc.)
BAI: Please share about your tie-up with Arrow Aircraft?
Saritas: Arrow Aircraft Services is our partner and representative with whom we've been cooperating in India for almost three years. As a New Delhi-based business aviation services company, Arrow Aircraft is known in India for its integrity, dependability and handson approach. They represent Jet Aviation while prospecting new maintenance or refurbishment business in India for our MRO facilities in Dubai, Singapore, Geneva and Basel.
Our agreement with Arrow Aircraft Services enables us both to utilise our synergies to better serve the Indian market, ultimately providing an excellent opportunity for aircraft owners and operators in India to ensure the life-cycle and safety of their aircraft.
BAI: Jet Aviation's Design Studio in Basel was recently announced as a finalist in the Visualization Category of the Society of British and International Design Awards 2016. Your comments.
Elisabeth Harvey (Director Design, Basel Design Studio): The Jet Aviation Basel Design Studio has been crafting beautifully bespoke private aircraft interiors for 40 years. For the 2016 Society of British and International Design Awards, the company submitted its "Boeing 787-9 Limitless" design, which takes the "best of the best" in terms of latest design thinking and the newest technologies.
Intended for a Middle Eastern client with an interior that is far from classic, the design draws on traditional Arabic geometric shapes and tessellating patterns, but re-interprets them in a modern way. Traditional motifs and classic materials are combined with innovative new fabrics and furnishings, creating an interior that is both a comfortable and beautiful home — and a working business space. Inspired by residential design, the interior is contemporary and comfortable, but above all aircraft compliant.
The project is an exquisite fusion of ancient and up-to-the-minute architectural and residential design inspirations brought within the complex constraints of a new-generation composite airframe.