A persistent dream, challenging circumstances led to a journey of wonder...
By Claudio Camelier,


Vice President of Sales for Asia-Pacific and the Middle East, Embraer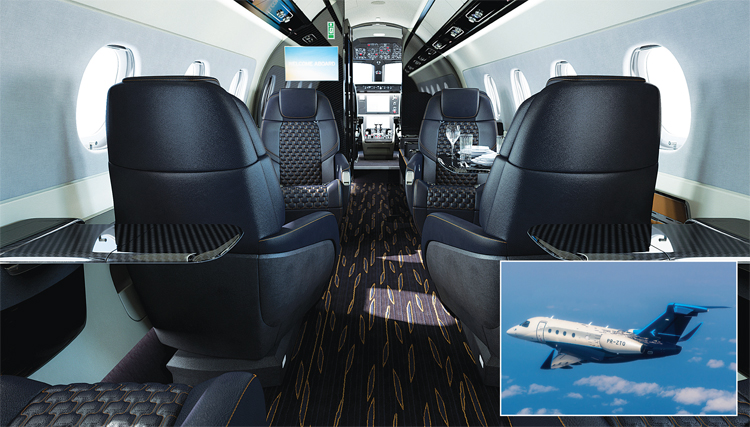 Embraerr's Praetor 500 embodies thoughtful attention to detail and superior craftsmanship are evident throughout the elegantly conceived 6-foot-tall flat-floor cabin; (INSET) Praetor 500 in flight.
It all started with a modest but persistent dream: to produce aircraft in Brazil, a country of one of the most creative aviation pioneers – Alberto Santos Dumont. For this dream to come true, ironically, it was necessary to face an overwhelming lack of resources and the skepticism both inside and outside of the country.
Under these adverse circumstances, Embraer was born. The lack of resources taught its founding team and all that followed after to value what is essential. With the huge challenges, we learned to turn barriers into opportunities. Today, on average, every 10 seconds an Embraer aircraft takes off somewhere in the world.
During the last five decades, Embraer has facilitated human transportation and developed solutions to improve the protection of nations worldwide.
It first started with the Bandeirante – a twin turboprop aircraft designed for defense, and more commonly, commercial aviation purposes. Produced in the 1970s, the Bandeirante gained a reputation for being a pioneer of global regional aviation: flying in Europe, South America and Australia. It was prepared to operate in the most adverse conditions, facing temperatures between -30° C and +40° C. Living up to its legacy, the Bandeirante continues to be operated across islands in the Pacific.
Disrupting the Business Aviation arena with clean-sheet, state of the art aircraft steeped in reliability.
The journey of wonder brought Embraer into the business aviation domain.
Taking its DNA of innovation, technology and reliability, Embraer entered the business aviation arena in 2001. Incorporating the years of know-how in designing and building aircraft, it has a clear aim: to listen to the market and re-define business aviation.
In a short span of 10 years, Embraer's executive jet unit had launched seven types of business jets: from the entry-level Phenom 100EV to the ultra-large Lineage 1000E. Last year it announced two new disruptive jets in the midsize and super-midsize segments, the Praetor 500 and Praetor 600. Embraer's innovative aircraft are products of its culture of improvement, attention to the finest details, and willingness to push the boundaries of aeronautical engineering. Finding inspiration in the greatest of challenges, Embraer's presence in the business aviation industry has raised the bar, entirely redefining the kind of quality, luxury and performance business jets could deliver.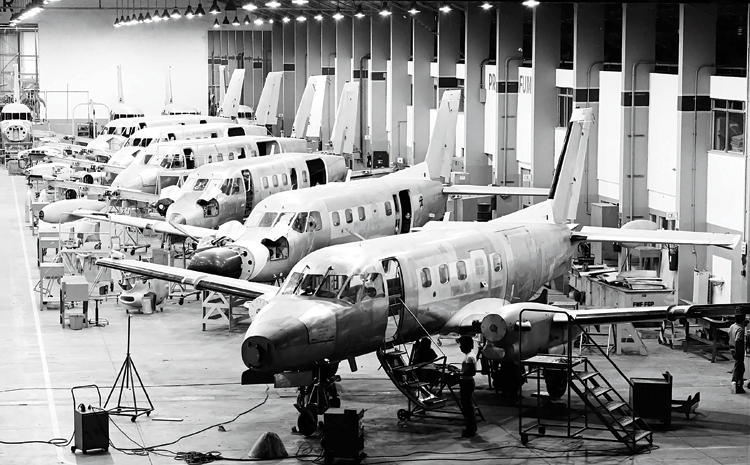 Down the Memory Lane: Embraer EMB 110 Bandeirante production line
If we may say so ourselves, there are no other jets in the world as remarkable as Embraer business jets. If you've flown in one, you know they simply feel like something special. Even before take-off, you will notice that its ramp presence – how its sleek design stands out from other business aircraft - is second to none.
There are close to 20 Embraer business jets operating in India and are supported 24/7 by its services and support network.
The new Praetor 500: the world's most disruptive and technologically advanced midsize business jet.
In August 2019, Embraer's new Praetor 500 midsize business jet was granted its Type Certificate by Brazil's Civil Aviation Authority (ANAC—Agência Nacional de Aviação Civil), having been announced in October 2018 at NBAA-BACE. The Type Certificate was awarded during a ceremony at LABACE (Latin American Business Aviation Conference and Exhibition).
The Praetor 500 surpassed its certification goals achieving an intercontinental range of 3,340 nautical miles (6,186 km—NBAA IFR Reserves with four passengers), a high-speed cruise of 466 KTAS, a full-fuel payload of 1,600 lb (726 kg), a takeoff distance of only 4,222 ft (1,287 m) and an unfactored landing distance of 2,086 ft (636 m). For a 1,000-nautical-mile mission, the takeoff distance is a mere 2,842 ft (867 m).
The Praetor 500 outperforms its class, becoming the best midsize jet ever developed and the only jet in its class with Ka-band internet connectivity. With the best cabin altitude, the Praetor 500 is the only midsize jet with full fly-by-wire, which complements the superior cabin experience of the Embraer DNA interior design with turbulence reduction for the smoothest and most efficient flight possible.
THE PRAETOR 600: SUPER-MIDSIZE BUSINESS JET
"The Praetor 600 unleashes the full potential of its platform through industry-leading design, engineering and technology that was yet unseen in the medium cabin class," said Daniel Moczydlower, Executive Vice President, Embraer Engineering and Technology. "With Embraer's fourth-generation fly-by-wire technology and more than 25 patented innovations in the interior design and architecture, the Praetor 600 will ensure an industry-exclusive customer experience and raise their expectations of business jets."
The Praetor 600 is an aircraft of many firsts, including the first super-midsize jet with full fly-by-wire technology, which, as with the Praetor 500, powers turbulence reduction that not only makes every flight the smoothest but also the most efficient possible.
The Praetor 600 is now the farthest-flying super-midsize jet, able to make nonstop flights between Dubai and London, Paris and New York, São Paulo and Miami. With four passengers and NBAA IFR Reserves, the Praetor 600 has an intercontinental range of 4,018 nautical miles (7,441 km), with the highest payload capacity in its class, and at Mach 0.80, its range is 3,719 nm (6,887 km).
Looking at Embraer's newest business aircraft: the Praetor 500 and the Praetor 600, it is evident why Embraer's fast-growing global fleet of more than 1,300 executive jets operates in over 70 countries worldwide, backed by the world's No. 1-ranked product support team and more than 70 owned and authorized service centers.
NEW HORIZONS
To keep the success achieved so far and expand it, it is crucial to think ahead. That's why Embraer's operations go beyond aviation, including advanced studies and development of vehicles designed to revolutionise urban mobility.
The future will lead Embraer into extraordinary challenges, but its people are dedicated to develop new technologies that will help overcome these barriers. Whether in the sky, on land, at sea, or in the cities, Embraer is ready to propose disruptive solutions and build what's next. With Embraer, the future is closer than you ever imagined.