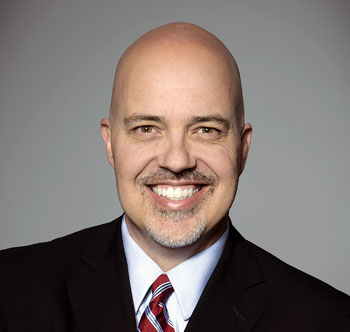 BizAvIndia (BAI): Can you indicate on the key locations of your customer support network around the world?
Derek Zimmerman (Zimmerman): Around the world, Gulfstream has 11 company-owned service centers; six factory-authorised service centers run by our sister company Jet Aviation; 18 authorised warranty facilities; and one company-owned component repair center.
Our US-based company-owned service centers are strategically located in Savannah, Georgia, where our headquarters is based; Brunswick, Georgia; Westfield, Massachusetts; Palm Beach, Florida; Dallas, Texas; St. Louis, Missouri; Appleton, Wisconsin; Van Nuys and Long Beach, California. International company-owned service center locations include Beijing and Farnborough, England, just outside of London.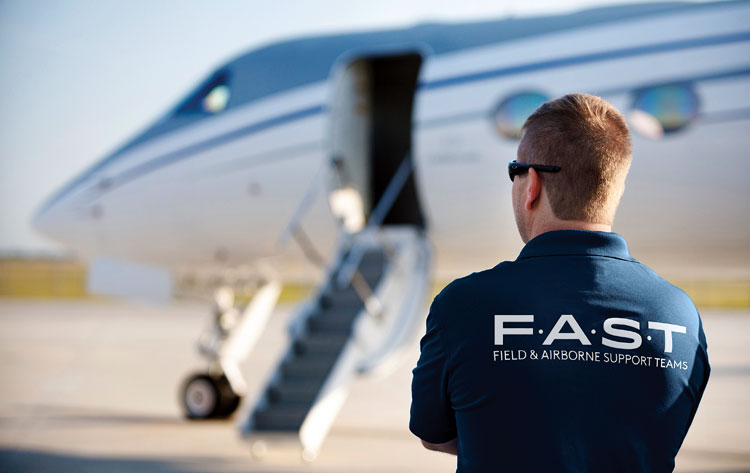 Gulfstream Field and Airborne Support Teams
BAI: In case of any urgent parts' replacement/fixing requirement comes up, what's the turnaround time?
Zimmerman: Gulfstream Customer Support has systems in place to quickly identify and address a situation in need of maintenance, sometimes even before the customer is aware. We do this in large part through the Gulfstream FAST – Field and Airborne Support Teams – Center, a dedicated support center focused solely on ensuring fast return to service of customers' grounded aircraft.
"AROUND THE WORLD, GULFSTREAM HAS 11 COMPANY-OWNED SERVICE CENTERS; SIX FACTORY-AUTHORISED SERVICE CENTERS RUN BY OUR SISTER COMPANY JET AVIATION; 18 AUTHORISED WARRANTY FACILITIES; AND ONE COMPANY-OWNED COMPONENT REPAIR CENTER"
The FAST Center is located in the Gulfstream Savannah Service Center, the world's largest and most technically advanced maintenance facility built specifically for business jets, and is staffed by an enterprise-wide team of experts dedicated to predicting, preventing and resolving maintenance or logistics issues that would prevent an aircraft from making its next flight.
Requests, if designated an "AOG," or aircraft-on-ground condition, are routed to the FAST Center, where experienced team members have Gulfstream's vast worldwide resources at their fingertips. These include multiple FAST aircraft to deliver parts, tools and technicians; field service representatives and FAST-dedicated technicians; mobile repair teams with specially equipped vehicles; more than $1.3 billion in spares inventory based around the world; and Gulfstream's network of company-owned and authorised service centers and warranty facilities.
Technicians in the FAST Center can also keep a keen eye on customers' aircraft in flight with Gulfstream's PlaneConnect Health and Trend Monitoring (HTM). HTM works in the background to collect data on the aircraft system's performance during a flight. Technicians can run real-time data inquiries in flight, and by the time the aircraft lands, notify the crew of maintenance needs. This sophisticated monitoring system allows for early detection and reduced downtime, resulting in an efficient and quick return to service for the aircraft.
(left) Gulfstream Customer Support Distribution Center; (Right Top) Gulfstream FAST Center; (Right Above) Gulfstream FAST Aircraft
BAI: Please tell us more about your Aircraft Ownership Service? How exactly does it work and how is it different from other such services?
Zimmerman: Gulfstream is the only large-cabin business-jet OEM to offer a full concierge service for owners, with the Aircraft Ownership Service (AOS). This turnkey service allows customers to tailor the suite of services they would like Gulfstream to handle on their behalf, whether that is scheduled and unscheduled maintenance, parts and labour; technical information (publications and subscriptions); major vendor support programmes integration (engines, auxiliary power units, avionics); on-site operational staffing and support; hangar accommodations; connectivity packages and more. In cases where Gulfstream vendors supply the part or service, the customers' Gulfstream AOS representative takes care of all the logistics.
"WE SIMPLY BELIEVE THE RELATIONSHIP WITH OUR CUSTOMERS IS TOO IMPORTANT FOR US TO BE ANYTHING OTHER THAN FULLY COMMITTED. ONE OF THE TOP REASONS A CUSTOMER PURCHASES A GULFSTREAM IS BECAUSE THEY HAVE FULL CONFIDENCE WE STILL STAND BEHIND THEM FOR YEARS AFTER THE INITIAL DELIVERY."
BAI: Does Gulfstream ensure that the turnaround time of services and support to the customers remain the same, no matter where there are, in the world?
Zimmerman: Gulfstream Customer Support has strategically placed parts and people around the world to maintain as consistent as possible an experience for the customer, regardless of where they may be.
To ensure availability of parts, which is a key component of a quick return to service, Gulfstream has created a vast distribution network. In addition to Gulfstream's state-of-the-art, 4,05,868-squarefoot/37,706-square-meter Customer Support Distribution Center in Savannah, the company has established distribution centers around the world, including Van Nuys, California; Teterboro, New Jersey; Amsterdam; Basel, Switzerland; Hong Kong; and Singapore. Seeing the opportunity to further expedite parts deliveries, Gulfstream recently opened a new distribution hub in Atlanta, within two miles of the city's busy Hartsfield-Jackson Atlanta International Airport.
"THANKS TO THE STRATEGIC PLACEMENT OF GULFSTREAM FAST TECHNICIANS AND FIELD SERVICE REPRESENTATIVES AROUND THE WORLD, ALONG WITH OUR PARTS DISTRIBUTION NETWORK, GULFSTREAM CUSTOMER SUPPORT HAS A NIMBLE AND GEOGRAPHICALLY DIVERSE SUPPORT TEAM TO MAINTAIN READINESS"
Of course, those parts need technicians, too, and we have positioned hundreds of field service representatives and FAST technicians around the world to support customers where they and their aircraft are. The technicians and support personnel in our company owned service centers also share a common organisational structure, standardised quality systems and workflows, and well-connected functional leadership to help maximise effective throughput and a consistent, world-class experience.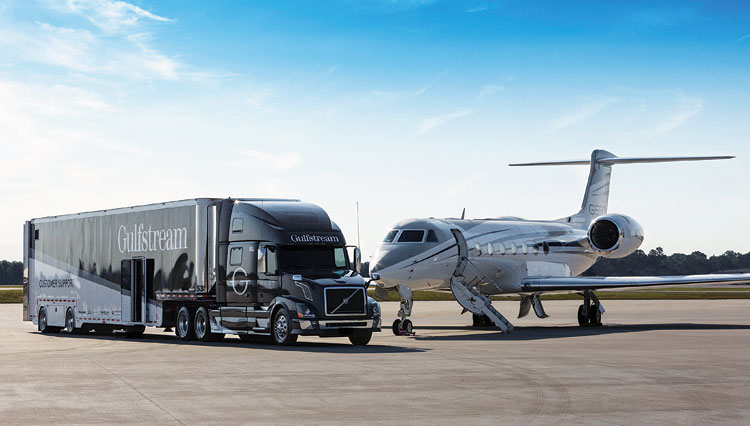 Gulfstream FAST Truck and Aircraft
BAI: How do your services differ from the competitions? What are the key pillars of your level of customer support?
Zimmerman: For more than 60 years, Customer Support has been central to Gulfstream's vision of delivering the world's finest aviation experience. We have steadily grown our company-owned support network over several decades by investing heavily in facilities, equipment, systems and training. We focus exclusively on Gulfstream aircraft and continue to perform maintenance work on most of the Gulfstream fleet.
Over the years, we've always listened to and learned from our customers in order to use their feedback and knowledge to help shape our strategy. As a result, our workforce has developed an incredible depth of knowledge and competency and has earned the trust and loyalty of our owners and operators. Customers expect and value the expertise of our teams and the unmatched support they provide anywhere in the world.
"OVER THE YEARS, WE'VE ALWAYS LISTENED TO AND LEARNED FROM OUR CUSTOMERS IN ORDER TO USE THEIR FEEDBACK AND KNOWLEDGE TO HELP SHAPE OUR STRATEGY. AS A RESULT, OUR WORKFORCE HAS DEVELOPED AN INCREDIBLE DEPTH OF KNOWLEDGE AND COMPETENCY AND HAS EARNED THE TRUST AND LOYALTY OF OUR OWNERS AND OPERATORS."
Along with AOS and other Gulfstream Customer Support programmes, our ultimate goal is to make the aircraft ownership process as seamless as possible, so our customers can focus on their success and the success of their business.
BAI: What is the thought behind Gulfstream having more factory-owned service centres?
Zimmerman: We simply believe the relationship with our customers is too important for us to be anything other than fully committed. One of the top reasons a customer purchases a Gulfstream is because they have full confidence we still stand behind them for years after the initial delivery. The best way for us to do this is to be there when they need service or support, and that also gives us the opportunity to learn from every shared experience. This creates a razor-sharp focus coupled with unmatched capability, capacity and competency.
BAI: Do you face any set of challenges in keeping Gulfstream Field and Airborne Support Teams (FAST) ready at all times around the world?
Zimmerman: Thanks to the strategic placement of Gulfstream FAST technicians and field service representatives around the world, along with our parts distribution network, Gulfstream Customer Support has a nimble and geographically diverse support team to maintain readiness. We've been able to continuously evolve and grow over the years along with customer needs and changing conditions.