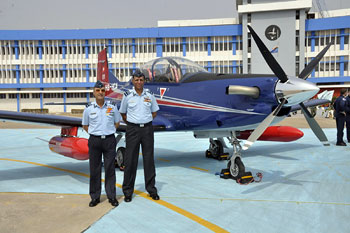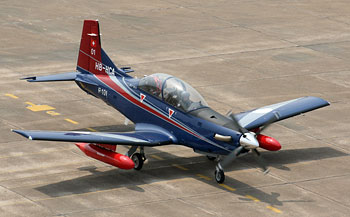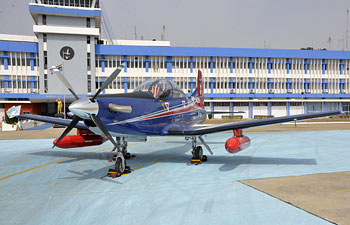 The battle for basic trainers just went to the next level. While HAL has fought hard to keep its HTT-40 propeller trainer on the table for the Indian Air Force's basic training requirement, the IAF has dismissed HAL's reservations and formally called for 106 more Pilatus PC-7 Mk-II trainers to complete its urgent requirement. The IAF's tender calls for a 'buy & make' acquisition which it envisages as a certain number of aircraft purchased in flyaway condition from Pilatus (like the 75 aircraft from the original order), and the remaining built in country by an Indian partner as part of a corporate joint venture with Pilatus Aircraft. The move is only the latest in what has been a deteriorating face-off between the IAF and HAL over the last two years over the basic trainer requirement.
According to the RFI, "It is desired that suitable Indian vendors (including an Indian company forming Joint Venture/establishing production arrangement with the aircraft OEM) propose 'Buy & Make (Indian)' scheme to supply certain number of PC-7 Mk II aircraft in flyaway condition along with requisite associated equipment as the 'Buy' portion followed by licensed production/indigenous manufacture in India under the 'Make' portion." The RFI comes shortly after the IAF proposed that one of its base repair depots was capable of undertaking the license build of PC-7s in country, as reported earlier by SP's.
The IAF has made it a point to emphasise the urgency of the requirement too: "PC-7 MK II and associated equipment are required to be inducted urgently into the IAF. Hence, the proposal must be made keeping this factor in mind and ensuring that the induction of aircraft and equipment can commence by 2015-16 and be completed by 2020-21. MoD has already contracted 75 PC-7 Mk II. It is intended to procure the balance 106 PC-7 Mk II under the category of 'Buy & Make (Indian)' as stipulated at Para 4(c) of DPP-2013. PC-7 Mk II aircraft are required to be supplied along with requisite GSE/GHE, Tools, Testers, Publications, Ground Based Training Systems (including Fixed Base Full Motion Simulator, Cockpit Procedure Trainer and Avionics Part Task Trainer) and spares. The tools, testers and spares must be adequate for undertaking up to 'Intermediate' level servicing in IAF.
The IAF has also stipulated stringent indigenous content requirements in the proposed license build: 'Buy & Make (Indian)' must have minimum 50 per cent indigenous content on cost basis. This implies that indigenous content in the total of (i) Basic Cost of Equipment; (ii) Cost of Manufacturers' Recommended List of Spares and (iii) Cost of Special Maintenance Tools and Special Test Equipment (reference parts 1(a), 1(c) and 1(d) of "Commercial Offer", Appendix G to Schedule I) must be at least 50 per cent of the total contract value. (c) In addition, such cases require minimum 30 per cent indigenous Indian content in the first basic equipment made/assembled in India and in subsequent deliveries thereof. (d) However, no minimum indigenous content shall be required for the 'Buy' portion of the contract, in case a 'Buy' portion is approved at the stage of accord of Acceptance of Necessity.
Meanwhile, HAL is powering on with the HTT-40 development effort, being funded from internal accruals to the tune of at least 150 crore. HAL is hoping to conduct a first flight by next year. The latest from the development is HAL scouting for fire control handles, fire and overheat detection systems and various raw materials for the first prototype.