By Lt. General P.C. Katoch


Former Director General of Information Systems, Indian Army
Intelligence reports of Pakistani terrorists using drones for terrorist attacks against India have been on for past two years. It may be recalled that in January 2015, a drone crashed on the White House grounds, raising questions about safe use commercial and consumer drones in the US and in April 2015, a drone with traces of radioactive material in a bottle and mounted with a camera was discovered on the roof of Prime Minister Shinzo Abe's office in Tokyo. A recent study in the US brings home the chilling conclusion that one single disciple of 'Lone Wolf Terrorism' is capable of killing millions, which incidentally is being propagated by the ISIS. The New York Police Department (NYPD) has been concerned about potential terror attack from the air through a drone armed with a deadly weapon.
India is world's top drone importer after UK and France. Between 1985 and 2014, 22.5 percent of world's UAVs were imported by India. Within the country we have multiple manufactures marketing drones, remote controlled toys for children, cam-copters for surveillance and private clubs indulging in drone flying adventure. Drones are being used in the country for shooting concerts, movies, private parties, police organizations for surveillance, NDRF, and for surveillance and intelligence gathering by armed forces. But then another terrorist threat of hacking and cyber attacks through drones emerged during the DEF CON 23 hackers conference held in August at Las Vegas, US last year with a US company called 'Aerial Assault' displaying a quadcopter modified as a flying hacker that scans the world below for insecure devices and vulnerable Wifi ports. This hacker-quadcopter can be bought just for US$ 2,500 and can be turned into a malware injector, and reportedly is the first unmanned aerial penetration tool for sale to the public. This invention opened up new dimensions for both terrorism and in cyber warfare, as there has never been such capability before, as this model is the first drone armed with automated hacking tools, the drone loaded with an array of software capable of looking for weaknesses in any unsecured wireless networks in range, recording information about vulnerabilities, and capturing the precise GPS coordinates of the target.
Penetration testing was usually being done through the existing networks. However, arming a drone with the software means that hackers can sneak up on networks not intended for communication with the outside world, which are usually less secure. So now hackers would have a new weapon in their arsenal; a drone loaded with software capable of probing any wireless network in range, and relaying the data to its operator. As is all this was not enough, passenger drones have now been developed that don't require the passenger to have any pilot training, China's EHANG184, Chinese Autonomous Aerial Vehicle (photo inset) being one example, showcased at Consumer Electronics Show in Las Vegas during January 2016. It can have mounted camera pods for recording.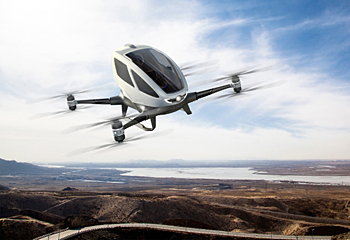 The world's first electric, personal Autonomous Aerial Vehicle (AAV) - EHang 184
EHANG184 is a fully automated electric, vertical landing Unmanned Aerial Vehicle (UAV) with redundant fly-by-wire, networked with encrypted sensors. The high level of flight automation and redundant systems can be militarized and scaled to other systems. EHANG184 has developed flight control software that not only autonomously develops a flight plan and adjusts it according to data from its sensors, but the flight control system can also refuse to take off in certain conditions (like thunderstorms) as well as diagnose and remedy damage (like bird strikes), and includes emergency landing protocols. The flight duration of current version of EHANG184 is 23 minutes with a speed of 100 kms per hour and can carry a 100 Kg person or weight. The charging of battery takes only two hours. It can fly in all terrain including in crowded urban areas. EHANG184 weighs 200 kg, can support additional 120 kgs, is fully networked and can be navigated with 12 inch tablet with one click destination and take off procedures. The passenger can also control the vehicle to stop, land and hover. Other countries too are developing flying cars and India's Technology Information, Forecasting and Assessment Council (TIFAC) in its Technology Vision 2035 includes development of flying cars. However, this Chinese capability which invariably will get passed on to protégé Pakistan, and its military applications both in the conventional and sub-conventional mode need to be taken note of. Terrorist organizations sure have another platform to exploit.

Photo Credit: EHANG