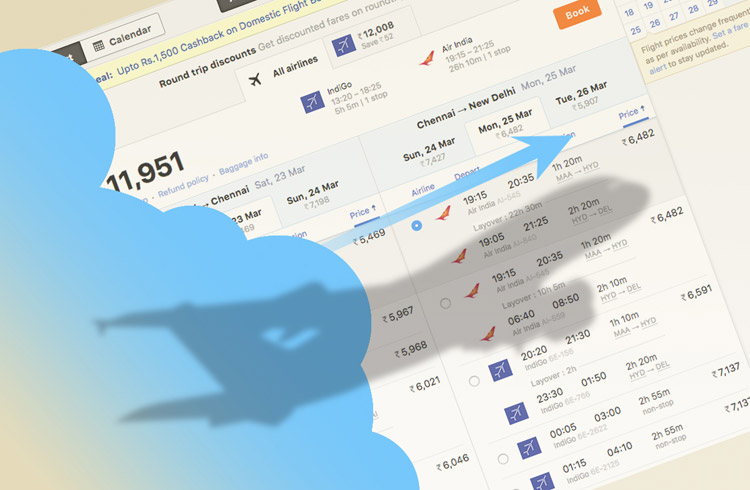 The grounding of the Boeing 737 Max fleet has further aggravated the aircraft availability crunch in India, pushing up spot fares sharply.
Illustrative of the fare hike are rates on the Delhi-Chennai and Delhi-Mumbai sectors, which are up by 100 per cent and 50 per cent respectively.
Spicejet, which grounded 12 Boeing 737 Max series aircraft consequent to the regulatory directive of the Director-General of Civil Aviation (DGCA), announced the cancellation of 14 flights on March 13.
Cash-strapped Jet Airways has already grounded 54 out of the 119 aircraft in its fleet. Founder Naresh Goyal has warned that the entire Jet fleet will get grounded within a week if Jet's Abu Dhabi-based Etihad doesn't pump in Rs 750 Crore immediately as part of the bailout package already negotiated.
India's largest carrier, IndiGo is cancelling 30 flights daily till early April due to shortage of pilots. Air India is unable to fly at least 23 aircraft because of shortage of spares and lack of replacement engines. GoAir is also not operating its entire fleet.
"Indian civil aviation Industry has never had this high a number of grounded aircraft. This has put a big squeeze on availability. Hikes in seat prices are inevitable," an Industry insider acknowledged. Availability has reduced at a time when passenger traffic is increasing. According to International Air Transport Association (IATA) figures, the number of domestic air passengers in India in January 2019 was 12.4 per cent higher than the corresponding period last year, making it the second-fastest growing market in the world after China.
Grounding of Spicejet's Boeing 737 Max 8 fleet has come at a time when several other airlines are operating at significantly reduced fleet strength
On an average, air fares are about 15 per cent higher this year compared to the corresponding period last year. The fresh squeeze on availability of aircraft is certain to push up fares even further, Industry analysts reckon.
Mindful of the impact on the travelling public, Civil Aviation Minister Suresh Prabhu has asked for contingency planning to soften the blow. "Directed (Civil Aviation) secretary (P S Kharola) to hold an emergency meeting with all airlines to prepare a contingency plan to avoid inconvenience to passengers. While passenger safety is a zero tolerance issue, efforts are already on to minimise the impact on passenger movement as their convenience is important," Prabhu Tweeted late Tuesday night.
Meanwhile, Spicejet has promised to step up its tempo of operations to offset the reduced availability of aircraft due to the grounding of its Boeing 737 Max 8 aircraft. "SpiceJet has presently announced cancellation of 14 flights for today and will be operating additional flights from tomorrow. Of the 76 planes in our fleet, 64 aircraft are in operations and we are confident of minimising the inconvenience to our passengers and attain normalcy in our operations," a SpiceJet statement declared on Wednesday.