"Our philosophy is simple: look after the business we have, before we start looking for new business" — Krishen Ganase, President of L-3 Aviation Products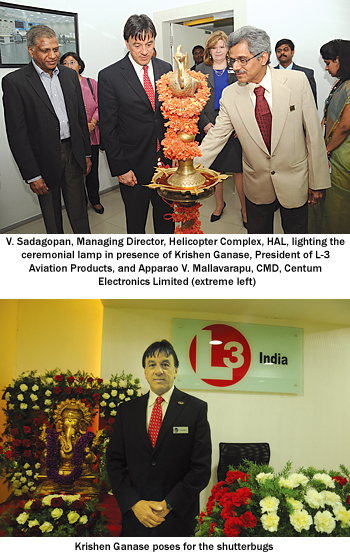 L-3 Aviation Products (L-3 AP) inaugurated its new MRO facility in Bengaluru to serve the growing needs of the Indian aviation industry. The facility was inaugurated by the Executive Director of the Hindustan Aeronautics Ltd (HAL) (Helicopter Complex) V. Sadagopan in the presence of Krishen Ganase, President of L-3 Aviation Products, and other dignitaries.
Sadagopan acknowledged the work done by L-3 AP and hoped that it would soon manufacture products in India, even while serving the existing customers. The original equipment manufacturer (OEM) has to be in India to serve better the market. He went around the facility and hoped that the association with HAL would further grow.
First Step
Speaking on the occasion, Krishen Ganase said that this was the first step of the multiple steps the company would be taking in India. The MRO facility would address repair and maintenance needs of products and solutions of L-3 AP which were on 1,500 aircraft in India. To begin with the facility would work on flight data recorders and then move on to other equipment.
"Our philosophy is simple: look after the business we have, before we start looking for new business." The existing customers would be supported locally and the company truly believed in its theme for the ceremony: 'India's Partner – Today, Tomorrow and in the Future' building relationships with existing and new customers.
Next Steps
Acknowledging that India is a huge market, he said the company was clear in its strategic approach. Our next step will be building products over here and the third step possibly will be creating 'our own joint venture'. Five years from now, this place will not be sufficient at all, he said indicating the potential of the business in India and the region.
"Our growing presence in India underscores L-3's pledge to serving the Indian aviation sector. Our new MRO facility places additional personnel in key technical and business roles in Bengaluru, and we are continuing to broaden our reach in other ways to meet the evolving needs of military and commercial aviation customers in the region."
Group Captain Rajeev Dutta (Retd), L-3 AP's Director of Business Development, based in Bengaluru, said "We are focused on implementing the next steps in localised sustainment solutions for our growing customer base. Our new MRO office provides an ideal setting to directly engage with our local customers and business partners and helps foster relationships in support of India's dynamic aviation marketplace."
L-3 AP is a leading provider of commercial and military avionics with unsurpassed performance, quality and customer support. L-3 AP manufactures a diverse line of safety and efficiency-enhancing products that sets the standard for nextgeneration requirements, including configurable voice and data recorders, collision avoidance systems, navigation products, display systems and processors. L-3 AP also offers aftermarket solutions, including MRO, total avionics support programmes and performance-based integrated logistics support for military and commercial systems.