Airline operators suggest that an airport should depend on non-aeronautical revenues to shore up its balance sheet and not tax them, as a losing airline would translate to a losing airport
Airports are a critical part of transport infrastructure. They are engines of growth. For a holistic growth of commercial airliners, regional airliners, general aviation aircraft and airports themselves, there has to be a judicious mix of modern and no-frills airports. Otherwise, it would be a skewed approach, not benefiting the sector per se.
For quite some time now, there has been a clamour by airlines to approach the industry pragmatically, taking into consideration the exigencies of the various business models. What is good for a scheduled operator may not be alright for a scheduled regional operator or for a non-scheduled operator.
While it certainly is a matter of pride that we have worldclass airports in Delhi, Mumbai, Bengaluru and Hyderabad, they nevertheless have come in for criticism due to the high cost of operations for airlines. Low-cost carriers, regional carriers and general aviation operators have to pay tariffs which they can ill afford. At the same time, airports do need to survive. It is certainly a toss-up on what should take precedence. Airline operators suggest that an airport should depend on non-aeronautical revenues to shore up its balance sheet and not tax them.
Reduce High Airport Fees
Efforts are on for quite some time to impress upon the authorities that India's civil aviation policy should aim to reduce high airport fees, such as add-ons made up of land rent, throughput, taxes and infrastructure fees and into-plane fees charged by the service provider for fuelling and de-fuelling aircraft. In a reply to the Ministry of Civil Aviation, a consulting firm pointed out that when compared to other regional international hubs, India's add-on fees, which are added to the cost of ATF, make up a much more significant percentage of the international benchmark ATF price. India's high add-on fees are one of the major contributors to the high price of ATF, which negatively affects the ability of India's airlines to grow individually, raises the cost of air carrier services to consumers and reduces the pace of overall growth of the sector.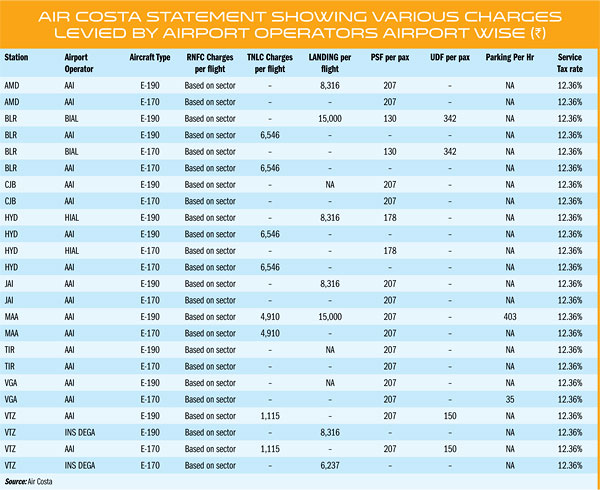 Furthermore, the consulting company said that high addon fees also deter foreign airlines from re-fuelling in India, thus limiting the ability of India's airports to compete as international hubs. Therefore, reducing the add-on fees will help India's civil aviation sector grow. Reducing add-on fees to reflect fee levels in other regional hubs such as Kuala Lumpur, Hong Kong, Singapore Bangkok and Seoul will also help India compete for international airline business with the above mentioned regional hubs.
Presently, the government has started laying emphasis, rightly so, on regional and remote area aerial connectivity. For that to happen, the government has to incentivise the airport operator, the regional airlines and the general aviation segment. To improve regional connectivity and to develop regional hubs, a committee was formed under the Chairmanship of a Joint Secretary in the Ministry of Civil Aviation for drafting policy on creation of Airport Hub. Under this policy, regional airlines will be encouraged by providing suitable regulatory and fiscal incentives.
Airports Modernisation
In the recent past, we have seen rapid modernisation of airports which is welcome. With almost $10 billion of investment in airports over the last five years, airport charges are expected to increase in the coming months, particularly at the major metros. Delhi and Mumbai airports, which together account for 40 per cent of traffic in India, will completely pass on $5 billion of expenditure to passengers. An additional nine airports are expected to see increases in charges. The proposed passenger fees will result in an increase in fares of a quantum that is likely to impact demand and traffic volumes.
Landing Charges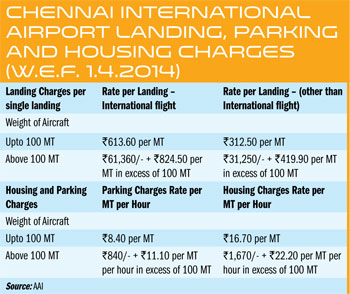 Landing charges in Delhi would remain constant at over Rs. 59,000 for a large aircraft coming from abroad and over Rs. 30,000 for a similar plane from a domestic destination. These charges at Mumbai airport were Rs. 60,000 and about Rs. 29,000 for large airplanes operating on international and domestic routes respectively. The aeronautical tariff, approved by the Airports Economic Regulatory Authority (AERA) for these two major metro airports would continue till the final determination of the tariffs for five years from 2014 till 2019, whichever is earlier.
The tariff structure of aeronautical services other than ANS, at major airports is airport-specific. Tariffs for aeronautical services also referred to as Airport Services, pertaining to first control period financial year 2011-12 to 2015-16, have been approved by AERA in respect of Chennai, Kolkata and Guwahati airports. In respect of the other major airports, the existing tariff is being continued. The following figure gives an example of airport taxes levied at Chennai, an airport controlled by the Airports Authority of India (AAI).
Air Costa has clarified that the airport taxes and charges such s RNFC, TNLC, landing, parking are in proportion to MTOW and seat count of the aircraft and that these charges are fair.
Air Costa is the only one regional airline operator in the private sector and if we need more operators to come into the regional airline business, they need to be incentivised and airport taxes are one. Air Costa has been operating to nine destinations and the landing charges at Bengaluru and Chennai are at Rs. 15,000, almost double of what it is in Hyderabad. Regional airliners would benefit if taxes were 'reasonable' and reiterate that a losing airline translates into a losing airport.