The government had formed a sub-committee in the Ministry of Civil Aviation to look into the concerns of the general aviation segment and a course correction is expected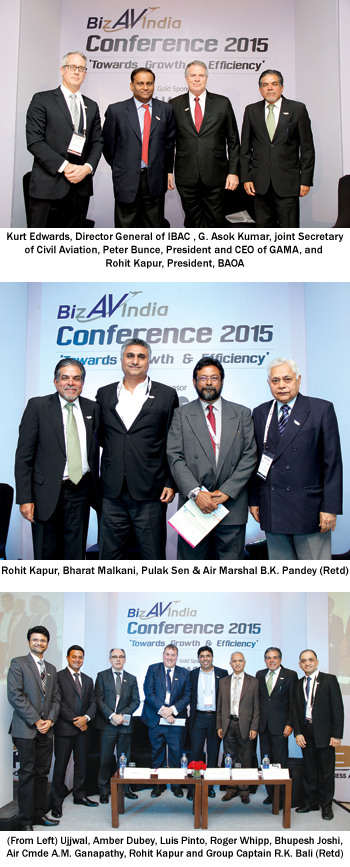 On the eve of Aero India 2015, Business Aircraft Operators Association (BAOA) held its first "BizAvIndia Conference" to highlight the challenges and opportunities for the General Aviation industry in India. The thinking platform included industry experts, government officials and aviation aficionados and the general consensus has been that the industry has to act cohesively and collectively to get the government to look at the huge benefits of General Aviation to the national economy itself. Inaugurating the BizAvIndia Conference in Bengaluru, the Joint Secretary of Civil Aviation, G. Asok Kumar, said there was a realisation in the ministry that the General and Business Aviation segment of the aviation sector had been neglected and now the Government of India is changing its focus and started thinking small, i.e. shifting focus to small aircraft.
Asok Kumar said the Government had formed a sub-committee in the Ministry of Civil Aviation to look into the concerns of the General Aviation segment and the committee had put forth a number of points to the Union Finance Minister. Arun Jaitley on how aviation can be an engine of growth. A course correction is taking place, he assured the industry.
FAA Downgrade to be Revoked Soon
The Joint Secretary listed out the initiatives that the government was taking, starting with getting the US Federal Aviation Authority (FAA) downgrade revoked. The Ministry is working on enhancing safety measures, though India had one of the best safety standards and the FAA downgrade should be revoked soon.
Scheduled Commuter Airlines
In the next few months, the government will be introducing a unique concept of Scheduled Commuter Airlines not only to enhance regional and remote area connectivity, but also to encourage the General Aviation sector to grow. The Ministry is working on revising the Route Dispersal Guidelines (RDG) and this should be finalised soon. The plan is to have code share between scheduled operators (airlines) with non-scheduled operators (General and Business Aviation operators).
Cluster Approach
Asok Kumar said that as ground handling charges at airports were high and the small operators were finding it difficult, there was a plan to have a group of non-scheduled operators (NSOPs) to have common maintenance facility. This would bring down costs.
International Perspective
The President and CEO of GAMA, Peter Bunce, in his keynote address said the potential of the General and Business Aviation sector 'is truly phenomenal', but India need to set conditions right for its growth through proper policies, infrastructure creation, etc.
The challenges were many including the perception that Business Aviation did not add value to the economy. This lack of understanding that it can add substantial value has to be driven home and it is happening. The impediments for the sector are: no coherent regulatory approach; punitive taxes and charges; lack of General Aviation infrastructure; economic disincentives; poor airport access, etc.
As regards maintenance, repair and overhaul (MRO) facilities, he said, India's MRO market potential is $700 million and that presently 90 to 95 per cent of MRO work goes outside India. With regard to taxation, the government he hoped would realise that the tax revenues from the sector were minimal and that it would be better to encourage the industry with better tax structure. The import tax and CVD on aircraft in India were among the highest in the world.
Looking ahead, Bunce mentioned that regulation should be proportionate and it should align with global practices; focus on aviation safety and also align with national economic and fiscal regimes.
ISBAO benefits
The Director General of IBAC, Kurt Edwards talked about the benefits of implementing International Standards for Business Aviation Operations (ISBAO). There are 750 operators around the world and India had only one operator who was audited under ISBAO – that is SRC Aviation. The certificate was presented to SRC Aviation at the conference. Edwards said safety management systems would prevail all over the world sooner than later.
New Government, New Pace
In his welcome address, the President of Business Aviation Operators Association Rohit Kapur, said that the association has been growing steadily since it began in 2011. It now has 77 members and was filling a void in the industry. Kapur said that with the new government coming in, there has been a new pace to development. "It is a positive change. We are confident soon enough, things will start changing."
Remote and Regional Air Connectivity
Group Captain R.K. Bali (Retd), Secretary of BAOA, in his presentation said that RDGs were issued two decades ago and only last month new proposals had been put forward. There has been resistance from airlines for various reasons, but the BAOA has welcomed them and given further suggestions.
Captain Vinay Garg of Universal Aviation Services (UAS) said infrastructure needed to be created if General Aviation had to grow. It was time the government allowed private jet operators to use airports such as HAL in Bengaluru, Begumpet in Hyderabad, open FBO at Delhi, use space at Safdurjung airport and make best use of the 450 unused or abandoned airports.
Aircraft Management operators
In a session on opportunities, Jayant Nadkarni, co-founder of Invision Air, said the concept of aircraft management would be the next thing in India. Presently, of the 120 non-scheduled operators, 110 are owners and operators themselves and many of them were unaware of aircraft management nuances.
The benefits of aircraft management concept, he said, were many including readymade industry connectivity, flight department, SMS, better planning, faster off the block and more efficient operations, economies of scale (lower insurance, maintenance), access to additional aircraft and additional crew as well as de-risking and protecting owners.
MRO Opening Up
In his opening remarks, Air Marshal B.K. Pandey (Retd), Senior Editor SP's Aviation and Editor, SP's AirBuz said that there was scope for synergy between military and civil MRO industry. This was immediately feasible where there was commonality of aircraft between civi and military aviation. The Embraer platform operated in the IAF and by airlines was a good example. The IAF is seriously considering some maintenance activities to the civilian MRO industry and has in fact floated a tender for overhaul of MiG-29 combat aircraft and An-32 military transport aircraft.
Pulak Sen, Founder Secretary General of MRO Association of India, said India's current MRO market size is estimated to be around $700-800 million. India's scheduled airlines fleet currently at around 399 is expected to grow about 1,200 aircraft by 2023. The Indian scheduled airlines will spend approximately $1.6 billion every year for MRO services in the next ten years.
Around 40 per cent of MRO spend by airlines goes for engines. More than 500 Airbus A320neos have been ordered by Indian operators i.e. more than 1,000 engines of a particular type will be flying in India. There is a business case for the suitable engine MRO to be started in India,
Safety Management Systems (SMS)
Air Commodore A.M. Ganapathy (Retd) of CBAS said Indian GA is three years behind ICAO mandated date for SMS implementation by November 2012. DGCA has informed NSOP holders to implement SMS by December 2014. However, a prescriptive method is no solution and a collaborative approach to SMS implementation is sought in keeping with Para 2.4.4 of ICAO Doc 9734.The implementation of ISBAO needs serious consideration.
Luis Pinto of NetJets explained the features of fractional ownership and this included multiple aircraft type availability, zero down time, 100 per cent guaranteed availability 365 days and 24 x 7, aircraft ready on just ten hours notice in Europe and the US, unrivalled recovery options and back-up aircraft for business critical flights.
Captain S.K.S. Panwar, Senior Vice President & Chief Pilot at Global Vectra Helicorp Ltd, in his presentation on helicopters said the total fleet strength was 262 and mostly used for heli-charters (over 70 per cent). There were opportunities in emergency medical services (HEMS), power sector, heli-sports, surveillance, etc. and there was need to import medium/heavy helicopters to go up to 300 nautical miles and beyond into the sea.
Captain Uday Gelli, President (Western region), Rotary Wing Society of India, said that as many as 32 helicopters are being used for its logistic air support in this geographical area alone. Today, ONGC is the largest public sector company in India involved in the production of crude oil, gas and value-added products like LPG, NGL and C2-C3 with an annual turnover of Rs. 83,400 crore in the FY 2013-14. Since most of the oil and gas produced indigenously comes from ONGC's offshore fields, it is also the largest user of helicopters in India.