A poll of licensed pilots held in October 1930 selected her as the "Best Woman Pilot in America", over other notable contenders for the title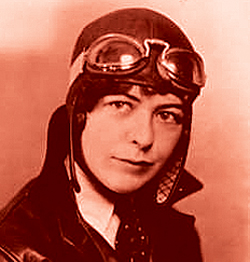 Elinor Smith, a pioneering American aviator, was the youngest licensed pilot in the world. Her career was studded with numerous records and feats of great daring. She was also the first female test pilot of two aircraft companies. An amazing 80 years elapsed between her first flight lesson and her final flight. And she lived to be almost a hundred.
Born Elinor Regina Patricia Smith in New York City on August 17, 1911, her first plane ride was at the tender age of six and her flying lessons commenced when she was barely 10. Her first instructor found that her feet could not reach the rudder pedals despite extra cushions behind her back but he solved the problem by attaching blocks to the pedals. After her father purchased a Waco 9 biplane and hired a dedicated flight instructor she made rapid progress. Her enthusiasm for aviation knew no bounds. She was willing to forego her other interests to practise flying early in the morning, before leaving for school. However, on her father's orders, she was not permitted to take-off or land, so as not to risk her safety. Strangely enough, it was her mother who lifted the ban when the opportunity arose (her father happened to be out of town). And it needed only ten days of intensive instruction for Elinor to go solo. She was just 16 at the time. Following a personal appeal to Orville Wright she was awarded the coveted Fédération Aéronautique Internationale (FAI) flying licence. Within weeks she set an official light aircraft altitude record of 11,889 feet flying her Waco 9.
One of Elinor's most spectacular and dangerous feats happened in October 1928 after a certain barnstormer insinuated that she was too scared to fly under a bridge. She decided to prove him wrong by clearing not one but four of New York City's bridges – the Queensboro, Williamsburg, Manhattan and Brooklyn bridges. And she completed the mission without incident. Fortunately for her, those early days of aviation were relatively easy-going, with only minimal regulation. Whereas a pilot trying the same stunt today would probably have been summarily stripped of his/her licence, Elinor was grounded for just 10 days. But she became an instant celebrity. According to the Cradle of Aviation Museum, Elinor Smith is the only person ever to have flown under these four bridges.
It was a time when aviation record setting was in its heyday and Elinor was soon in the thick of action. First up was the women's solo endurance record. In January 1929, she took off at dusk in an open cockpit Bruner Winkle biplane. Her plan was to fly through the night and remain airborne as long as possible in broad daylight before landing. It was a freezing night with the temperature about -18° Celsius. Finally the effect of cold on her body and the aircraft was too severe to bear, so she decided to attempt a night landing – something she had never tried before. Somehow she managed to put the plane down without too much trouble and her airborne time of 13½ hours was enough to qualify as a new women's solo endurance record. In April she increased her endurance mark to 26½ hours, this time in a six-passenger Bellanca CH monoplane, an aircraft of heavier horsepower and weight than had ever been flown by a woman. Later that year, she also set a women's world speed record of 190.8 miles (307 km) per hour in a Curtiss military aircraft. Also in 1929, Elinor and Bobbi Trout (copilot) set the first official women's record for endurance with mid-air refuelling. They remained airborne 42½ hours in a Sunbeam biplane.
In June 1929, the Irving Parachute Company engaged Elinor for a 6,000-mile (9,656-km) tour of the United States. Flying a Bellanca Pacemaker she became the world's first female executive pilot. She was also the pilot for an unprecedented seven-man parachute drop at the air races in Cleveland, Ohio. In 1930, she became the first woman test pilot for Fairchild Aviation and Bellanca Aircraft Corporation (later AviaBellanca).
In May 1930, before she turned 19, Elinor Smith acquired a transport licence awarded by the U.S. Government's Department of Commerce, becoming the youngest pilot ever to do so. A poll of licensed pilots held in October 1930 selected her as the "Best Woman Pilot in America", over other notable contenders for the title, including Amelia Earhart. She had a close brush with death in March 1931, while attempting to set another world altitude record. Her altitude of 32,576 feet was indeed a new women's record, but just short of the men's mark. While still above 30,000 feet she lost consciousness. The plane's engine also quit and it started gliding back to earth with Elinor still out cold. Fortunately, she came to her senses, managed to coax the engine to restart and finally succeeded in landing safely.
Elinor's marriage in 1933 and the births of her four children kept her grounded for over 20 years. But after her husband died in 1956, she resumed flying. In April 2001, at the ripe old age of 89, she flew an experimental C33 Raytheon Agate, Beech Bonanza. She once wrote: "I had been brought up to think that anyone could do anything he or she put his or her mind to, so I was shocked to learn that the world had stereotypes it didn't want tampered with. In an age when girls were supposed to be seen and not heard, look beautiful, and occasionally faint, I didn't seem to fit in anywhere." Never one to shy away from a challenge (recall her acceptance of the barnstormer's dare when she was not yet 18), she fought such attitudes head-on. Elinor Smith died on March 19, 2010.