One of the four Indians known to have joined the Royal Flying Corps as pilot was Hardit Singh Malik, the first Indian fighter pilot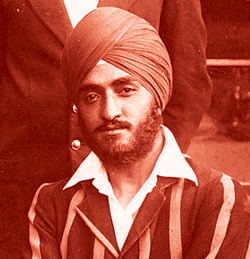 Not much is known about India's early aviation history. As for civil aviation, most historical accounts date back only to 1929 when J.R.D. Tata became the first Indian to gain a pilot's licence. However, a handful of Indians did fly before that. Similarly, most histories of Indian military aviation start from October 8, 1932, the date on which the first batch of Indian officers was commissioned and the Indian Air Force (IAF) was established.
Yet there were a few Indian pilots who participated as British subjects in one of the most brutal and momentous wars in human history – World War I. Actually up to 1.5 million Indian soldiers fought in practically all theatres, but most were in the British Army. Only four Indians are known to have joined the Royal Flying Corps (RFC) as pilots and they flew combat missions against the German Air Force, more properly known as the Deutsche Luftstreitkräfte. One of the most prominent of these was Hardit Singh Malik, the first Indian fighter pilot.
Hardit Singh Malik was born on November 23, 1894, in Rawalpindi, now in Pakistan. He moved to Britain as a student and studied at Oxford. He was a keen golfer and county-level cricketer, appearing in as many as 18 first-class cricket matches. When World War I broke out, many of Malik's classmates volunteered to join the British military. But his own application was rejected because, as he put it later, "there were no vacancies for Indian students." Keen to get involved somehow, he became an ambulance driver with the French Red Cross and continued there till 1916. However, he yearned to see live combat and put in his application to join the French Air Force, the Aéronautique Militaire. The French were agreeable. But when Malik's old Oxford teacher Francis Fortescue Urquhart heard about this, he was indignant and mentioned the matter to Lt General David Henderson, chief of the RFC. Henderson promptly summoned Malik for an interview and had him accepted for training as a fighter pilot. Thereafter, things went fairly smoothly apart from a problem that devout Sikhs all over the world encounter to this day. His religion required him to wear a turban, but flying regulations made it mandatory for pilots to don flying helmets. Finally a compromise was reached and he wore a large, specially-designed helmet over his turban. This fetched him the nickname "Flying Hobgoblin".
On April 6, 1917, Hardit Singh Malik was commissioned as a Second Lieutenant in the RFC, becoming the first Indian anywhere in the world to be so qualified. Thereafter, the RFC accepted at least three more Indians for commissioning as fighter pilots, including Indra Lal Roy who later became the only Indian flying ace. Roy was shot down and killed shortly before the War ended.
Malik received his combat training at the No. 1 Armament School, was promoted to Flying Officer and posted to No. 26 Squadron in July 1917. In October 1917, he was transferred to No. 28 Squadron which was deployed on the Western Front. The squadron was equipped with the Sopwith Camel, a single-seat biplane fighter. The Camel was highly manoeuvrable and rather tricky to handle. In fact its combat agility made it one of the most memorable fighter aircraft of that time. The Squadron Commander was Major William G. Barker, a Canadian who later won the Victoria Cross. Barker immediately took to Malik and gave him the sobriquet "The Indian Prince". He also taught him advanced air combat tactics and the squadron saw action against the most feared German fighter squadron – that of Manfred von Richtofen, the "Red Baron". The average life expectancy of an Allied combat pilot on the Western Front at that time was just ten days. On October 18, 1917, Malik shot down his first German aircraft. He continued flying fighter missions and claimed several kills. He would have qualified to be called the first Indian fighter ace if his claims of six aerial victories had been accepted. However, against the minimum requirement of five, only two were officially recognised.
In one all-out engagement between the two opposing squadrons on October 26, he secured his second confirmed kill. However, only Barker and Malik survived, and fled for home with their aircraft severely damaged and just about able to remain airborne. Malik was seriously wounded in the right leg but somehow crash-landed and then fainted. His aircraft had over 400 bullet holes. Though Malik survived, he spent many months in hospital recovering. The bullets lodged in his leg troubled him for the rest of his life. Before he fully recovered, he was posted to fly the Bristol F.2 Fighter with No. 141 Squadron based at Biggin Hill. The squadron was responsible to defend London against Zeppelin and bomber raids.
When the War ended, Hardit Singh Malik was one of only two Indian pilots to survive. Given a choice, he would probably have opted to remain in the RFC, which had since become the Royal Air Force (RAF). But the need for so many officers had waned and Malik did not foresee the likelihood of an Indian being granted a permanent commission. Hence he left the RAF on August 14, 1919, and later joined the Indian Civil Service. He became the Prime Minister of Patiala before Independence. After Independence he again joined the Indian Foreign Service and was appointed India's first High Commissioner to Canada. In 1949 he became India's Ambassador to France, remaining in that post till he retired from service in 1956. He died on October 31, 1985, following a long illness. He was 90.