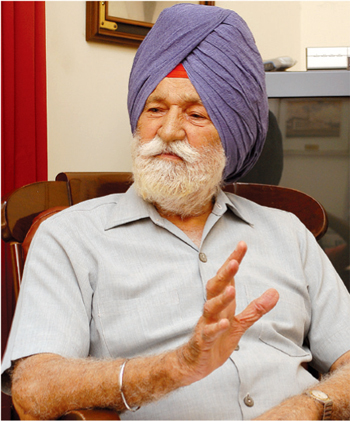 SP's: What was the scenario at the time when you joined service?
Marshal of the IAF: The IAF was established in 1932. And till 1940, there wasn't even a complete Squadron. It was only after I joined in 1940, along with a colleague, that the unit was completed. It had taken over seven long years to build just one Squadron. I think that was probably intentionally done by the British because, they did not want to give Indians such a technical ability or they genuinely felt that we would be unable to master the highly sophisticated aircraft and equipment involved.
SP's: A condescending attitude?
Marshal of the IAF: Yes, but they discovered very soon that the IAF was as good as the Royal Air Force. And that realisation hit home when the IAF started taking part in operations on the North West Frontier (NWF) around 1937-38. But real change came after World War II started. I joined the IAF's No. 1 Squadron as Pilot Officer early in 1940. Towards the end of 1944, we had 10 Squadrons as the RAF was short of pilots and personnel. So it was really done to help the British in their war with the Japanese whose intention was to capture India. Our services, particularly the army and the air force, fought extremely well and the experience gained in operation under severe conditions and in management was valuable. Even though the officers of the IAF were not among the high command, they had responsible jobs.
SP's: Technology has in the current scenario made significant inroads in combat operations and there appears to be a waning in the sense of personal pride in one's own achievements on the field. Would you agree?
Marshal of the IAF: By and large, I would say the attitude of all personnel in the IAF has not changed. Our units were never composed along the lines of region or caste, so even if they are based in Kerala, West Bengal or Punjab, there is coherence and co-operation. When war started, for example, in Kashmir in 1947-48, it demanded a greater role of the Indian Army but the IAF was also extensively used for air and logistical support. We also have a value system in the IAF: we treat each other almost as equals. Good relationship in a service is very important. If the commanding officer is not popular, it reflects in all the ranks and people don't put in their best. One must also have very good technical support by way of computers and electronic equipment. Besides, you must have all the logistical and administrative support. So all aspects of human excellence and technological advancement are crucial.
At a glance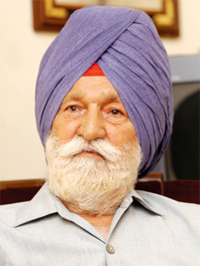 Air Chief Marshal Arjan Singh, DFC was presented his baton as the first-ever Marshal of the Indian Air Force (MIAF) on April 23, 2002 by President K.R. Narayanan at a glittering ceremony in Rashtrapati Bhavan.
Having joined No. 1 Squadron of the IAF as a newly commissioned Pilot Officer in 1940, he took over as Chief of the Air Staff (CAS) on July 15, 1964.
A year later and in recognition of his service during the 1965 war with Pakistan, he was conferred the Padma Vibhushan and also elevated to the rank of the Air Chief Marshal.
Marshal Arjan Singh retired from service as Air Chief Marshal in 1969, aged 50 years.
During his tenure in the IAF, he had touched down on 178 airfields and flown 65 kinds of aircraft and helicopters, the last being the MiG-21.
In 1971, he was appointed Ambassador to Switzerland and also accredited to the Vatican in Rome. Pope Paul VI had an avid interest in India, having visited the country in 1964. "We used to have a lot of discussions and in the Vatican "People often wondered what a military man was talking with a man of peace for so long" says the MIAF.
Marshal Arjan Singh was appointed High Commissioner to Kenya in 1974, during which time he was also accredited to Seychelles.
A member of the Minorities Commission from 1978 to 1981, he was also Chairman of the Indian Institute of Technology, Delhi, (1980-1983).
Appointed Lieutenant-Governor of Delhi by V.P. Singh government toward the end of 1989, Marshal Arjan Singh submitted his resignation in December 1990 after Chandra Shekhar came to power.
SP's: Today, when there is not much of challenge by way of military combat, how do you think senior officers can motivate young recruits?
Marshal of the IAF: By taking good decisions, keeping in mind the risks involved and individual limitations. One must consider whether the task will be rewarding or cause undue suffering without attaining the aim. In the air force we have a saying that you can fool your superiors but you cannot fool your subordinates — they know exactly what you are. All the decisions taken at a very high level will have short and long term effect on the IAF and that is why seniors must keep in touch with those below. The method I used was that every time I visited an air force station, I spent a lot of time with the flyers and technicians. We would often sit together at a dispersal area in a forest somewhere and discuss matters freely over a cup of tea. To do that you must have confidence in yourself, which in turn would bring you up to date and instill more confidence in you. During the discussions, you get to know their viewpoints and the difficulties they face. Ultimately, that knowledge helps you in taking good decisions.
SP's: Projecting a very humane face to the younger ranks helps?
Marshal of the IAF: Be very friendly, but don't get too familiar. Discipline has to be maintained. If an impression is formed that the top man is biased, it derails proper decision-making process and creates disharmony in the unit.
THROUGH GOOD TIMES AND TOUGH TIMES: The Marshal of the Indian Air Force with his wife Teji
SP's: Do you see any discrepancy between the flying crew and the ground?
Marshal of the IAF: In my opinion, there is no difference. At times we create a gap by not communicating with each other or failing to acknowledge difficulties unique to a service. However, the divide between the branches should be very narrow and they should have respect for each other.
SP's: Notably, the current CAS, Air Chief Marshal F.H. Major, is a helicopter pilot.
Marshal of the IAF: In my opinion, I think every flyer is at par with each other. We always had good senior officers and we learnt to emulate their personality and efficiency. No service can win a war by itself. That's not possible and it should never be tried.
SP's: The memories you cherish from the years when you were CAS, when the nation fought a war with Pakistan.
Marshal of the IAF: Generally, people are inclined to underestimate the Pakistan Air Force, but they are as good fighters as we are. In 1965 war, they had Sabres and F104 with advanced missiles. We did not have many aircraft that could compare. It is far better to air fight with missiles than guns. They had a good organisation, though smaller in number, and I think they fought well. But we decidedly fought better. After the war, we never broke off personal relations with them. During partition in 1947, we were all Squadron Leaders, Flight Lieutenants and Wing Commanders. They went to Pakistan largely because they belonged to those regions. On the other hand, some very senior military personnel stayed on in India though they did not have to. I remember, when trouble was brewing in the Kutch early in 1965, the Pakistan chief rang me up to suggest that we should not unnecessarily start an air war. After the war, I went to meet my Pakistani counterpart at Peshawar Headquarter. Amazingly, he put me up as his guest in his own house. Subsequently, after retirement, whenever he came to Delhi, he would invariably drop in at our home.
SP's: In recent policy statements, there has been a lot of talk of strategic interests that go beyond the boundaries of our country. Please comment.
Marshal of the IAF: First and foremost, we must have a strong air force because no war can be won without the air force. Our air force must be fighting fit, up-to-date and equipped with the latest fighting gadgets. It must also have good training. As for emerging a regional power, we don't need to shout from the rooftops. If we concentrate on strengthening our armed forces and joint operations, we will achieve regional superiority. When we have strong economic and military power within the country, the attitude of neighbouring countries towards us will change.