Female pilots flying transport and helicopters in the IAF have adequately proved their mettle and in no way are they inferior to their male counterparts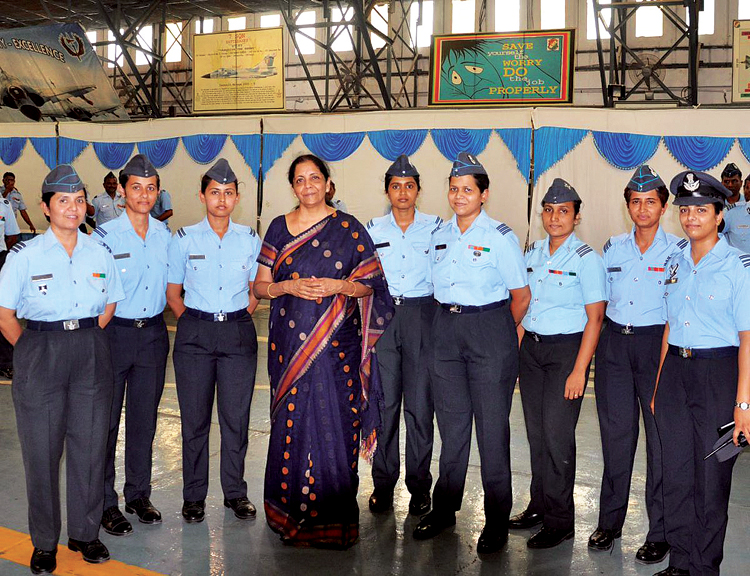 Defence Minister Nirmala Sitharaman with air warriors in Air Force Station Gwalior
Employment of women in the Indian Armed Forces is a practice that has been adopted in the last just over two and a half decades. However, as a concept, it is neither new nor novel as is evident from history which is replete with examples all over the world.
EEmployment of women in the Indian Armed Forces is a practice that has been adopted in the last just over two and a half decades. However, as a concept, it is neither new nor novel as is evident from history which is replete with examples all over the world.
Breaking the Male Bastion in the IAF
In 1991, the Indian Armed Forces were opened for the first time to women, to serve as officers in branches other than medical. Women have been serving for a long time in the medical branch of the three services as officers with permanent commission. The three services now admitted women into other branches as short service commissioned officers. Recently, permanent commission has been offered to women officers in the JAG (Legal) branch and Education Corps of the Indian Army. In the Indian Air Force (IAF), women are performing well in several branches that include Air Traffic Control, Technical, Meteorology, Administration, Accounts, JAG and Logistics. The IAF started inducting women as Transport and Helicopter pilots in 1994. These officers have also performed well irrespective of job content, including in missions related to disaster management.
THE INDUCTION OF WOMEN IN ALL BRANCHES IN THE IAF WILL ENHANCE THE TALENT BASE FROM WHICH OFFICERS CAN BE SELECTED TO LEAD THE SERVICE
In 2015 a decision was taken to induct women as fighter pilots and they are currently under training. Modern air combat involves management of aircraft systems and in this digital age, one may not even see the enemy in the air before shooting him or her down with beyond visual range missiles. Fighter pilots need to be physically and mentally fit to withstand high 'G' forces while manoeuvering and be skillful enough to get into a position of advantage to shoot down the enemy in the event of a situation of close combat. They should manoeuvre in such a manner that they should avoid getting into a situation, which needs the use of their superior skills to come out of. These activities are gender neutral in nature and it should not be a challenge for women. In the final analysis, it is really not a contest of skills between male and female fighter jockeys as female pilots flying transport and helicopters in the IAF have adequately proved their mettle and in no way are they less competent than their male counterparts.
Other Inhibitions
The induction of women into the IAF has enabled to double the base from which the officer cadre of the IAF is selected. Gradually the number of women officers is increasing. When we analyse the history of women in modern armed forces, there have been a large number of sexual transgressions because of the traditional prejudice of men even in advanced countries, where legal protection exists. Adrenaline flows when men and women, just past their teens, need to live together. The Air Force Act cannot help curb these inclinations or activities. We need to modify our laws to prevent fraternisation, sexual harassment, etc. This has an adverse impact in a military environment and needs to be curbed with an iron hand if women have to be employed effectively. Even in the current dispensation, women officers are not allowed to do certain jobs just because they are women and as a result, the additional work load falls on the male counterparts.
Physically, women are less tough than men and hence physical standards that they have to meet with for them to be selected for the officer cadre, have been lowered. War fighting needs physical strength, endurance, lung capacity, aggressive approach and the ability to cope with the horrors of combat on ground if it comes to defending an air base. Our women are quite capable of coping with these situations if trained adequately.
There is also the apprehension and genuinely so, about the fate of a woman fighter pilot who gets shot down over enemy territory and is captured alive. To obviate this possibility, there is a suggestion that women fighter pilots should be employed only in the air defence role as also for other missions within the boundaries of the nation.
Trends
The number of women officers who joined the Indian Armed Forces from 2013 to 2015, other than the medical branch, is in the table below.
| | | | |
| --- | --- | --- | --- |
| | 2013 | 2014 | 2015 |
| Army | 127 | 104 | 72 |
| Navy | 50 | 57 | 35 |
| Air Force | 144 | 155 | 223 |
An analysis of the above reveals that the numbers joining the IAF is steadily increasing. The main reason could be the awareness of duties and quality of life the IAF provides. Women in the IAF operate from secure bases. Though gender discrimination depends on individual traits, generally women officers are considered on a par with their male counterparts with no differentiation in type and quantum of work. They perform well if treated in a fair manner and are tasked to perform the duties of an officer on the basis of equality. The IAF provides an enabling environment for the women officers to perform to the best of their ability.
Women who have served in the IAF find themselves to have a high degree of self confidence, are self reliant and are better equipped to cope with or face difficult situations in their second career in the civil or corporate world subsequently. This is due to the attitude that is mentored while in the IAF. In the words of a woman officer who has retired, "With the kind of experience a woman officer has while in the IAF, she can do justice to any other job after she steps out of uniform."
With larger number of women doing jobs that traditionally men used to do and joining the IAF as commissioned officers, the society which has demeaning diktats based on gender, will gradually transform to reduce gender discrimination. The induction of women in all branches and sub branches in the IAF will enhance the talent base from which officers can be selected to lead the service.