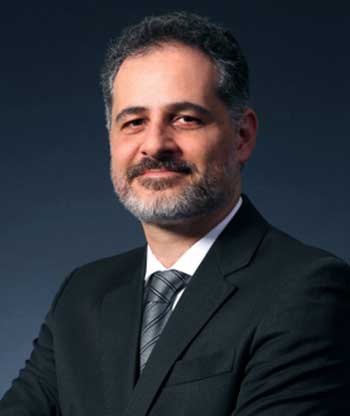 Carlos Naufel
Embraer announced today that Carlos Naufel, current Technical Director of Azul Linhas Aéreas, will be the new Vice President of Services & Support, effective on September 1, 2023. The current VP of the area, Johann Bordais, will assume the role of CEO at Eve Air Mobility, as announced at the end of July.
With 27 years of experience in the aviation sector, Naufel graduated with a degree in Mechanical Engineering and earned a Master's in Business from FAAP University, in São Paulo, among other specializations. At Azul for almost five years, Naufel now leads Azul's Technical Department, which has more than 2,000 employees and covers the areas of engineering and maintenance (line and heavy maintenance), quality, and logistics. Starting this year, he also became responsible for Azul TecOps, a new business unit created to sell services.
Prior to joining Azul, Naufel worked at Embraer for more than 18 years, holding various roles in the service and support area. Between 2017 and 2019, he was Vice President of Technical Solutions, being responsible for maintenance engineering, fleet performance and technical support for Commercial, Executive and Defense Aviation customers.
"Naufel combines a successful history in Embraer's services area with customer vision and broad technical knowledge," said Francisco Gomes Neto, President and CEO of Embraer. "I'm confident he will continue the ongoing transformation in the area and accelerate the profitable growth of the business."
"I helped to shape the Embraer Services and Support area together with Johann Bordais, and over the last several years, I've had the privilege to successfully run Azul's technical, quality and logistical areas, dealing with several other aircraft manufacturers in a very complex airline environment with nearly 1,000 flights a day. Recently, Azul was named the World's Best Airline by Trip Advisor and the World's Most On-Time Airline by Cirium," said Naufel. "I am thrilled to bring back all this knowledge and expertise to Embraer to help shape the future of the services business unit increasing customer satisfaction as well as business results."