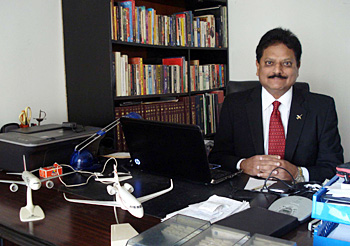 Srinivasa Rao has been appointed by Aura Aviation to develop business in India
Following hard on the heels of a successful exhibition debut at the Hyderabad Air Show,Aura Aviation, the UK-headquartered aviation sales and consultancy business, has announced the appointment of Srinivasa (Srini) Rao as, Regional Director – India.
Sriniis responsible for promoting Aura Aviation and JetBrokers sales and acquisition of aircraft, as well as providing consultancy services for start-up airlines, charter companies and flight training establishments across the burgeoning Indian aviation sector. Srini is a well-known figure in India with a career spanning more than 25 years' in the field behind him. He has been heavily involved in rotary sales of MD Helicopters in India and the Middle East; and a. As Sales Director for Inter-Globe General Aviation Srini also handled sales of Hawker Beechcraft, Sikorsky Helicopters, Dornier Seaplanes and Pacific Aerospace Utility Aircraft. "Aviation is in my blood, I come from a strong aviation oriented family background, hold a British Privatepilotlicence, and have been lucky enough to travel on business to over fifty countries throughout my aviation and engineeringcareer. It is very exciting to be asked to join a company with an international aviation vision that recognizes India is on the cusp of an aviation revolution," said Srini about his role. "I'm in a privileged position to be able to maximize the opportunities the emerging market presents and aim to add real value to the company at all levels."
India's aviation sector is growing apace with the government supporting MRO, training and manufacturing development. Airbus and Boeing are increasing their investment footprint and Textron has announced it is seeking local manufacturing partners to produce Bell 407 helicopters. Local companies are also embracing the opportunities for creating MRO and training establishments.
"We know that President Pranab Mukherjee has announced the government plans to invest around $120 billion in aviation infrastructure over the next decade to expand aviation penetration to improve connectivity. With a growing middle class we anticipate the Indian Civil Aviation sector will go from strength to strength," said Dan Grigg, General Manager, Aura Aviation. "For us this is an incredibly important new market and one that we expect will grow in importance. Having a strong presence in the market positions us well for the future and we're delighted that someone with Srini's knowledge, network and expertise has joined our team."