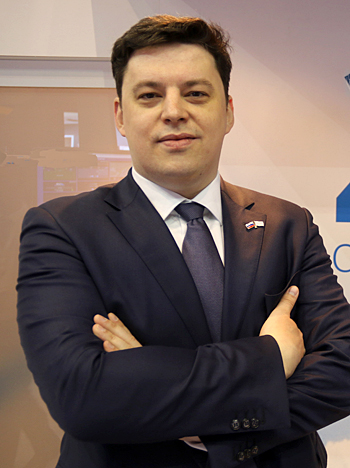 Evgeniy Pashkov Regional Director EEMEA Satcom Direct
Satcom Direct, the business aviation solutions provider, has appointed Evgeniy Pashkov as regional director for EEMEA. In his new role, Evgeniy will oversee SD's sales and business development activities in Eastern Europe, the Middle East, Africa, Russia and the CIS, from his Dubai base. Reporting into the SD International VP Michael Skou Christensen, his responsibilities will include retaining and growing SD's market share, overseeing customer support services and expanding the service portfolio across the regions.
During this year's MEBAA, 10 – 12 December, Evgeniy will be introducing himself to new and existing customers from the SD booth 477. "I look forward to building awareness of SD and its products and services in the region," said Evgeniy. "SD takes a mission-first approach with its clients that sets us apart from the competition. With our newly introduced product portfolio SD Xperience we are well positioned to listen to the customer's specific needs and tailor a truly custom solution. I'm very excited to bring this product and our innovative philosophy to operators in the regions."
Evgeniy began his career with SD in 2013 and most recently held the title of business development director for Eastern Europe, Russia and the CIS. In his expanded new role, he will be supported by a team of employees based in Dubai, Moscow and Cape Town. Prior to joining SD, he held positions in charter sales, trip support and also as operations manager for a fleet of Gulfstream 550 aircraft so is extremely well placed to successfully take on his new role.
"SD is a dynamic, innovative business that focuses on delivering customized solutions to our customers and Evgeniy's approachepitomizes these qualities. We are pleased to promote him from within the business and look forward to seeing him further develop SD in a region that is extremely important to the company," said Michael Skou Christensen, VP SD International.
Evgeniy holds both bachelor's and master's degrees in economics from Moscow State University of International Relations. He is fluent in both Russian and English.