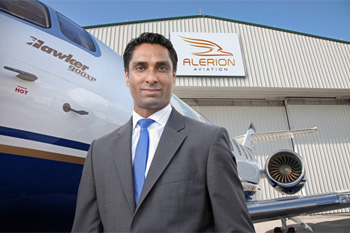 Suran Wijayawardana
Chief Operating Officer, Alerion Aviation
The National Air Transportation Association (NATA) has named Suran Wijayawardana, chief operating officer of Alerion Aviation as chairman of its Air Charter Committee.
NATA, the voice of aviation business for 75 years, represents the interests of 2,000 aviation businesses and strongly advocates on their behalf on all issues pertinent to general aviation. NATA represents its members' interests to Congress, federal agencies, the media, and other decision-makers in Washington, D.C, educating them about the vital role that aviation businesses play both in the overall economy and in their communities.
"Suran's expertise, enthusiasm and devotion to the success of the air charter industry are hallmarks of his prior work as a member of the Air Charter Committee," stated NATA President and CEO Thomas L. Hendricks. "Suran is a strong advocate for NATA and I am pleased to welcome him to this new leadership role."
Having served on the Air Charter Committee for close to a decade, Suran has been actively involved in advocating for charter operators through his participation in a number of key initiatives such as FET legislation and Air Carrier Training. He currently represents NATA as a member of the part 135 Training Working Group on the FAA's current Air Carrier Training Aviation Rule Making Committee (ACTARC).
"It is an honor to continue serve NATA and its membership in this new role," Suran says. "Both the organization and the Charter Committee have provided strong guidance to Alerion and our industry. I look forward to working to further enhance NATA's value proposition for its membership as an advocate on active regulatory and legislative changes that will affect our industry."