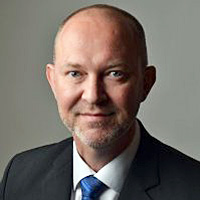 RUAG Aviation is pleased to announce the appointment of David Ricklin as new General Manager at the company's business aviation maintenance and FBO facility in Geneva, Switzerland, effective 1 May 2016.
"We welcome David Ricklin to his new position. With this appointment, our partners will continue to benefit from RUAG Aviation's proven reliability and collaborative approach with emphasis on full transparency, quality and trust. David Ricklin has demonstrated great leadership ability with a strong commitment to customer needs," states Volker Wallrodt, Senior Vice President Business Jets, Do228 & Components RUAG Aviation.
David Ricklin is a familiar name in the industry and brings 20 years' experience in business aviation to this new role. His solid reputation and established network will lend additional momentum as RUAG Aviation's Geneva service centre continues to provide one-stop shop solutions for business jets.
RUAG Aviation provides one-stop shop solutions, performing all required services within one single downtime, adapted to suit individual schedules. RUAG's one-stop shop solutions include MRO, cabin interiors, painting, system upgrades, FBO, and support and consulting.
RUAG Aviation is a leading supplier, support provider and integrator of systems and components for civil and military aviation worldwide.
Servicing aircraft and helicopters throughout their entire life cycle, the company's core competencies include maintenance, repair and overhaul services, upgrades, and the development, manufacturing and integration of subsystems.
RUAG is an authorised service centre for OEMs of renown, such as Airbus Helicopters, Bell, Bombardier, Cirrus, Cessna, Diamond, Dassault Aviation, Embraer, Finmeccanica, Piaggio, Sikorsky, Pilatus, Piper, and Mooney, as well as a service centre for 328 Support Services, Hawker Beechcraft, Viking und MD Helicopters. RUAG Aviation is also a partner to the Swiss Armed Forces and other international air forces.
The company is also the manufacturer (OEM) of the Dornier 228, a versatile aircraft for challenging special missions and passenger and cargo operations.
RUAG Aviation is a certified Part 21J EASA Design Organisation, Part 21G EASA Production Organisation and Part 145 EASA Maintenance Organisation.