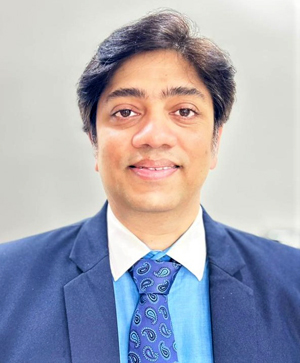 Ajay Surti
Pratt & Whitney, an RTX business, announced the appointment of Ajay Surti as the head of its India Customer Training Centre (ICTC) in Hyderabad. Ajay brings more than 27 years of experience in the aviation industry, having worked with various airlines and original equipment manufacturers (OEMs) over the course of his extensive career.
In his new role, Ajay Surti will lead Pratt & Whitney's ICTC in Hyderabad, focusing on delivery of high-quality training to customers and developing new opportunities to provide field support. The India Customer Training Centre, established in 2015, is Pratt & Whitney's flagship investment in India, and is one of three such training centers in the world. The state-of-the-art center provides specialized trainings on Pratt & Whitney engines to customers from more than 27 countries.
Speaking on the appointment, Ashmita Sethi, president and country head, Pratt & Whitney, India (UTCIPL) said, "The India Customer Training Centre has been instrumental in providing training on our advanced GTF and V2500 engines to global customers. It has also played a crucial role in driving our collaborations with local governments, universities, and emerging technology companies – including our recently launched Percept AI-based aircraft engine inspection tool. We firmly believe that Ajay, with his extensive experience, will not only spearhead ICTC's programs successfully, but will also further drive the culture of innovation."
Surti has held various key roles in engineering, customer service, and quality across OEMs and airlines including Airbus, Jet Airways and Kingfisher Airlines. In his previous role with Airbus, Surti was the head of maintenance and retrofit engineering for India and South Asia, and prior to that he also supported sales campaigns and business development projects.
"Successful entry-in-service (EIS) for aircraft powered by our engines depends heavily on the availability of trained technicians, and engineers who can maintain them. That makes the ICTC critical to the aviation ecosystem. I look forward to working with our customers across India and the world, on these engines that will drive the future of flight," Ajay Surti said upon his appointment.
Surti is also a licensed aircraft engineer for both Airbus and Boeing planes.
The India Customer Training Center is only the third such Pratt & Whitney training facility in the world, along with the China Customer Training Center in Beijing and the Customer Training Center in East Hartford, Connecticut, USA. Approved by aviation regulators including the Directorate General of Civil Aviation and European Aviation Safety Agency, it provides specialized training for Airbus A320 family aircraft to airline engineers and technicians. The center has completed almost 12,000 student days of training for over 39 operators representing more than 27 nations – and these numbers continue to grow.
With more than 1,500 engines and auxiliary power units in service, Pratt & Whitney has one of the largest footprints for any aircraft engine maker in India. Pratt & Whitney GTF™ engines power more than 180 A320neo and A321neo aircraft and have delivered more than $1 billion in fuel savings to Indian airlines since entry-into-service in 2016. Pratt & Whitney's significant in-country investments include the state-of-the-art India Customer Training Center in Hyderabad, the India Capability Center and India Engineering Centre in Bengaluru and its R&D collaboration with the Indian Institute of Science, Bengaluru.