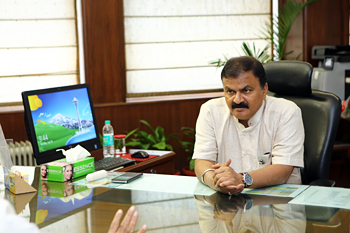 Dr. Guruprasad Mohapatra, IAS Officer of Gujarat Cadre, (1986 Batch) in the rank of Additional Secretary to the Government of India, took over as Chairman, Airports Authority of India, today, the 19th of July, 2016.
He has worked extensively in the power sector, urban development and industry, where he was involved in comprehensive reforms in the power sector and restructuring of the erstwhile Gujarat Electricity Board into several commercial entities. He has rich and varied experience in the chemicals & fertilizers sector, as he has worked as the Managing Director of Gujarat Alkalies and Chemicals Ltd. (GACL) and Managing Director of Gujarat Narmada Valley Fertilizers Company Limited (GNFC).
He worked as a Municipal Commissioner in Surat from 1999 to 2002, during which he was actively involved in the process of converting Surat into one of the models of urban governance with its thrust on Solid Waste Management, quality infrastructure and sound financial management. He also worked as a Municipal Commissioner in Ahmedabad for more than 3 years, during which he was instrumental in developing such iconic projects such as Sabarmati Riverfront, BRTS, Kankaria Lakefront and Heritage Promotion.
Prior to joining AAI, he worked as a Joint Secretary in the Department of Commerce in Government of India.