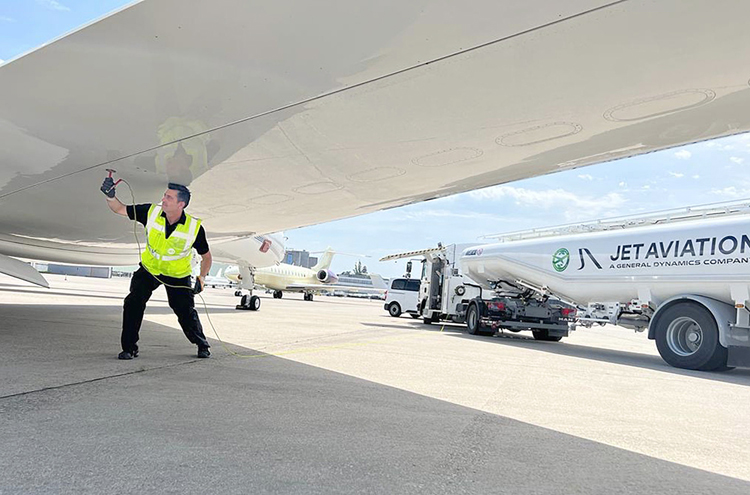 Jet Aviation SAF in Geneva
Jet Aviation announced today that it signed an agreement with TotalEnergies, a global multi-energy company that produces biofuels, to supply Sustainable Aviation Fuel (SAF) for uplift at its FBO in Geneva during the European Business Aviation Conference and Exhibition (EBACE) taking place at Geneva's Palexpo from 23-25 May 2022.
Jet Aviation has imported a stock of 30% blend sustainable aviation fuel (SAF) from TotalEnergies to ensure business aviation owners and operators attending this year's EBACE event will have access to the fully compliant, drop-in Jet A/A-1 fuel that is known for its potential to significantly reduce CO2 emissions over its lifecycle. Complementing its SAF for outbound flights from Geneva, the company will also extend SAF to inbound flights and World Economic Forum (WEF) 2022 attendees through its global Book & Claim service.
Jet Aviation piloted customer receptivity to SAF with WEF customers at the last annual WEF event held in Davos, Switzerland in January 2020. It was the first time SAF had been made available for purchase in Switzerland. The company also recently signed WEF's 2030 Ambition Statement, 'Clean Skies for Tomorrow,' dedicated to supporting the transition to netĖzero aviation and seeing SAF constitute 10% of the global fuel supply by 2030.
"We are delighted to partner with TotalEnergies, whose commitment to renewable energy solutions supports our efforts to reduce the industry's carbon footprint by promoting increased production of and access to SAF," said Joao Martins, Jet Aviation's vice president of FBO operations in Europe and GM Zurich. "I would also like to take this opportunity to extend sincere thanks to Geneva Airport for their unwavering support in helping us meet and secure all the safety approvals needed to make this happen. Only by working together with our partners have we been able to bring SAF to Geneva in time for EBACE and WEF, both of which are taking place in Switzerland this week. It is our great pleasure to offer delegates the choice to fly here on SAF through Book & Claim, or to uplift SAF directly in Geneva."
"TotalEnergies is very proud to provide Sustainable Aviation Fuel to Jet Aviation today. This partnership illustrates our commitment to support our aviation customers by offering innovative solutions to reduce their emissions and confirms the Company's Climate ambition to get to net zero emissions by 2050, together with society," said JoŽl Navaron, president TotalEnergies Aviation.
"Jet Aviation is wholly committed to offering sustainable solutions for our customers, our businesses and the communities we serve," said David Paddock, president Jet Aviation. "We believe collaboration is one of the best ways to bring innovative solutions to life and we are pleased to partner with industry stakeholders to help increase the global supply of sustainable aviation fuel."