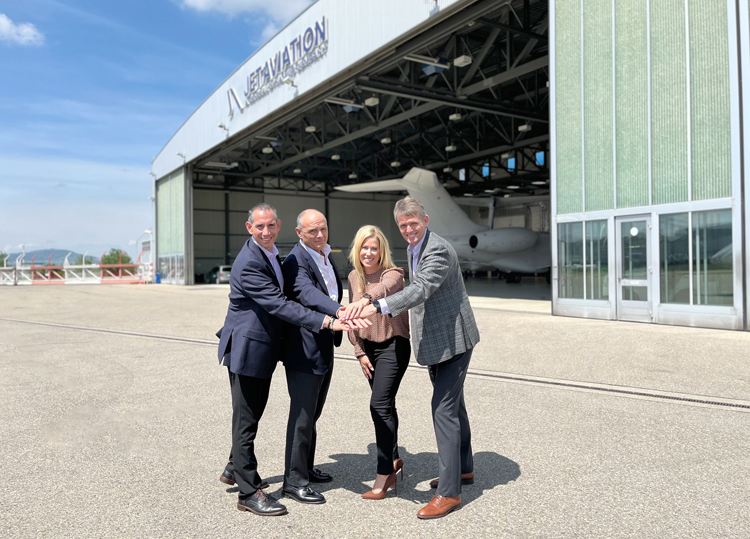 (from left): David Dalpiaz; Carlos Gomez; Leslie Cheshier, VP Owner and Charter Services (U.S.); and Norbert Ehrich
Jet Aviation announced today that it has secured an air operator's certificate (AOC) for San Marino, thereby launching a new flight operation.
"Customers have different expectations and requirements, but always want simplicity and ease," said Carlos Gomez, Jet Aviation's senior director aircraft management and charter operations in Asia. "Today's customer is more global than ever, and we're delighted to meet our clients' needs for flexibility and efficiency by offering more choice with our new San Marino AOC. Coupled with our existing AOCs, this new AOC demonstrates our ability to operate in areas that customers find valuable."
Norbert Ehrich, the company's vice president of flight services in EMEA, said, "Our AOCs provide owners and operators the opportunity to maximize utilization of their assets, in turn ensuring a wide array of aircraft types for our charter clients, all backed by the highest quality standards. Customers see stability in Jet Aviation and greatly value our local knowledge and global reach. We've seen a significant increase in aircraft management and charter inquiries this past year, demonstrating the value of business aviation."
Globally, Jet Aviation operates its aircraft management and charter fleet of some 300 aircraft out of ten operation centers located in Burbank, California; Chicago, Illinois; Teterboro, New Jersey; Valletta, Malta; Cologne, Germany; Zurich, Switzerland; Dubai, United Arab Emirates; Hong Kong; San Marino; and Singapore. All of the company's AOCs are staffed by full-time employees, including a head of safety and a head of compliance.
David Dalpiaz, Jet Aviation's vice president of flight services in the U.S., said, "Business aviation has made a strong market recovery this past year, even surpassing pre-covid levels, and this is particularly so in the U.S. We understand our customers and have strategically grown our network to be where they need us to be. We're here to make their lives easier, which we do by also supporting other aircraft needs, including maintenance, FBO and staffing."