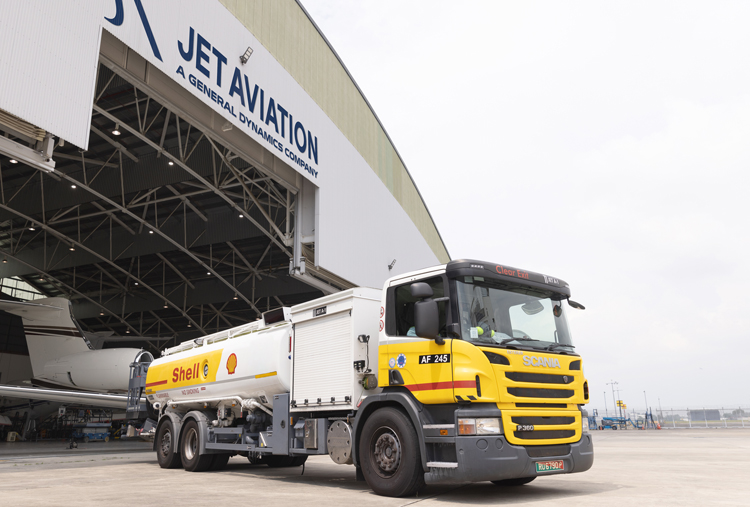 Jet Aviation Sustainable Aviation Fuel (SAF) in Singapore
Jet Aviation announced today that it has signed an agreement with Shell Aviation to secure and offer Sustainable Aviation Fuel (SAF) supplied by Shell Aviation at its Singapore Fixed Base Operation (FBO) at Seletar Airport, effective immediately. Jet Aviation is the first FBO operator to offer SAF at Seletar Airport. Through collaboration with Shell Aviation and other partners, Jet Aviation offers SAF for uplift in Van Nuys, California (U.S.), Amsterdam, The Netherlands (EMEA) and Singapore (APAC)— ensuring access to SAF in all three of its regions.
With this agreement, Jet Aviation secures a stock supply of SAF for offer at its FBO at Seletar Airport in Singapore. Produced by Neste and supplied by Shell Aviation, SAF is a fully compliant, drop-in Jet A/A-1 fuel with the same characteristics and specifications as conventional fossil jet fuel.
"We are proud to lead the way at Seletar Airport in making SAF available at our facility in Singapore," said Faizal Khan, Jet Aviation's director of FBO operations in Singapore. "As a clean, fully approved alternative to standard fossil-based jet fuel, there is a lot of interest in SAF and its potential to reduce the industry's environmental impact. We are very pleased to offer it for uplift at our FBO to help owners and operators contribute to sustainable aviation in a meaningful way."
Joe Reckling, Jet Aviation's senior vice president of APAC Regional Operations, added, "Singapore is a key business aviation hub in Asia Pacific, and this agreement demonstrates our commitment to supporting sustainable efforts in the region. We are very excited to work with Shell to bring sustainable choices to our customers and together help SAF become the standard fuel used in the business aviation sector. We will continue to collaborate with partners around the world to foster solutions for a clean environment."
Jan Toschka, Shell Aviation's global president, said: "The agreement with Jet Aviation marks another milestone for the supply of SAF in Asia, allowing customers to fly decarbonized on SAF from Singapore's Seletar airport for the very first time. It's fantastic to be expanding our supply of SAF in Singapore, particularly given its important role as a global business hub. Our investments in infrastructure and facilities in Asia are helping to unlock these opportunities, fostering action and driving sustainability in this crucial market."
Jet Aviation was the first supplier to offer SAF via a blended fuel option at Van Nuys Airport in 2019. In collaboration with Neste and Zurich Airport, the company imported a limited supply of SAF to assess customer receptivity at WEF 2020. It was the first time SAF had been made available for purchase in Switzerland. The company then partnered with Neste to make SAF available for uplift at its FBO at Amsterdam Airport Schiphol in 2021, also partnering with SkyNRG to broaden access to SAF through its global Book and Claim service. In March 2022, Jet Aviation signed WEF's 'Clean Skies For Tomorrow' 2030 Ambition Statement, an initiative dedicated to supporting the transition to net–zero aviation and committing to 10% SAF by 2030.