Comlux Group to implement Boeing's ForeFlight's flight planning and mobile EFB solutions across their entire operation
Comlux Group and Boeing Sign Digital Services Agreement; Transition to ForeFlight's Flight Planning and EFB Solutions
Boeing announced today the signing of a new agreement with Comlux Group to implement Boeing's ForeFlight's flight planning and mobile EFB solutions across their entire operation.
In addition to their current use of Boeing's Jeppesen charting and NavData solutions, Comlux will adopt ForeFlight's integrated product suite to replace their existing flight planning and inflight solutions. This includes ForeFlight Dispatch for flight planners and self-dispatching pilots, paired with ForeFlight Mobile EFB with integrated Jeppesen charts for preflight briefing and inflight navigation.
ForeFlight Dispatch is a next-generation fight planning application that goes beyond the basics of planning, filing, and monitoring flight plans. From the most basic domestic flights to complex international trips with stringent route constraints, ForeFlight Dispatch produces optimized EUROCONTROL-valid routes with speed and flexibility. Its set of customization and automation capabilities allow flight departments to easily adapt Dispatch to their unique operational needs while saving flight planners a great deal of time and effort.
Dispatch connects to ForeFlight Mobile to transmit new flight plans to assigned crew members in seconds, complete with detailed briefing documents. An industry first, this tight integration between flight planning product and mobile flight deck application allows data to seamlessly sync between planners and pilots in real time, improving collaboration and reducing workloads.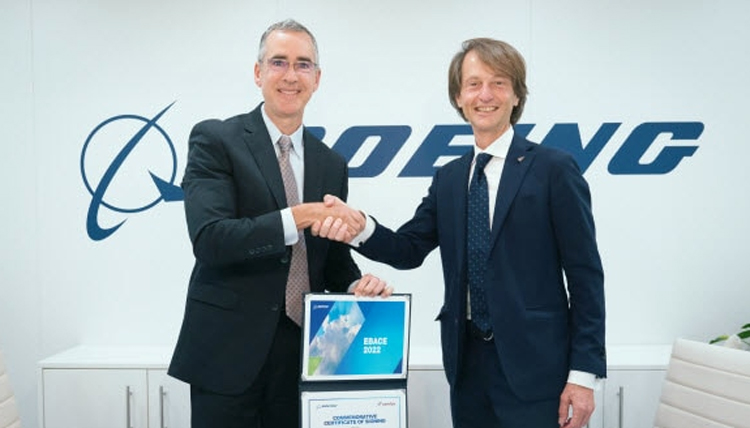 Left to Right: Tim Schuetze, President, ForeFlight, and Andrea Zanetto, COO, Comlux Group
"Our pioneer approach always drives us to adopt the most innovative tools and systems to allow the most responsive and efficient VIP flight operations," said Andrea Zanetto, COO of Comlux Group. "In this respect, we are proud to begin this transition to ForeFlight, the latest integrated flight planning system from Boeing. The initial integration of these products into our current aviation systems has been extremely smooth and fast. With ForeFlight, we maximize efficiency and minimize complexity of our worldwide fleet management, while offering the best operational service to our VIP customers."
Adopting ForeFlight's product suite purpose-built for Business Aviation will allow Comlux to benefit from consolidation of both costs and software, replacing their previous digital solutions from multiple vendors with a tightly integrated set of products from a single vendor. In addition, Comlux is among the inaugural European-based customers joining ForeFlight's Development Partnership Program, an initiative that gives select customers the opportunity to collaborate on future innovations in flight operations software under development at ForeFlight.
"The future of business aviation lies in tightly-integrated, cloud-based solutions, and Comlux's eager adoption of Boeing's ForeFlight Dispatch and ForeFlight Mobile demonstrates a great deal of foresight," said Tim Schuetze, ForeFlight president. "We are delighted to continue working alongside them in developing new and more powerful solutions for flight departments."