The all-new G500 pushes the boundaries of high-speed travel and is the only business jet in its class to combine incredible speed with significant range and customisable comfort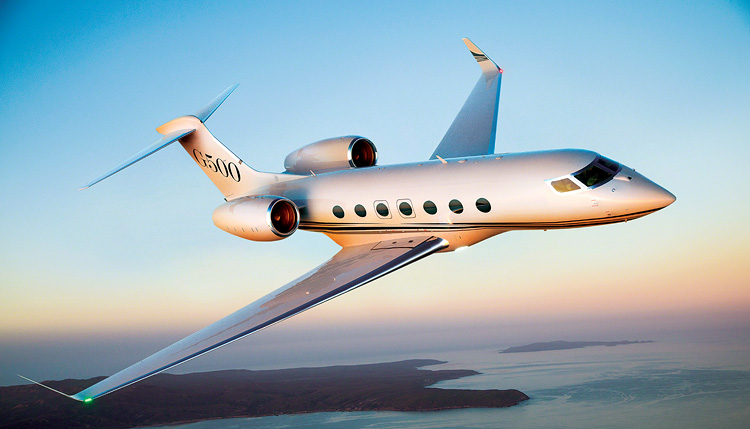 G500: Optimal balance of speed, manoeuvrability and comfort
Gulfstream's long-standing commitment to customers is rooted in its promise to provide safety, comfort, performance, and reliability with each of its industrychanging products. The all-new Gulfstream G500 lives up to this commitment through a unique combination of speed, efficiency and cabin comfort that sets it apart in the industry.
Gulfstream launched the G500 programme in 2008 and developed the aircraft in close collaboration with its Advanced Technology Customer Advisory Team. Together, we created a customisable aircraft that optimises time and efficiency.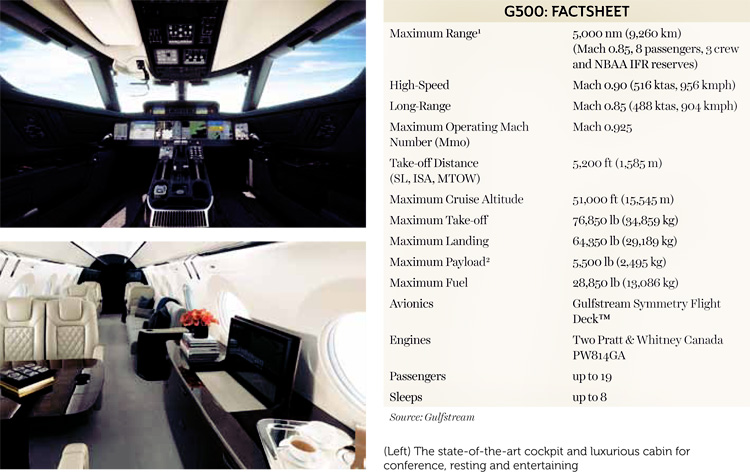 Flexibility guides the G500's interior design. As business-jet passengers know, comfort is key to productive long-range travel. The G500 offers a multitude of layouts to create distinct living areas that can include office and conferencing space as well as areas for resting and entertaining.
In terms of productivity, the G500 offers a wide range of technology. The aircraft features satellite communications and various high-speed internet options, including Jet ConneX, the Ka-band broadband service. This service offers streaming speeds that are up to 34 times faster than other options, giving operators the opportunity to stream videos, make and receive phone calls on their personal smartphones and watch live television almost anywhere in the world.
Gulfstream's cabin management system further puts passengers in control of their cabin experience by giving them the ability to adjust the lighting, window shades, temperature and entertainment from a smart phone or tablet.
Every aspect of the all-new G500 was designed by Gulfstream engineers to feature the best in efficiency and speed. The aircraft can fly 5,000 nm (9,260 km) at Mach 0.85 or 3,800 nm (7,038 km) at Mach 0.90 with an impressive top speed of Mach 0.925 — just shy of the speed of sound. When flying regularly at Mach 0.90, operators can save more than one full work week in year — that's more time to get done what needs to be done on the ground and ahead of competitors.
In the flight deck, pilots are at the controls in a superior environment thanks to the Symmetry™ Flight Deck — the most advanced, ergonomic and intuitive in business aviation. The G500 and its sister ship, the G600, are the first civil aircraft to feature active control sidesticks, which allow pilots to maintain the classic airplane control feel with increased safety and ergonomics over traditional yokes. Pilots and co-pilots can see and feel each other's control inputs through electronic linking, which helps improve coordination and communication.
Departing out of Delhi, the G500 can fly non-stop to London at Mach 0.87 or Tokyo at Mach 0.90. From Mumbai, the G500 jets to Paris at Mach 0.90 or Perth, Australia, at Mach 0.87 with ease.
Gulfstream's sales team can show first-hand what the G500 can do. Jason Akovenko, Regional Vice President, Sales, Gulfstream, is ready to give passengers and operators in the region the full G500 flying experience.
At its core, Gulfstream is driven by the desire to innovate. The all-new G500 pushes the boundaries of high-speed travel and is the only business jet in its class to combine incredible speed with significant range and customisable comfort.