The case for VTOL aircraft is predicated on saving time by avoiding airports as one of the biggest challenges facing business aviation is the lack of airport capacity.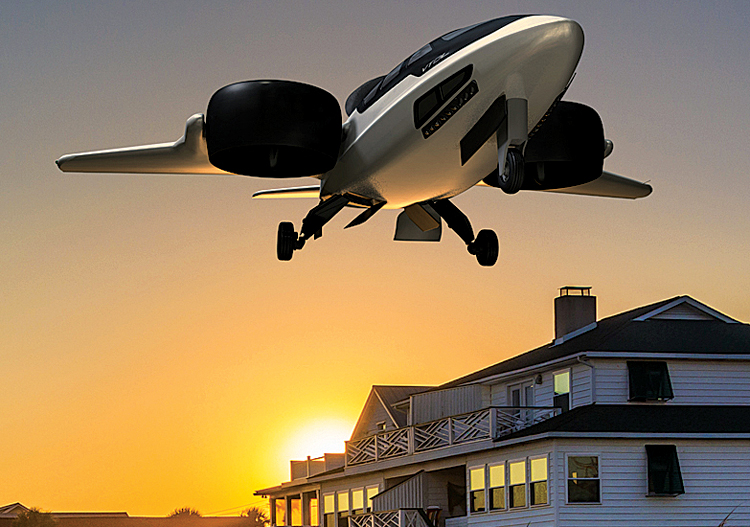 XTI Trifan 600
The founder of Amazon once said, "Your margin is my opportunity." The margin is not necessarily financial. In aviation, it could also refer to another very scarce resource, namely, time. Business jet's are popular as they help save maximum amount of time in air travel. Yet, even while flying on private jets, owners and business executives often end up wasting time in just getting in and out of airports. Helicopters are one solution, but they are limited by range essentially making for complex trips that include a helicopter to aircraft to car transfer. That is until now because vertical takeoff and landing (VTOL) technology which was a distant dream earlier, has arrived. And the advent of VTOL is likely to redefine business aviation.
VTOL business aircraft takeoff and land like a helicopter and cruise as a fixed wing aircraft. Critical to this functionality is the weight of the aircraft. That is, if the aircraft is too heavy, it requires a disproportionate amount of power to get off the ground which consequently impacts its range and capacity. Most importantly, the cost has to be feasible, else the aircraft simply prices itself out of the market.
The engine and materials are core to the VTOL concept. Aircraft with VTOL technology are being developed with two basic engine designs. One is the tilt-rotor or a turbo-shaft while the other is the ducted fan. In the case of the tilt-rotor, the aircraft takes off vertically using power from the rotors, similar to a helicopter. Subsequently, the angle of the tilt-rotor is changed and the aircraft flies like an airplane. For landing, the sequence is reversed.
XTI TRIFAN 600
The newest technology to emerge is that of ducted fan which is similar to that used in drones. Ducted fans are also being used in conjunction with hybrid electric power thereby giving fuel and weight advantage. However, the business viability including cost and feasibility of this technology, remains to be demonstrated in a manner where operators commit significant capital including aircraft orders.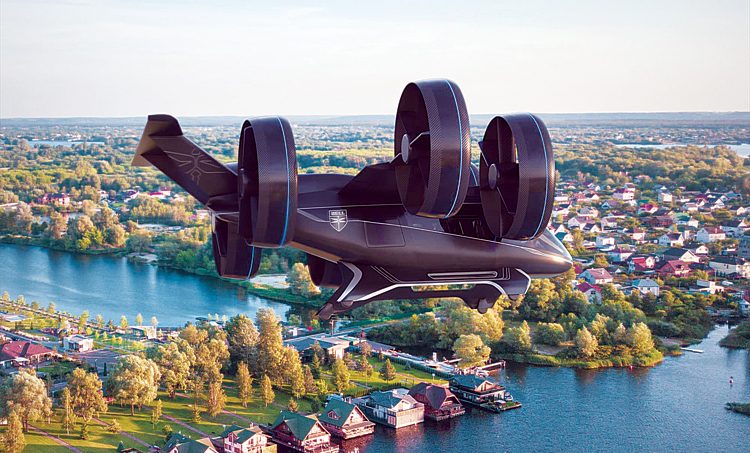 Bell Nexus
There are several companies working on VTOL aircraft as highlighted in the table. Considering various factors including funding, order book, range, capacity and capability, it seems XTI aircraft of the US is currently best positioned. The prototype called the TriFan 600, successfully completed flight tests on May 02, 2019. The aircraft is a hybridelectric design and FAA certification is expected in three to four years with deliveries expected to commence by 2023. As a testament to its product, the company has already received orders for 80 worldwide. Versatility of the aircraft and cost of operation is likely to make for a very disruptive force in business aviation.
AUGUSTAWESTLAND 609
Other ventures in the segment are in various stages of development. For example, the vertical takeoff and landing business jet (VBJ) prototype designed and developed by Pegasus Universal Aerospace based in South Africa, was recently showcased at the European Business Aviation Convention and Exhibition (EBACE) in Geneva. The aim is to start its order book for the eight-passenger type and further its funding. The Bell Nexus was debuted at the Las Vegas Consumer Electronics Show (CES). Looking at the range thought, this aircraft is targeting a different consumer profile. The Bell V-280 Valor is already flying and the advantage is that it has been derived from existing aircraft technology of the AugustaWestland AW609 and thus is ahead in the process of development. However, this aircraft is currently only in use for military applications. Starling Jet, a product of Samad Aerospace, was unveiled with much fanfare at the Paris Air show in 2018 and at that time, bagged orders for 75. Since then, there has been further improvement in design and the company is working to produce a prototype. Overall, the VTOL space is gaining momentum.
VTOL AIRCRAFT IN THE MARKET
| | | | | |
| --- | --- | --- | --- | --- |
| Aircraft | Country of Production | Range (NM) | Passenger Capacity | Estimated Launch Date |
| Pegasus | South Africa | 1146 | 6-8 | 2024 |
| XTI | USA | 670 - 1200 | 5 | 2023 |
| Bell Nexus | USA | 130 | 4-5 | 2024 |
| Bell V-280 Valor | USA | 500 - 800 | 10 – 14 | Currently only for military use |
| Starling Jet | UK | 800 | 8 - 10 | 2025 |
Source: Industry reports, direct contact with manufacturers
THE FUTURE OF VTOL PLATFORMS
These developments are exciting and signal the advent of a new age of flying. Given the speed at which technology advances, the leap from prototypes to line production of aircraft will be quite fast. Going back into history of flight, it took just ten years for fairly stable airplanes to emerge after the Wright Brothers made the first flight in a heavier-than-air machine in 1903. A similar trend is likely to be seen in VTOL aircraft. It is a market that is ripe for emergence and is likely to see robust growth in the years to come.
The case for VTOL aircraft is predicated on saving time by avoiding airports as one of the biggest challenges facing business aviation is the lack of airport capacity. While the United States and Europe have a significant number of primary and secondary airports, as one starts to move Eastwards to Asia, these are found lacking. With exorbitant airport charges coupled with the lack of access, business aviation suffers greatly. VTOL is hoping to fill this gap. But as this becomes commercially viable and accepted, existing airport operators are sure to put up a strong fight. Not because of business jets, rather because its extension to larger jets can be extremely disruptive to the business model of airports. VTOL operators will have to be geared for a strong fight before flight.
VTOL business aircraft may just be one of the most significant disruptions to hit the market in the years to come
The beauty of VTOL machines is that they can also engage in conventional takeoffs and landings (CTOL). In fact, CTOL operations help extend the range as the power required to get off the ground and back on to it, is much lower. What this effectively does is open up the aircraft to hundreds of existing airfields thereby providing an extremely flexible transportation solution.
Interestingly, in keeping the weight of the machine low, developers used composites and new age material. This also led to the exploration of hybrid electric technology which now fits in perfectly with the focus towards green initiatives including reduction in carbon and noise emissions. The VTOL aircraft will not only leave a much lower carbon footprint, but also be fairly quiet which is again very beneficial to the entire ecosystem.
That said, the VTOL revolution will possibly have to scale several hurdles in its journey towards commercial acceptance. First is the cost of the technology itself. The current prototypes use light-weight composites coupled with engine technology and scaling of the production. However, keeping costs sustainable will certainly be a challenge. In addition, given the current challenges with the Boeing 737 Max and the regulatory fall-out, the certification process will also be fairly tedious and thereby expensive. Post FAA and EASA approval, the approval from regulators in Asia including India and China, may also have elements of technology patents that can turn out to be hurdles. Overall, regulators will have to be convinced of the safety of these platforms. The case of engine failures will be especially critical. Other issues such as security, navigation and authorisation will also come into play.
The United Nations estimates that by 2050, almost two thirds of the world's population will live in urban areas. This trend has consequences that must be planned for starting today. Not doing so can result in significant wastage of human capital while causing a drain on resources. Consider this statistic: in 2017, the analytics firm Inrix which provides location-based traffic data and analytics, estimated lost productivity due to traffic delays estimated at $305 billion for the United States and a $110 billion for Europe. If not addressed, this is likely to get worse. And this is exactly where the VTOL technology can make a positive difference by helping one save time which is increasingly a scarce resource in the business world.
VTOL business aircraft may just be one of the most significant disruptions to hit the market in the years to come.

Satyendra Pandey has held a variety of positions in the aviation business. Most recently was the Head of Strategy & Planning at GoAir. Previously he was with CAPA (Centre for Asia Pacific Aviation) where he led the Advisory and Research teams. He joined CAPA after a working through a merger and restructuring at a legacy US carrier. Having lived and worked across four continents, he is an alumnus of the University of New South Wales and the London Business School. He is also a certified pilot with Instrument rating.