With performance target of a 140-knot cruise speed, a maximum payload of 1,760 pounds, and a maximum range of 700 nm, the Hill HX50 is here to take the private flyers' experience a notch up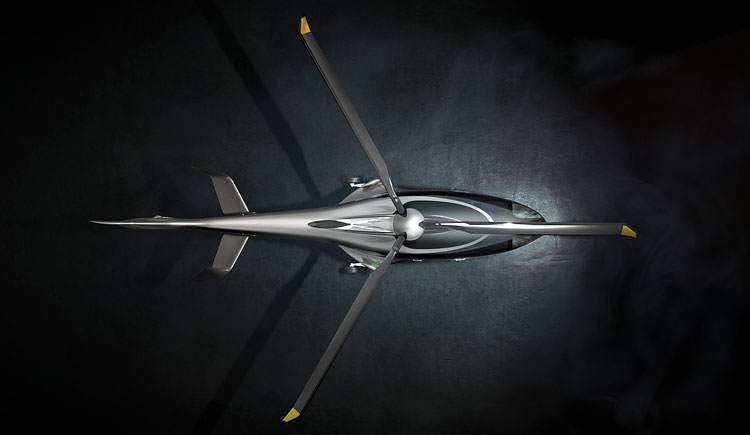 The HX50 is a truly desirable, attainable and capable aircraft that will relaunch general aviation
Redefining the helicopter industry, UK startup Hill Helicopters has unveiled HX50, the world's first truly private helicopter, as the company puts it. The fiveseater HX50 has been conceived as a "best of breed personal helicopter", crafted upon field-proven engineering, state-ofthe- art manufacturing and iconic British design led by the inspiring vision of helicopter pioneer Jason Hill, an aeronautics engineer and a pilot for about two decades. Researched and architected throughout the past 13 years, the turbine-powered, 500 horsepower clean-sheet rotorcraft is designed, developed and manufactured with a mission to deliver an exquisite flying and ownership experience.
The high-tech and high-performance personal aircraft's composite structure and rotor system, optimised engine, re-imagined avionics, and elevated interior design make it a fusion of re-defined performance and artistic elegance.
Further, Hill Helicopters (HH) is sure that their helicopters are affordable and inexpensive to operate while delivering an unprecedented level of performance that provides the fastest, most direct way to travel opulently over intermediate distances. The HX50 elegantly embodies the finest in power, technology, safety and refinement ever offered to the general aviation market. It isn't so much a helicopter, but rather the first aerial Grand Tourer ever built, states HH.
FOR THE PRIVATE FLYERS
The HX50 will deliver a truly desirable, attainable and capable aircraft that will re-launch general aviation, believes Jason Hill.
The company is affirmative that the launch of HX50 is set to revolutionise private aviation industry. "Our product, its very definition and DNA is focused on the specific needs of private owners, their usage patterns and specific missions. Additionally, we make the best 5-seat helicopters in the world," Hill Helicopters stated in an interaction with BizAvIndia.
Here's what they say makes HX50 the world's first truly private helicopter:
It's the first light helicopter to be specifically designed for private owners.
It delivers enough performance and payload to take 4 passengers, all the bags and three hours of fuel to fly wherever, in fantastic comfort and in an amazing environment.
"We make using a helicopter for personal business travel, recreation, and touring EPIC! We make it financially and technically viable and extremely desirable, to fly yourself or be flown wherever you want to go, inexpensively, at a moment's notice with the highest levels of safety and with a sense of occasion and theatre never before seen," Mischa Gelb, Sales and Marketing, Hill Helicopters told BizAvIndia.
"WE MAKE USING A HELICOPTER FOR PERSONAL BUSINESS TRAVEL, RECREATION, AND TOURING EPIC! WE MAKE IT FINANCIALLY AND TECHNICALLY VIABLE AND EXTREMELY DESIRABLE, TO FLY YOURSELF OR BE FLOWN WHEREVER YOU WANT TO GO, INEXPENSIVELY, AT A MOMENT'S NOTICE WITH THE HIGHEST LEVELS OF SAFETY AND WITH A SENSE OF OCCASION AND THEATRE NEVER BEFORE SEEN,"
— MISCHA GELB, SALES AND MARKETING, HILL HELICOPTERS TOLD BIZAVINDIA
HH also suggests that if one does not have an incredible long distance to go then taking the Hill HX50 allows you to fly to a business meeting (for example in the city) directly from the backyard further saving time and enhancing efficiency.
MAKING FLYING A LUXURIOUS, INTUITIVE & CONVENIENT EXPERIENCE
The design of the Hill HX50 has been carried out keeping in mind the convenience of the user. As the company puts it, from the striking iconic beauty of the exterior to the airy uplifting interior, everything has been sculpted with uncompromising comfort in mind, to make the journey every bit as desirable as the destination. HX50's forward flight speed and efficiency have been delivered through state-of-art aerodynamic design and testing.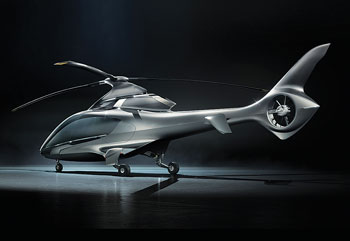 HX50 – SPECIFICATIONS
Cruise Speed – 140 kt
Horse Power – 500 shp
Payload – 1760 lbs 800 Kg
Max Range – 700 nm
500 mm Wide Seats | 4 - Point Harness | Full Climate Control | Bluetooth Connectivity
Payload 1760 LBS (800 Kg)
People – 5 x 200 lbs (95 kg)
Bags/Cargo – 60 lbs (27 kg)
Fuel – 700 lbs (317 kg)
3 hours fuel
420 nm Range
Engine
Hill GT 50 Turbine

SHP
T/O Power
Continuous
Fuel @110 kts
Fuel @140 kts

| R66 | HX50 |
| --- | --- |
| 300 HP | 500 HP |
| 270 HP | 440 HP |
| 224 HP | 400 HP |
| 22 GPH | 22 GPH |
| N/A | 35 GPH |
HH also states that aircraft interiors have long lagged behind their automotive peers, however, the unique attributes of Hill HX50's interior environment far exceeds automotive design. A masterful blend of art and science is at the heart of the pioneering redesign of the helicopter.
The HX50's groundbreaking cabin delivers a complete rethink of helicopter flight for the pilot and those who prefer to be flown. Combining redesigned flight controls, full glass instrument panel, panoramic windows and skylights, exclusive leather seating, and a host of luxury features, the HX50 boasts of a stylish interior.
The HX50 delivers five wide seats, giving the pilot and each passenger unprecedented levels of comfort. The seats and cabin are crafted from the finest materials, combining two-tone Nappa leather, French stitching, alcantara trim and first-class brushed metal. Each seat offers personal storage, USB ports and four-point harnesses. Climate control and Bluetooth connectivity are also provided throughout the cabin.
The HX50's cockpit was re-imagined to upgrade flying from a piloting, comfort, convenience, ease-of-use and sheer exhilaration perspective. Sitting front and centre in easy reach and sight of both pilots, it delivers convenient navigation, weather and traffic information, in addition to providing a backup display of the flight instruments. HH noted that in recent times, many pilots have started using iPad apps for flight planning and navigation. At the heart of the Hill Digital Cockpit is the use of these apps, with the iPad front and center, fully accepting that it can perform better than many existing hardware avionics, and embracing the fact that this is how people want to fly. The cabin and avionics suite embrace the empowering role that the iPad plays in simplifying and improving the modern recreational flying experience. The clean, uncluttered cockpit also delivers automotive levels of simplicity of operation, genuinely raising the VFR flying experience to new highs.
The electronic flight displays, have been completely redesigned for clear communication of essential information, while pilot interaction with aircraft systems, avionics and flight controls has been streamlined to the same extent that would be expected of modern premium automobiles.
The unique integrated pilot interface (IPI) provides a userfriendly controller and numerical keypad, along with intuitive selector keys for fast access to routinely required functions. The collective is conveniently integrated with a centre console and armrest to dramatically improve pilot comfort. The cyclic combines pilot adjustability, ease of entry and egress and outstanding ergonomics of both the hand grip and buttons.
The HX50 light-single is designed to take five 95 kg passengers and all of their bags (about 27 kg cargo), 317 kg fuel and 420 nm of range, plus three hours of fuel at max continuous power, flying without any performance limitations all the way up to 10,000 ft. What is further noteworthy is that this is just a standard configuration and the configurations can be further customised as per the requirements. The rear seats are elevated, and the glazed cabin roof and low window line deliver an unrivalled airy and open space, sublime comfort and peerless connection with the panoramic views to the outside.

Hill Helicopters also revealed that it is developing its own turbine engine for the platform, designated the GT50. The Hill GT50 combined is a hybrid of aeronautical and industrial gas turbine technology which benefits from manufacture processes and infrastructure developed for the automotive turbocharger market.
THE HX50 AND OTHER LIGHT HELICOPTERS
When asked how different would their helicopter be compared to say Bell, Airbus, Leonardo, Sikorsky, etc. in terms of speed, altitude, seating and comfort, Gelb told BizAvIndia that most helicopters are built as a working machine and not specifically made for the private sector. The HX50 focuses on the highest speed in its class while the altitude performance is quite similar to others. Being a VFR aircraft, it won't be capable of flying in or above the clouds. It has five seats and is built with an opulent spacious interior that is at the same standard as a high end automobile. "There is no helicopter in this space that is anything like what the HX50 is. It will stand out from all its competitors in the market," adds HH.
One important highlight is that the HX50 is a machine fundamentally designed for private pilots, many of whom have limited experience or fly relatively infrequently and this helicopter fits that purpose with features such as:
High-inertia, three-bladed rotor system
Engine with large power reserves irrespective of load
Simple digital cockpit clearly presenting all flight information
Seamless integration with iPad and navigation apps
And because private pilots are unlikely to fly over 100 hours per year, the whole aircraft has a 5,000 hours life on condition. That means the value of the aircraft is protected and it won't time out after a decade. It's purely down to the amount of hours one flies and how well it is looked after.
"Traditional helicopters were designed to be utilitarian, with comfort as an afterthought. The HX50's interior design is built around experience and comfort in the same manner as premium automobiles," said Hill Helicopters CEO Jason Hill.
He further adds that the helicopter industry has long awaited an Elon Musk-style disruption that redefines the modern helicopter; the wait is over with HX50. "The HX50 brings aerospace design, performance, and safety as well as to the artistic and experiential aspects, including comfort, ergonomics, intuitive technology, and luxury together to deliver a truly unique aircraft and experience."
SPECIAL PRICE OFFER
Under the 100 Friends of Founder programme, the special price for Hill HX50 is £295,000.
For any order received under these two conditions:
purchase order received until the end of the month (November 30th) and deposit paid until December 31st and
up to serial number 25 (included).
You will be receiving at no extra cost:
The Blade folding kit plus
The Helimove (motor system on the wheels to roll the helicopter into the hangar).
Talking about the extreme weather conditions, they tell us that the HX50 is a very stable helicopter with a high inertia three bladed rotor system that enhances its stability in the wind. The rain does not affect the helicopter if the visibility is ok and there is synthetic vision in the helicopter to aid the pilot when the visibility is reduced. "Helicopters are inherently very capable of flying in bad weather as they have very highly loaded blades, compared to the wings of an airplane. The HX50 is a much more benign helicopter than a two bladed helicopter," added Jason Hill.
HH also adds that when it comes to light helicopters, conventional wisdom would suggest that you cannot have a spacious, sumptuous interior with panoramic views for five passengers. It would also dictate that you cannot have a large bay to accommodate full-sized suitcases. And it would certainly remind you that vast fuel reserves for genuine touring would be out of the question. Except that these are exactly the attributes that make a helicopter flexible, desirable and worth owning. The HX50 has been developed according to the laws of physics, not conventional wisdom, and delivering these capabilities is precisely what gives the HX50 true purpose, genuine usability, and a peerless spot in the market.
BOOKINGS AND LAUNCH
Reportedly the HX50 is in the advanced design phase currently, with three prototypes scheduled to begin flight testing in 2022. Hill Helicopters have started to take pre-orders through private presentations explaining the details of the HX50. People can visit their website and book a private presentation to learn more about pre-ordering. The first deliveries are planned to commence by May 2023.
Discussing about the unprecedented times that the world and the aviation sector is gravely bearing, Jason Hill told BizAvIndia that this change has rather been a time of opportunity for Hill Helicopters. "We have all our development in place. The only thing that COVID-19 has done for us has meant that we have got some more money from the UK government to support our project so it has been nothing but good for us. Of course it has been a bit inconvenient with the lockdown as it's a little difficult to work on this kind of project by just being virtually connected. However, the timeline will not be affected by COVID per say," he added.
He further believes that the people who buy helicopters are more robust than many when it comes to the pandemic and once everyone is out of this pandemic, at the time of our production we expect buoyancy. Although right now Hill is targeting private flyers, there will be models in the future that would be targeted for the commercial sector.