The flights set first ever city-pair speed records and showcased Gulfstream's commitment towards sustainability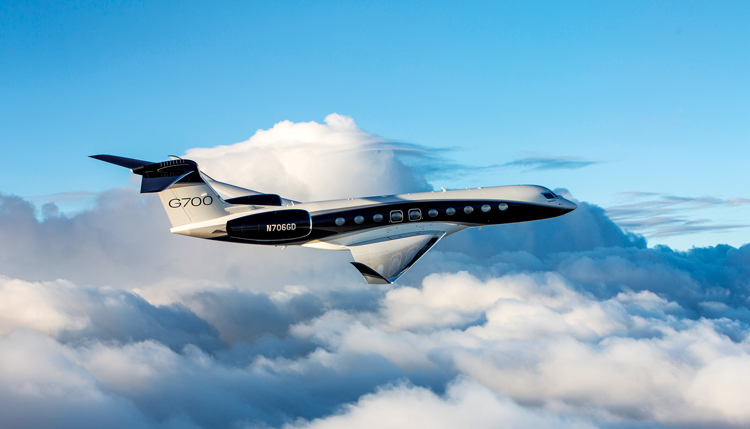 G700 sets an air-speed record on its first international flight
The new state-of-the-art, Gulfstream G700 set its first ever city-pair speed records. The record was established for the flight from Savannah to Doha, Qatar, and then from Doha to Paris. Termed as the largest aircraft in its fleet by Gulfstream, this fully outfitted G700 production test aircraft connected its home-base Savannah to Doha, traversing a distance of 6,711 nautical miles (nm)/12,428 kilometers (km). It covered this distance at an average speed of Mach 0.88 in 13 hours and 16 minutes. The aircraft then set another city-pair record from Doha to Paris, flying 2,953 nm/5,469 km in six hours and 15 minutes at an average speed of Mach 0.90.
"These were the first international flights for the G700, and it performed exceptionally well, setting two new records in the process," said Gulfstream President, Mark Burns.
PERFORMANCE
| | |
| --- | --- |
| Maximum Range2 | 7,500 NM |
| High-Speed Cruise | Mach 0.90 |
| Long-Range Cruise | Mach 0.85 |
| Maximum Operating Mach Number (Mmo) | Mach 0.925 |
| Takeoff Distance (SL, ISA, MTOW) | 6,250 ft |
| Initial Cruise Altitute | 41,000 ft |
| Maximum Cruise Altitude | 51,000 ft |
SYSTEMS
| | |
| --- | --- |
| Avionics | Gulfstream Symmetry Flight Deck |
| High-Speed Cruise | Two Rolls-Royce Pearl 700 |
| Long-Range Cruise | 18,250 lb |
2NBAA IFR theoretical range with 8 passengers. 4 crew and NBAA IFR reserves. Actual range will be affected by ATC routing, operating speed, weather, outfitting options and other factors. All performance is based on preliminary data and subject to change.
Source: Gulfstream
SUBSTANTIATING SUSTAINABLE STEPS
The record-breaking flights further displayed Gulfstream's commitment towards sustainability, especially in reducing carbon emissions. For the Savannah to Doha flight, Gulfstream fueled the G700 with a blend of sustainable aviation fuel and carbon offsets were applied for both flights, informed the aerospace company.
"We are proud that not only did the aircraft prove its speed and distance capabilities, but the fully outfitted cabin is also receiving rave reviews with its impressive cabin size, environment, quality and flexibility," added Burns.
Gulfstream underlined its sustainability goals that encompass three pillars:
energy and emissions,
operations, and
culture and learning.
Through these goals, Gulfstream has continued to maintain levels with industry goals established by the National Business Aviation Association (NBAA), the General Aviation Manufacturers Association (GAMA) and the International Business Aviation Council (IBAC) to curtail carbon emissions, revamp fuel efficiency and pursue carbon-neutral growth.
This year, in July, another feather was added to Gulfstream's sustainability hat as it became the first company to earn the National Aeronautic Association's (NAA) first ever "Sustainable Wings" Certification on roundtrip for another record-setting flights from Savannah, Georgia to San Francisco, California and back to Savannah. NAA's Sustainable Wings certification recognises records that are set using Sustainable Aviation Fuel (SAF).
The aerospace company has been consistently making significant efforts towards sustainability. There are several elements to Gulfstream's sustainability programme, including aircraft sustainability, eco-friendly buildings and the use of SAF for its corporate, demonstration, customer support and flight test fleets in Savannah. Gulfstream also gives an opportunity to its operators to decrease their carbon footprint with the carbon offsets programme, which is available through Gulfstream's Aircraft Ownership Service and funds activities that generate an equal reduction in carbon emissions.
G700 CABIN FEATURES
The G700 cabin is claimed as the most spacious in the industry by the company. Gulfstream further added that the cabin can be configured for up to five living areas with options for an ultra-galley with 10 feet of counter space; a dedicated crew space; an entertainment and presentation area; six-place conference and dining area; and a state room with full-length wardrobe and a grand suite with shower.
"THESE WERE THE FIRST INTERNATIONAL FLIGHTS (SAVANNAH TO DOHA, QATAR, AND THEN FROM DOHA TO PARIS) FOR THE G700, AND IT PERFORMED EXCEPTIONALLY WELL, SETTING TWO NEW RECORDS IN THE PROCESS"
—MARK BURNS, PRESIDENT, GULFSTREAM AEROSPACE
Interior elements in the cabin comprise of the G700's award-winning seat design, and the all-new ultra-high-definition circadian lighting system. Natural stone flooring in the galley and bathrooms; quartz countertops; powered single seats; surround sound; and other bespoke features that come standard on the aircraft are also included. Gulfstream has taken the G700 interior through "more than 15,500 test points to ensure the cabin's comfort, maturity and durability upon its entry into service, validating every facet of the cabin to ensure the utmost in interior comfort and reliability upon customer delivery," added the company.
To further advance the cabin experience, Gulfstream had announced a lower cabin altitude for the all-new Gulfstream G700 on the new business jet flagship in June 2021. Originally announced with a cabin altitude of 3,290 feet (ft)/1,003 meters (m) when flying at 41,000 ft/12,497 m, the G700 cabin altitude at the same flight level has been improved to 2,916 ft/889 m. As informed by the company earlier, this enhancement allowed the G700 to retain its leadership position with the lowest cabin altitude in the business aviation industry.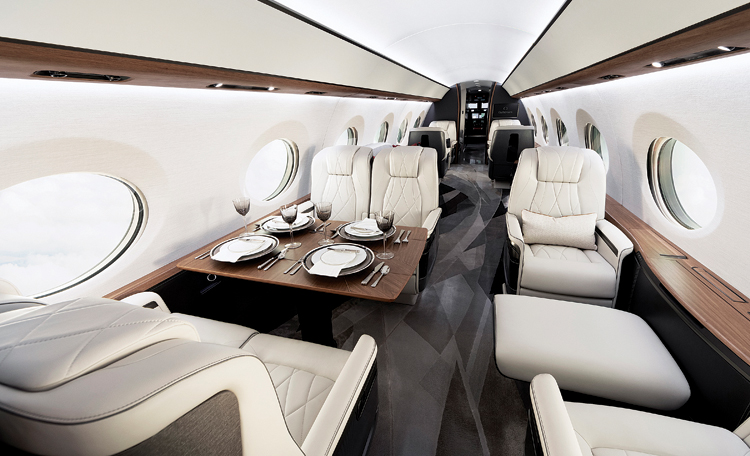 The G700 cabin is claimed as the most spacious in the industry by the company
"This new, industry-leading cabin altitude is a result of our ongoing investments in customer health and safety and will provide even more comfort for passengers over the ultralong-range flights the G700 is capable of achieving," Burns had stated.
In addition to the low cabin altitude, the Gulfstream cabin experience on the G700 comes with:
100 per cent fresh, never recycled air;
whisper-quiet noise levels;
20 of the industry's largest windows;
high-definition circadian lighting system;
award-winning seat design with advanced ergonomics and
a variety of enhanced comfort preferences customers can choose from.
The service entry of the aircraft is expected next year in 2022.
On April 15, 2021, the G700 cabin took flight on the first fully outfitted production test aircraft. At the same time, the company had announced the G700 aircraft dedicated to testing the cabin experience had flown for the first time and joined the five other test aircraft already in the steadily maturing certification programme.
Another highlight of Gulfstream, the Symmetry Flight Deck is also aboard the G700. The deck features the industry's only active-control sidesticks, most extensive use of touch-screen technology and a data concentration network, as well as the award-winning Gulfstream Predictive Landing Performance System and Enhanced Flight Vision System and Synthetic Vision on dual head-up displays, informed the company.
THE RECORD WAS ESTABLISHED FOR THE FLIGHT FROM SAVANNAH TO DOHA, QATAR IN 13 HOURS AND 16 MINUTES, AND THEN FROM DOHA TO PARIS, IN 6 HOURS AND 15 MINUTES
The aircraft is powered by Rolls-Royce Pearl 700 engines and can fly at its high-speed cruise of Mach 0.90 for 6,400 nautical miles/11,853 kilometers or at its long-range cruise of Mach 0.85 for 7,500 nm/13,890 km.
Gulfstream also highlighted the advantage of the high speed that not only allows the passenger to reach the destination faster but also leads to fewer flight hours that further create longer periods between scheduled maintenance visits, higher potential aircraft value and fresher crews.
Within the first year of the programme itself, the Gulfstream G700 flight-test programme had made significant progress, surpassing 1,100 hours of flying and completing new company test regimens by February 2021 after its maiden voyage in February 2020.
At that time, the G700 had successfully completed several critical phases-of-flight tests, including envelope expansion, flutter, aerodynamic stalls, flying qualities, flight control systems and air-data testing. The test fleet then went on to conduct winglet and wing-ice shape stall testing, loads testing and initial cold-weather testing. The test aircraft have performed avionics testing in Chicago, as well as Van Nuys, San Jose and Oakland, California. The G700 had also begun flight-into-known-icing (FIKI) testing before February and successfully completed high-altitude engineperformance testing at an altitude of 9,078 ft/2,767 m while undergoing highintensity radiated fields/indirect effects of lightning (HIRF/IEL) testing.