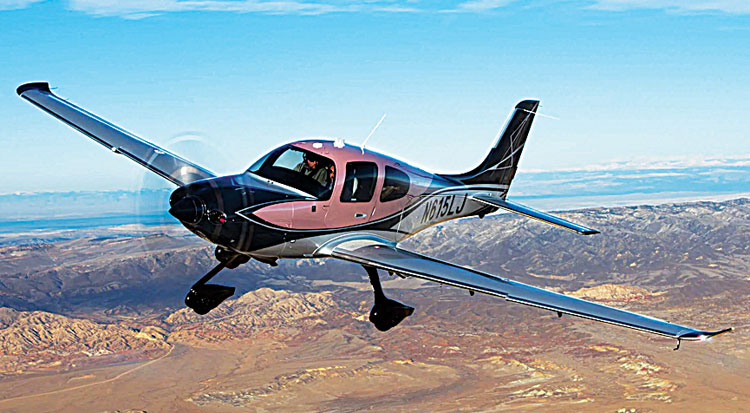 Cirrus Aircraft revealed the 2022 G6 SR Series featuring a refined aircraft design with reduced drag for increased fuel efficiency, Cirrus IQ mobile app updates and the freedom to pair premium Xi aesthetic options. The 2022 G6 SR reaches all new levels of sophistication, performance and customer convenience.
Now in its sixth generation with over 8,000 aircraft delivered, the SR Series leads the market as the best-selling, high-performance, single-engine piston aircraft for 20 years in a row and provides seamless luxury, exceptional performance, intelligent connectivity and unparalleled safety features.
FASTER, MORE FUEL EFFICIENT, BETTER RANGE
The 2022 model year G6 SR is the fastest to date featuring sleeker wing and tail surfaces and redesigned wheel pants, resulting in true airspeeds of up to 9 knots faster. The new model's ice panel transition seams are smoothed and wheel pant tolerances tightened to reduce drag. These aerodynamic refinements contribute to both reduced fuel consumption and faster flight segments.
ADDED PILOT AND PASSENGER CONVENIENCE
Luggage compartment access becomes easier with the new remote unlock capability and keyless entry. Lock and unlock the baggage door with the key fob, then the door can be easily opened with the push of a button.
Additionally, a new, multi-functional USB panel features both USB-A and USB-C ports keeping mobile devices such as phones or laptops charged throughout the trip.
ADVANCED AIRCRAFT INSIGHT WITH CIRRUS IQ
The Cirrus IQ status screen is redesigned to include aircraft model designation along with a new navigation bar featuring aircraft status, inspection intervals and warranty expiration.
Maintenance Minder tracks approaching inspections and sends notifications when they are due. When flying, the flight hour meter automatically updates the inspection cards by providing a progress bar and countdown to the upcoming inspection event.
My Trips module automatically logs every flight and curates key trip statistics and achievements earned while flying. My Trips will be released in February 2022.
The Warranty section references the date and flight hour limits of coverage for Spinner-to-Tail warranty, and CMX coverage, if applicable.
REIMAGINED EXTERIOR AND INTERIOR AESTHETICS
The Cirrus Xi Design team, in partnership with Sherwin Williams Aerospace, developed a new paint formulation process unlocking incredible potential and enhancing color definition and flexibility.