Sustainability in the Business Aviation has been one of the most echoing buzzword. The business aviation fraternity is working hard to achieve certain defined goals on this front. Gulfstream has always been leading within the OEMs' fraternity towards various initiatives. Same has been the case with Gulfstream as they were the first to sign the World Economic Forum's Clean Skies for Tomorrow 2030 Ambition Statement. With these factors in view, Jayant Baranwal, Editor-in-Chief, BizAvIndia spoke with Christian Falthman, Director – Public and Media Relations, Gulfstream Aerospace.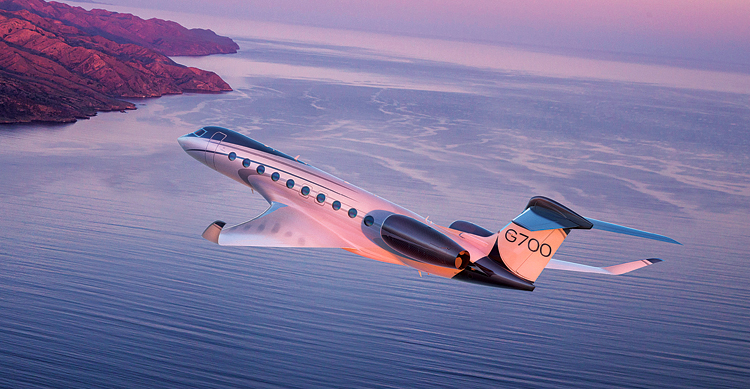 Jayant Baranwal (Baranwal): What is Gulfstream's role in promoting 'Sustainability' in Business Aviation, especially the use of Sustainable Aviation Fuel (SAF)?
Christian Flathman (Flathman): At Gulfstream, we have conducted hundreds of flights both by Gulfstream and customer operations. The company has purchased more than 1.7 million gallons and we are using SAF for our flagship G700 flight testing and in our flight operations in Savannah.
As the industry leader in sustainability, Gulfstream is the first business aircraft manufacturer to sign the World Economic Forum's Clean Skies for Tomorrow 2030 Ambition Statement.
Signed in November 2021, this is a declaration of intent to accelerate the supply and use of SAF technologies to reach 10 per cent of global jet aviation fuel supply by 2030.
Gulfstream became the first company to receive the National Aeronautic Association (NAA) Sustainable Wings certification, for completing record-setting Gulfstream G500 flight using sustainable aviation fuel (SAF).
Savannah to San Francisco: 4 hours, 17 minutes at 548.8 mph
San Francisco to Savannah: 4 hours, 18 minutes at 546.67 mph
Baranwal: Which all areas in the Business Aviation can eventually become sustainable?
Flathman: First, I'd probably start with why focus on sustainability? For Gulfstream we focus on:
Environment stewardship
Reducing our carbon footprint
Provide customers with decarbonization tools

Advanced Aircraft Technology
Sustainable Aviation Fuel (SAF)
Market-based measures – Carbon Offset

Aligns with industry and General Dynamics goals
ISO 14001 certification requirement
Baranwal: What are your specific goals towards Sustainability, particularly in Business Aviation?
Flathman:
SHORT-AND LONG-TERM GOALS
Short-Term Goals (5-years)
| | | | |
| --- | --- | --- | --- |
| Waste | Energy | Greenhouse Gas | Water |
| 25% | 15% | 15% | 10% |
Long-Term Goals
| | | |
| --- | --- | --- |
| Commitments | Target Year | Years to Achieve |
| Net-Zero | 2050 | 28 |
| General Dynamics 40% reduction | 2034 | 12 |
Baranwal: What about Carbon Neutrality? What are the timelines towards working on such an achievement?
Flathman:
Industry Commitment
Improve fuel-efficiency by average of 2 per cent per year - 2020 to 2030
Carbon-neutral growth from 2020
Net-zero carbon dioxide emissions by 2050
General Dynamics
Reduce CO2 emissions 40 per cent by 2034, relative to 2019
For Gulfstream, our sustainability strategy is centred around three key areas – Energy and Emission, Operations and Culture and Learning.
Energy and emissions focuses on things like aircraft technology and energy reduction, greenhouse gas reduction, sustainable aviation fuel and renewable energy. Operations focuses on building operations, flight operations, ground transportation, waste and water reduction and procurement. Finally, culture and learning looks at best practices, internal governance and communications, both internal and external to the company.
Lastly, I wanted to mention that Gulfstream is assisting our customers with their sustainability journey. Gulfstream has hosted multiple Sustainability Roundtables both virtually and in person. We have also participated in AIN Sustainability Summits and held numerous one-on-one meetings with customers to answer questions and to help them with their own sustainability journey.
SPOTLIGHT ON SUSTAINABILITY
Gulfstream is committed to an Industry wide effort to cut CO2 Emissions in half by 2050
Gulfstream are the first Business Jets certified for stage 5 community noise levels
Gulfstream partner with suppliers who share our standards for sustainability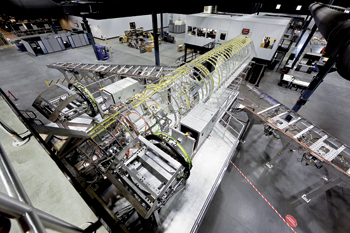 Gulfstream Research and Development Center Iron Bird
INOVATING FOR EFFICIENCY
For more than six decades, business aviation has looked to Gulfstream to set previously unimaginable new standards for performance, innovation, comfort and safety. They also lead the industry in sustainability, with maximum fuel-efficiency, noise and emissions reductions, and the vision for a better shared future.
SUSTAINABILITY BY DESIGN
Gulfstream's innovative, clean-wing designs deliver a combination of record-breaking speed and range, exceptional comfort, and better aerodynamic efficiency for a smaller carbon footprint. The wings of the Gulfstream are manufactured on-site, decreasing transportation emissions and packaging waste.
POWERING CONSERVATION
State-of-the-art engines across their fleet decrease fuel usage, produce fewer greenhouse gases, and are central to the unparalleled achievements in engine noise reduction, which means minimised disruption to communities and ecosystems worldwide.
LEADING THE INDUSTRY
Gulfstream's Enhanced Flight Vision System (EFVS) allows authorized pilots to land in low-visibility conditions, increasing efficiency by reducing go-arounds and saving fuel and time. In 2018, Gulfstream became the world's first aerospace company to certify EFVS for touchdown and rollout.
DRIVEN BY R&D
Gulfstream provides the industry's leading talent with the space, tools and state-of-the-art technology to innovate for future flight. This steadfast investment in their labs—for development, training and human factors testing—reduces in-air flight-test hours, thus reducing carbon emissions.
GREEN FACILITIES
Gulfstream is building for the future. At their Savannah headquarters, multiple facilities have LEED certifications for design, materials and technologies that drastically reduce water and energy usage. Five Gulfstream manufacturing and service facilities worldwide are ISO 14001 certified, achieving an international standard for responsible environmental management.
FUELING PROGRESS
The future of business travel is powered by sustainable aviation fuel (SAF). Since 2016, Gulfstream have used this cleaner alternative in daily operations including the Gulfstream G700 flight-test program. In 2019, they became the first business jet manufacturer to make SAF available to customers.
CARBON NEUTRAL TRAVEL
Gulfstream takes pride in raising the bar for eco-conscious business travel and invite customers to take part in that achievement. In 2019, they launched a service that allows operators to pay a usage-based annual fee toward activities that generate an equal reduction in carbon emissions, helping to offset the carbon footprint of their flights.