The 9th edition of the MEBAA show welcomed close to 10,000 attendees, 118 exhibitors and 16 aircraft on static display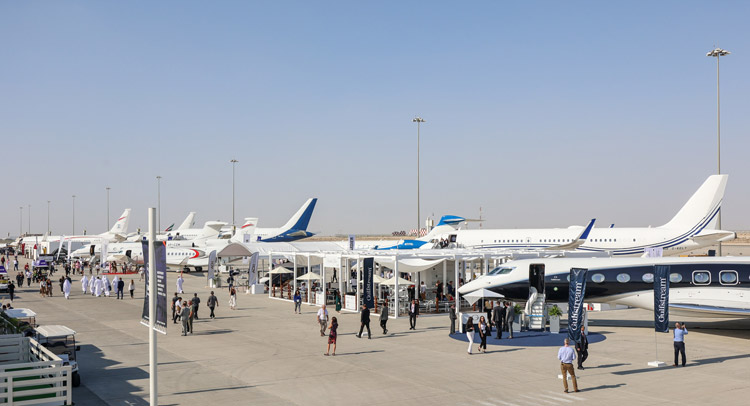 With attendees and exhibitors from 95 countries, the 2022 edition of the MEBAA show, was a significant moment for the global business and private aviation industry
After a halt due to COVID, the MEBAA Show 2022 returned with a series of key deals and announcements which set to drive the business aviation industry forward. The 9th edition of the MEBAA Show welcomed close to 10,000 attendees, 118 exhibitors and 16 aircraft on static, according to the official site. The launch of the BizAv Talks which featured sessions from over 45 industry leaders throughout the show conference was underlined as a key highlight of the show. With attendees and exhibitors from 95 countries, this edition came out as a significant moment for the global business and private aviation industry.
The 2022 Show, held at Dubai Airshow site (DWC), witnessed key players from across the business aviation industry using the event as a platform to make important announcements and signings. The gathering reaffirmed the MEBAA Show's position as the foremost business aviation platform in the Middle East and wider regions. This year the show featured the most diverse range of exhibitors to date, with a large number of local, regional and international exhibitors. It saw the return of major players such as Airbus, Boeing, Comlux, Bombardier, Embraer, Gulfstream and Dassault aviation, along with a host of new exhibitors from over 20 countries, including VOO, Executive Lifestyle, Tahseen, Mirai Flights and many more.
Sheikh Ahmed bin Saeed Al Maktoum, President of the Dubai Civil Aviation Authority, Chairman of Dubai Airports, Chairman and Chief Executive of Emirates Airline and Group, opened the much-anticipated MEBAA Show 2022 at Dubai Airshow site (DWC). Ali Ahmed Alnaqbi, Founding and Executive Chairman of MEBAA - the Middle East & North Africa Business Aviation Association, said, "This is the only business aviation show in the Middle East and North Africa so everybody is excited to come back after the small pause of the pandemic. Also, as we continue to witness huge growth across the business aviation industry, it's been fantastic to see so many new initiatives highlighted at this year's MEBAA Show, along with the launch of a series of market-leading new technologies and sustainable solutions that will play a vital role in the future of the industry. We are pleased to be working with global industry leaders and specialists to deliver our best show to date."
He further added that with a redefined programme, that will highlight the latest trends in business aviation and address some of the challenges being faced, visitors will witness cutting-edge technologies, sustainable solutions and innovative aircraft, all set to revolutionise business aviation across the world. The global private jet market is projected to reach $39.84 billion by 2025, from an estimated $25.87 billion in 2021, and the Middle East, specifically the GCC region (Gulf Cooperation Council), is representing a major part of that growth. Additionally, the UAE has seen some of the strongest business jet activity.
According to insights from WINGX, the aviation research and consultancy company, business jet departures in the UAE from January to September 2022 were up 11 per cent compared to the same period in 2021, and up 105 per cent compared to 2020. More recently, the Foot ball World Cup held in Qatar, has led to heavy demand for private jets on Dubai to Doha match-day trips, with MEBAA exhibitor DC Aviation Al-Futtaim witnessing a 22 per cent month-on-month increase in charter enquiries in October. This demand is expected to surpass the World Cup, with the sharp rise of business aviation, a trend that is being seen in many key international markets. As a result, the MEBAA Show 2022 experienced a surge in international visitor registrations, with over 69 per cent of these being key decision makers, all poised to witness the latest innovations and technology shaping the industry.
With an increased international presence at this year's show and an up-weighted focus on in-person networking, the first day saw business leaders from across the world connect with exhibitors, all working together to redefine the future of the industry and take it to new heights.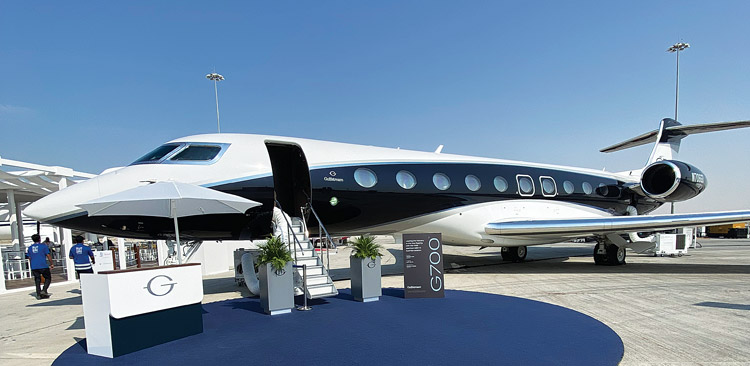 The Gulfstream G700 made an appearance at the show as a part of its ongoing world tour
The first day saw the launch of the first-ever BizAv Talks conference, which included a series of seven presentations and panel discussions on the daily theme – Future Private Jet Business Models. The discussion focussed on Sustainable Aviation Fuel and approaches to reducing the carbon footprint of the industry, alongside highlighting technology advances on the road to sustainability. Meanwhile on the show floor, a huge number of exhibitors displayed the latest aircraft, technology and solutions. In light of the business aviation industry's remarkable growth over the last few years, this also demonstrated huge opportunities for innovation – much of which was on display at the MEBAA show. With the global private jet market projected to reach nearly $40 billion in 2025, from an estimate of almost $26 billion in 2021, exhibitors presented a series of new innovative aircraft, all equipped with specialist features. These included the Boeing – 737, SkyLady Boeing 767-200ER, Dassault Aviation - Falcon 8X, Bombardier Aerospace - Global 7500, Gulfstream Aerospace Corporation - G700 & G650ER, Embraer - Praetor 600, Airbus ACJ TwoTwenty, and Phenom 300E plus the Learjet 60XR and many more.
Alnaqbi also stated, "The MEBAA Show is providing a platform for the global business aviation industry to come together to build on partnerships and form new connections that will drive the sector forward. Across the first two days we saw a series of key announcements and new signings as our community takes advantage of the huge growth that's predicted for the sector. Organisations are looking at how they can incorporate new aircraft, technology and innovation into their current operations. We are proud of what the show has achieved so far."
TOPICS OF DISCUSSION
With future aviation, digitalisation, emerging markets and regulations, blockchain, AI and crypto-based payments as key focuses for this year's MEBAA Show, sessions underlined the need for readiness and adaptability in this quickly evolving technological landscape. All these themes were also recognised as key trends that are driving the industry forward. Another session on 'Assessing early adopters of the eVTOL revolutions' focussed on how eVTOLs will provide a fast alternative to congested city travel and assess how businesses can win over and retain high-net-worth individuals.
Sustainability also remained a key theme throughout the ninth edition of the show – and a huge focus for the business aviation sector as a whole. This year MEBAA Show worked with Air bp as the carbon offsetting sponsor for the show. As the carbon offsetting sponsor for MEBAA Show 2022, Air bp will offset any remaining calculated carbon emissions via bp's carbon management business, bp target neutral. Emissions will be offset by purchasing and retiring offset credits from bp target neutral offset portfolio. This offset credit purchase in turn will help compensate for the emissions associated with the event space, promotional materials. The scalability of SAF (Sustainable Aviation Fuel) as a challenge was also underlined during discussions.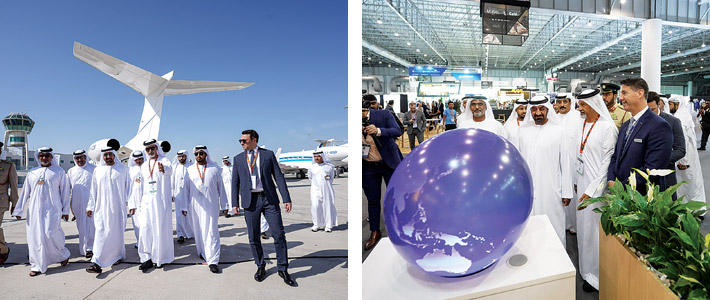 (left & right) the Ruler of Dubai Sheikh Mohammed bin Rashid Al Maktoum visited the show and spent considerable time at the exhibition
During the discussions, Douglas Carr, SVP, Safety, Security, Sustainability & International Affairs at NBAA (National Business Aviation Association) said, "The aviation industry has unprecedented pressure on sustainability, with a special focus on business aviation. The industry as a whole has committed to milestones that will be necessary to reach net zero goals and fuel is the single biggest opportunity to make aviation sustainable."
Alexandre Geahchan, MENA Commercial, General & Military Aviation Account Manager at Air bp added, "A lot of focus is on SAF. It shares a lot of the chemistry with jet fuel, which makes it promising for the industry as a solution that can be used without any changes to existing aircraft. SAF can reduce emissions by 80 per cent over the life of an aircraft."
KEY ANNOUNCEMENTS AND CONTRACTS
During Day 1, there were also a series of key announcements. Lufthansa Technik awarded a contract for VIP cabin completion of an ACJ320neo. Meanwhile, Empire Aviation Group marked its 15th anniversary at the show and announced the induction of a Boeing Business Jet (BBJ) into its regional managed fleet of business jets and signed an agreement with the Mohammed bin Rashid Aerospace Hub (MBRAH) at Dubai South to develop a new, multi-purpose business aviation facility on a plot adjacent to the VIP Terminal.
RoyalJet and Honeywell signed a letter of intent to extend the current Ka-band connectivity services, Saudia Private Aviation (SPA) signed an MoU with Redstar, and there was a press conference where VPorts announced a partnership with UAE General Civil Aviation Authority (GCAA) and the Mohammed bin Rashid Aerospace Hub (MBRAH) at Dubai South to establish the world's first AAM integrator world centre in Dubai. Saudia Aerospace Engineering Industries (SAEI) also signed four agreements during the second day, with Airbus Helicopter Arabia, Alpha Star Aviation Services, Ubisense and The Helicopter Company (THC).
These followed on from other series of day one announcements, where Airbus Corporate Jets (ACJ) signed a partnership agreement with Citadel Completions LLC to enter the ACJ Services Centre Network, the MBRAH signed four agreements with Empire Aviation Group, Athena Security, Khaleej Aerospace Industries and Airline Support Baltic, and there was the official contract signing of the DC Aviation G-OPS joint venture for the opening of a brand new FBO at Nice Airport, among others.
Dornier Seawings (Germany) and Gulf Enterprises (United Arab Emirates) also signed an agreement which will enable the most advanced amphibian aircraft to enter the Middle Eastern market. Dornier Seawings' flagship aircraft is the German-engineered Seastar. With its corrosion-free, all composite airframe, the Seastar offers a highly versatile dual operation from both land and water, even under rough conditions.
ExecuJet MRO Services, a wholly-owned subsidiary of Dassault Aviation, is to open its new facility at Al Maktoum International Airport next year, to simultaneously house 18 to 24 business jets. It has been classified to handle the very largest, including the forthcoming Falcon 6X and 10X, as well as large jets from other OEMs.
Vertiport infrastructure provider VPorts is collaborating with the UAE General Civil Aviation Authority and Mohammed bin Rashid Aerospace Hub at Dubai South on an advanced air mobility (AAM) incubator. The hub, expected to open in 2024, will feature dedicated flight-testing airspace, assigned block airspace, and new technologies to foster the burgeoning AAM industry.
Bombardier held a ground-breaking ceremony for a service center at Abu Dhabi International Airport to be opened in 2025, marking its expansion into the United Arab Emirates. The nearly 1,00,000-sqft facility will include the capabilities to service the breadth of Bombardier's Learjet, Challenger, and Global families; its hangar will have the capacity to fit up to four Global 7500s simultaneously.
Gulfstream Aerospace showcased the five-cabin-zone G700, the US company's forthcoming ultra-long-range flagship, at MEBAA 2022 in the model's debut appearance in Dubai. The G700 on display showcased a corporate-configured cabin along with what Gulfstream terms an "ultra-galley" with more than 10 feet of counter space; a grand suite with fixed bed and bright, spacious lavatory with shower; circadian lighting system; and new seat design.
Saudia Private Aviation, the Saudi flag carrier's VIP air charter arm, has placed an order for an Embraer Praetor 500, with delivery set for third-quarter 2023 while Rolls-Royce is planning to fly its first Pearl 10X engine for the ultra-long-range Dassault Falcon 10X in the second quarter of next year. Airbus Helicopters announced an order from Falcon Aviation Services and a services contract from The Helicopter Company at MEBAA 2022. Lufthansa Technik landed a contract from an unnamed private customer to install a VIP interior on a new Airbus ACJ320neo. The German completions and MRO specialist anticipates that the ACJ will arrive at its facility in Hamburg in late 2023 with interior work to be completed in the first half of 2024.
All in all, MEBAA 2022, proved to be an essential and exciting gathering that portrayed the BizAv industry's present, future and a positive hope for the industry's flight ahead.