Helicopters are the most versatile machine and we aim to at least double the helicopter fleet in India by 2026, said Group Captain Bali, Managing Director, BAOA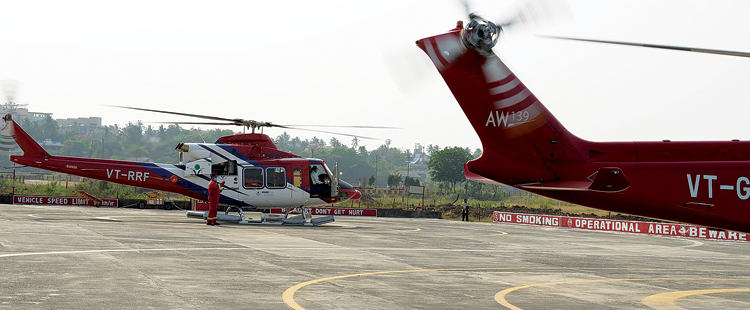 THE NUMBER OF HELICOPTERS IN INDIA HAVE SEEN A DOWNWARD TREND DUE TO MULTIPLE FACTORS SUCH AS REGULATORY BOTTLENECKS AND HIGH OPERATIONAL COSTS
Helicopters have been termed as among the most versatile machines that can cater to various transportation needs of the country including better connectivity; medical transit, tourism, etc and yet Indian helicopter aviation is still awaiting its take off. With only 300 or so helicopters nationwide, their potential for travel, mining, business trips, and medical services still remains largely untapped. At the BizAvIndia conference held in Delhi, the regulators and the industry experts came together to deliberate what is hampering helicopters from growing in India and what is the way forward to make the fleet grow at least to double in the next couple of years.
According to Statista, the industry still remains in the nascent stage. As of 2019, the country had less than 250 registered and operational civil helicopters and over 1,000 helipads across the country. Even after the COVID pandemic, not much has changed; rather the numbers have seen a downward trend due to multiple factors such as regulatory bottlenecks and high operational costs. This fleet size formed less than a per cent of the worldwide copter fleet.
Captain Manu Chaudhary, Dy. CFOI, DGCA drew a parallel between defence and civil helicopter fleet mentioning that in the Air Force during his three years term, the number of helicopters had gone up. "But when I joined DGCA, I was surprised that the helicopter industry was 300 helicopters in 2013 and now we are at 240. There is tremendous scope for which we have to work collaboratively. We are devising a lot of methods, so that without interfering with fixed wing airplanes, helicopters can fly unrestricted."
Group Captain Rajesh K. Bali, MD, BAOA also shared some points from earlier discussion:
Optimal utilisation of defence pilots, especially the ones in Mi-17 fleet, should be ensured by tweaking current DGCA's CARs for conversion to civil license.
Subsidies by the government should not be limited by any time frame but rather be decided based on the actual growth of demand in remote/inaccessible areas and the gradual increase in the frequency of flights.
Subsidies or VGF should be provided to local residents of the areas, not to the tourists; this is open to discussion but this is what we believe.
Colonel Sanjay Julka, Technical CEO, Club One Air brought to light the almost stagnant state of the industry since almost half a decade. "I am participating after about 5-6 years in a BAOA function and the discussions that used to happen five years ago on helicopters are still the same and that is not very encouraging." He also underlined that there's a new category of drones, eVTOL aircraft etc in the market now which are taking on half the roles of the helicopter all across the world. "So, the decrease in number is everywhere but we need to really see why we are not able to exploit their potential as we should and operate helicopters at night. We need to start highlighting the support roles that this industry contributes to."
He also suggested that even if High Net Worth Individual is traveling, charge the tax if he is going to a developed place like say Hyderabad or Mumbai but if he is going to an underserved and unserved area, don't charge as much tax; show how important it is for that person to reach those such areas and develop them. This is the focus we need to have from General Aviation (GA). As far as finance is concerned, when you have to buy a car, you may even get 100 per cent of the finance but the case is not the same for aircraft because it is not seen as an asset. The government should step in and say we are going to have HEMS. Also, for essential flights too there should be no duty at all like we got it removed for medical flights.
SUBSIDIES BY THE GOVERNMENT SHOULD NOT BE LIMITED BY ANY TIME FRAME BUT RATHER BE DECIDED BASED ON THE ACTUAL GROWTH OF DEMAND IN REMOTE/INACCESSIBLE AREAS AND THE GRADUAL INCREASE IN THE FREQUENCY OF FLIGHTS
Finance has been an aviation pain point and continues to be so in all the segments; helicopters being no different. However, the industry strongly feels the need for the separation of certain rules for rotors and fixed wings, which is missing at present. Harsh Vardhan Sharma, Director at Himalayan Heli Services highlighted the issue of expense, "The one main impediment is that the government has levied 2.5 per cent duty on import, whether you are leasing or buying and it is quite discouraging. There is great demand for single engine helicopters and operators want to bring the aircraft but the duty is a great hurdle. We have been putting our case to MoCA to see that this duty is discontinued so that we are able to bring medium lift and heavy lift helicopters as well."
"We are constantly working in collaboration with the industry to understand the concerns and explore the potential of the industry. I look forward to solutions for operating charter jets and am confident that our partnership will grow stronger and stronger. All the initiatives, whether it's fractional ownership, HeliSewa or construction of heliports or the small aircraft segment, all will become reality very soon and will try our best to achieve so that our people can take the benefit of air transportation services as well as see burgeoning growth in business aviation sector," ensured Usha Padhee, Principal Secretary, Commerce and Transport Department, Government of Odisha.
Talking on the demand being positive in the industry, Rohit Mathur, CEO, Heritage Aviation also echoes that in the last few years, there is huge demand for helicopters. "There's a lot of demand, the fixed wing industry and the private jet industry are able to encash on those demands, but the helicopter industry is yet to. People who are into helicopters are small aircraft operators, we don't have the backing of big corporations and raising finance is a nightmare. No Indian bank is ready to finance unless we give them 120-130 per cent collateral and foreign financial institutions are not comfortable working with small operators. So, within BAOA we should plan a strategy and take this issue to the government in a targeted way and convince them. Let's say, we can pay 20 per cent, rest let it be financed. Our banks have that much liquidity today but with aviation they just have some negative setbacks, they are doing it with other industries. The ecosystem we have today is very favourable. Let us find experts in this field, engage with them, develop a strategy and give the industry people some relief."
Captain Jitender Harjai, RWSI stressed, "The stage is not yet set for the growth of the helicopter industry in India. Before we get into the logistics and regulatory changes, I want to underline that foremost, we need the intention of building the nation. And nation building requires the 'will to do"; not for us but for the next generation." The hurdles include stringency in regulations, lack of infrastructure, absence of understanding the instrument (helicopter), the commercial environment, as well as the concessions/considerations, he added. "The government needs to step up; we understand operations cannot be funded for life time but subsidies, concessions can be given so that operations don't become a burden on the operator."
Asangba Chuba Ao, Joint Secretary, MoCA also mentions that in the last round of UDAN which was basically for small aircraft, mainly for helicopters, the kind of response received was overwhelming. Even though it was a leap of faith and we are still waiting to see how it takes off, this has certainly made us realise even more strongly that this is an area where we see a lot of interest as well as potential.
There are many issues when it comes to operations involving routes, airways, permissions, etc and that needs to be changed along with the mindset. Some of the expectations for growth of helicopter as laid out during the conference included:
The controller and ATS services' people need to be given a specific understanding of the helicopter operations. ATC special training programme should be set.
There are dedicated VFR (Visual Flight Rules) routes available throughout the world in which helicopters fly unrestricted, we have to work towards facilitating those too.
We have to prepare and the operators are advised to start training for night operations because night operations is a reality and to make this industry grow, the helicopter should be able to take off at any time.
Helicopter flying in far-flung areas won't be financially viable because the people it caters to are not financially that strong so support of state government or the national government will be required to sustain the operators who can fly to these far-flung areas.
There should be a reasonable cost for the operator to sustain and for the user to hire it.
Timely availability at various locations and 24x7 connectivity
Connectivity up to the last mile as in UDAN 4.2.
Regulations are interpreted as per the liking and comfort of different people responsible; this needs to be addressed.
GST has become every operator's concern and needs to be looked into.
Infrastructure to be improvised with heliports/helipads as well as for landing permissions, pins approach.
Have dynamic pricing, reduce unnecessary commerce loads.
Relaxation in handling and landing charges; custom duty.
Availability of AvGAS 100 LL.
Allowing temporary landings.
From financial hurdles to perception problems, infrastructural issues to restrictive regulations, the helicopter industry in India is seeking the ease of flying helicopters and having access to more airspace so as to increase the fleet which will further increase employment, facilitate more movement and in turn aid the economy.