The years, since the pandemic took over the world, have been an interesting time for the global GA/BA industry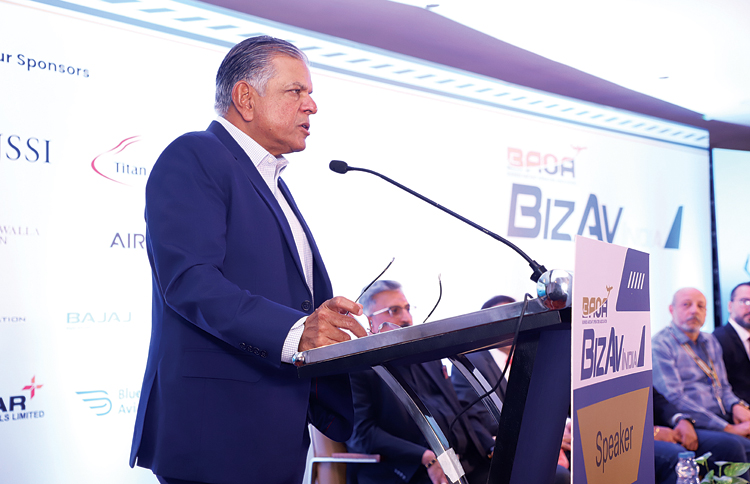 ROHIT KAPUR, PRESIDENT, JETHQ ASIA ADDRESSING THE CONFERENCE DELEGATES
The pandemic had proven to be a positive force in changing the perception that people largely held for the private aviation industry. With the COVID-19 virus hitting the world, the private aviation market did not see a downfall that was as severe as in the commercial aviation market. It rather witnessed a surge in demand for flights by business jets. The last couple of years ever since COVID hit the world have been a very interesting time for the GA/BA globally," remarked Rohit Kapur, President, JETHQ Asia during the 7th BizAvIndia Conference.
"After the initial shock, there was a surge in demand for charters and people wanting to purchase aircraft, resulting in a significant explosion in the industry. This kind of growth has not been seen in the last 15 years or so, and as a result, the OEMs were overwhelmed with demand. The pre-owned market also experienced a surge in demand, causing prices to rise to unprecedented levels, and even after these price hikes, finding good quality products was challenging. The charter industry also experienced a surge in demand, but they did not have enough aircraft to meet the demand, putting stress on the infrastructure, MRO, and supply chain," Kapur added.
The hike in demand during the pandemic was as much as double for some of the operators. So much so that coping with the increasing demand for private jets had become a challenge for the operators of private jets. This was the scenario globally. The Indian General Aviation/Business Aviation (GA/BA) industry also witnessed some of these positive trends and more importantly the due attention came upon this sector of aviation.
"THE GOAL TODAY IS TO GAIN A BETTER UNDERSTANDING OF EACH OTHER'S SPECIFIC ROLES IN AVIATION. WHILE OUR FOCUS IS ON OPERATING AIR OPERATIONS PROFITABLY, THE REGULATORS FOCUS IS ON ENSURING SAFETY. WE NEED TO BALANCE THE CONVERSATIONS AT THESE EVENTS BY UNDERSTANDING EACH OTHER'S RESPECTIVE JOBS AND COLLABORATING MORE EFFECTIVELY IN THE FUTURE."
—GROUP CAPTAIN RAJESH BALI, MANAGING DIRECTOR, BAOA
Mahesh Iyer, President, Titan Aviation Group underlined that the aviation industry has the potential to be a game-changer. With the right owner's mentality, businesses can make a lasting impact by flying in private jets, getting deals done and generating revenue through goodwill. Additionally, contributing to the aviation department can further enhance the industry's growth.
The aviation industry in India has undergone significant changes in recent times, making it a major player on the world stage, echoed Rajan Mehra, CEO, Club One Air. With world leaders visiting the country frequently, India has become the focus of global attention, not just in aviation but also in geopolitics and trade, he added. "There has been an explosion in commercial aviation, with Air India, IndiGo, and the new Akasa airline all buying bulk orders of aircraft, increasing their fleet and making their mark. This growth is unprecedented, similar to what was seen in the US probably 25 years ago. While the business aviation industry is showing improvement with more orders and planes, it is not booming like commercial aviation. However, this growth is likely to affect the business aviation industry as well."
CHALLENGES & CHANGES
Staying optimistic, Mehra stated that India has the potential to show a similar upward turn in business aviation as commercial aviation, given the ideal conditions for BizAv in the country. "The terrain, small towns, hills, and exclusive airports make it perfect for private jets. However, there are some constraints, including mental, regulatory, and perception-related challenges that need to be addressed."
"INDIA HAS THE POTENTIAL TO SHOW A SIMILAR UPWARD TURN IN BUSINESS AVIATION AS COMMERCIAL AVIATION, GIVEN THE IDEAL CONDITIONS FOR BIZAV IN THE COUNTRY. THE TERRAIN, SMALL TOWNS, HILLS, AND EXCLUSIVE AIRPORTS MAKE IT PERFECT FOR PRIVATE JETS."
—RAJAN MEHRA, CEO, CLUB ONE AIR
Some of the major challenges to be underlined include the rule-making process, the tariff, ground handling charges, security concerns as well as the utilisation rate. The panelists during the conference brought to light some other major challenges that have been a cause of concern for them as they navigate the industry.
"One of the major challenges for companies in this sector is managing expenses. To address this issue, promoting and recognising Aircraft Management companies can help streamline the process of managing a fleet of aircraft. Although there are many regulations in place, we must execute them in a constructive way to ensure efficient operations," said Iyer.
INDIA HAS THE POTENTIAL TO SHOW A SIMILAR UPWARD TURN IN BUSINESS AVIATION AS COMMERCIAL AVIATION, GIVEN THE IDEAL CONDITIONS FOR BIZAV IN THE COUNTRY
He further added that it is crucial to encourage smaller NSOPs (Non-Scheduled Operators) to collaborate with larger aircraft management companies that have the resources to provide proper due diligence and take care of their aircraft. By doing so, these smaller companies can grow their business while also ensuring safe and efficient aviation practices.
Funding, tax regime, ground handling charges, heavy import duties, discrepancies at the level of permissions, have been a constant discussion point for the industry, an ongoing debate. Despite the availability of funds, taxes remain a major pain point.
"IT IS CRUCIAL TO ENCOURAGE SMALLER NSOPS (NON-SCHEDULED OPERATORS) TO COLLABORATE WITH LARGER AIRCRAFT MANAGEMENT COMPANIES THAT HAVE THE RESOURCES TO PROVIDE PROPER DUE DILIGENCE AND TAKE CARE OF THEIR AIRCRAFT. BY DOING SO, THESE SMALLER COMPANIES CAN GROW THEIR BUSINESS WHILE ALSO ENSURING SAFE AND EFFICIENT AVIATION PRACTICES."
—MAHESH IYER, PRESIDENT, TITAN AVIATION GROUP
Captain Pankaj Joshi, CEO, Head Aviation, Bajaj Auto highlighted, "One of the biggest issues faced by private operators is aircraft parking. Operators often have to fly their aircraft for hours to find a suitable parking space, which is a national waste of resources. For example, a Pune-based company like ours that has been operating for 50 years in the city was asked to park their aircraft in Bangalore, which is an hour and a half away. The regulatory environment in India is also a cause for concern, with the development of infrastructure and changes in rules and regulations presenting additional challenges. Operators face difficulties in understanding which rules apply in which situations, leading to confusion and delays. Beyond parking issues, pilots are also experiencing difficulties in obtaining their license renewals due to the lack of designated parking for aircraft. These issues must be addressed to ensure the growth and development of the private aviation industry in India. Additionally, the interpretation of rules causing differences in opinions and the further hassle to operate has to be eliminated."
Group Captain Bali of BAOA brought to notice that prior parking permission for NSOP in any case is not required, like it was waved off for helicopters, same way it is being done, just at what level it has been implemented is something we are yet to confirm but it has been agreed, and we will get it implemented too.
"ONE OF THE BIGGEST ISSUES FACED BY PRIVATE OPERATORS IS AIRCRAFT PARKING. OPERATORS OFTEN HAVE TO FLY THEIR AIRCRAFT FOR HOURS TO FIND A SUITABLE PARKING SPACE, WHICH IS A NATIONAL WASTE OF RESOURCES."
—CAPTAIN PANKAJ JOSHI, CEO, HEAD AVIATION, BAJAJ AUTO
Kapur also pointed out, "To address these issues, there needs to be greater interaction between private aviation operators and the government. Operators themselves need to form committees to discuss their problems and work towards finding solutions. Young leaders should also step up and be supported in their efforts to effect change."
Giving context of the scenario, Captain Shanker Manrai, Technical Advisor (HSAAC), MoCA presented the scenario of the industry that ten years ago, the scheduled aircraft segment had about 305 aircraft, and now it has increased to over 700, representing an 87 per cent rise. However, for the non-scheduled aviation industry, there were 298 aircraft ten years ago, and we have only seen an increase of 19 aircraft, bringing us to 317. This growth is completely off from what was anticipated. Ten years ago, there were 146 operators, and now there are only 94, with 93 operators perishing. This reflects the nature of this industry. "The basic problem for the aviation industry, especially for the nonscheduled segment, is the affordability on both ends for operators and consumers/passengers. Another fundamental issue is accessibility on every level to access aircraft and reach any destination. This means that end points are there for operators. The biggest blocker is policy, and from policy flows regulation. We don't see rationality, flexibility, and implementability in the policies and regulations. There are a lot of inconsistencies, and the efficiency of airspace is also an important part. The PBN implementation plan is underway, and coordination with upcoming airports is also being worked upon for smoother functioning," he added.
CAPTAIN SHANKER MANRAI, TECHNICAL ADVISOR (HSAAC), MOCA, SAID "THE BASIC PROBLEM FOR THE AVIATION INDUSTRY, ESPECIALLY FOR THE NON-SCHEDULED SEGMENT, IS THE AFFORDABILITY ON BOTH ENDS FOR OPERATORS AND CONSUMERS/PASSENGERS."
The panel also brought out that the industry is now gaining recognition as a potential engine for economic growth as well. The perception that business aviation is only for the rich is changing, and the government is beginning to pay more attention to this sector. Overall, India is well positioned to become a major player in both commercial and business aviation, with the right policies and mindset, added Mehra.
"Looking ahead to 2023, the industry is expected to see some sort of correction as the current demand levels are not sustainable. While some people are predicting a crash, demand is still high, and the requirement for people to buy will continue. However, the current seller's market is likely to see some sort of correction, including pricing, which will be balanced out. It is already evident that the supply of aircraft is starting to correct a bit. In 2023, there will be stable demand with some correction, and in 2024-2025, the industry is expected to move forward strongly," Kapur remarked.