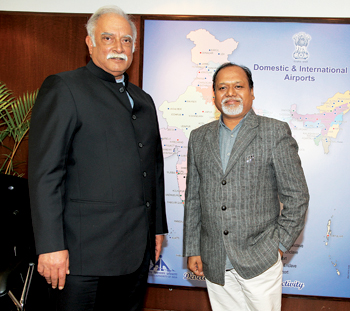 INDUSTRY IS WELCOME: Union Minister of Civil Aviation, P. Ashok Gajapathi Raju during the interaction
MRO WILL BRING INDUSTRY TO INDIA
Baranwal: I believe the draft policy sounded very friendly to the industry – what all have been the plans to enable the growth in the MRO segment?
Minister: MRO is one place where India has a lot to benefit. If we are able to bring in the policy, we will get the industry into India. Right now $700 million of Indian business is going to Singapore, Dubai, Sri Lanka and when you interact with them they are giving few things, one is the service tax and customs for the Government of India. We interacted with the finance and customs; they wanted time for spare parts to be changed to three years instead of one year right now. Currently, they get it, and if they consume it within one year and they don't have to pay the duty. They are asking for three years time and in informal consultations, they seem to understand the problem. Also, the states will have to come out with their VAT problem, so if the Government of India does that, then probably this industry might move to states which are friendly. In Delhi, everyone is trying to bring down the ATF, the Delhi Government has hiked it to five per cent. So like that you do have things happening. MRO will help us to get back business to our country, with it our 'Make in India' will become more vibrant, we are working on that.
GA/BA OPEN TO DISCUSSIONS
Baranwal: It will save lot of money outflow from the country. Regarding general aviation and business aviation, the industry still feels that they are being treated as a stepchild?
Minister: General aviation is interesting; we got some of their reactions. Why is it that, what is it they want, what is it we can do? Like if they say I want parking in a place like Mumbai, it is already congested. Like they say I don't mind parking in a place like Bhopal, for instance, you have 12 aircraft you can park simultaneously, no problem 12 big ones. What is this they exactly want?
Neetu Dhulia (Dhulia): If they come up with requisite solutions, would you be open to it?
Minister:
My god! I will welcome everybody. Why should I say no for it?
Dhulia: Would you welcome if the industry jointly wants to come and voice their thoughts?
Minister: You see voicing is okay, I even put the draft policy on the Internet and requested, please respond whether we agree or disagree. We can always agree on something and disagree on another thing, but we have to understand your problem.
Dhulia: If they raise the problem and seek support, would the government look into it addressing the issues?
Minister: Why not if they can raise anything and I am sure we will look into it.
Dhulia: Could we be instrumental in bringing them together for a discussion?
Minister: If you are willing to send the ideas across we can try to understand them and then if we find it necessary we can always interact, after all we are Indians, we are not different countries warring with one another. So general aviation feels like a stepchild, why is that I need to know?
GA /BA TAXATION
Baranwal: The level of taxation they say on the aircraft is very high unlike any country in the world.
Minister: Yes, that must be there, because generally scheduled airlines are given benefit because they are understood to be the common man's way of transport. General aviation has probably given this impression that it is only rich man's transport and that impression stays. So anyway whatever it is, they might be having other applications also, and we need to look at that.
Baranwal: Yes other applications, the business expansion, moving from one point to the other, like a business tool, contributing back to the economy.
Minister: Ultimately, aviation benefits from the economy. It also gives back to the economy. In that sense, aviation in general terms is that. Because, the economy appears to have behaved, your growths are there, otherwise it would not have been.
THE Rs. 2,500 CAP
Minister: Regarding "Regional Connectivity", I told you already that this one is in the manifesto, we are kind of looking at it like a sacrosanct thing. That is why it's in the policy we are looking at the certain suggestion which excited the thinking of many people, won't it be possible to pay for an hour of flying at Rs. 2,500.
Baranwal: There has been some debate on that Rs. 2,500 cap.
Minister: It's not a cap, it's not a floor, it's a suggestion. Caps and floors are dangerous. Regional connectivity is what you are thinking. The Airports Authority of India (AAI) itself has about 30 airports unserved, even today.
Now how do you start a service there? Otherwise, it's a non-performing asset; we want them to become performing assets because they will contribute to the economy. How to do that, that's the thing anyway, the work is going there.