By Lt. General P.C. Katoch (Retd)


Former Director General of Information Systems, Indian Army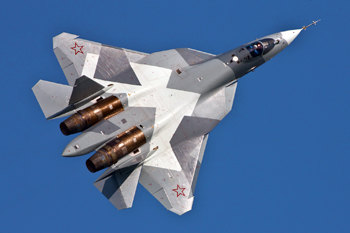 FGFA
Few weeks before Prime Minister Modi's visit to Russia for the annual bilateral summit between the two nations, news appeared that the Fifth Generation Fighter Aircraft (FGFA) would be coming soon – implying the joint Indo-Russian joint venture would be taking off soon. However, there was no mention of the FGFA during the Modi-Putin summit, which leaves everyone wondering how soon will be soon? It may be recalled that Denis Manturov, Russian Minister for Industry and Trade, had stated during the India-Russia Military Industrial Conference in New Delhi on March 17 that Russia supports the 'Make in India' initiative and is the only country that has regularly shared technology with India, including in the production of military aircraft, warships and advanced weapons systems. Earlier in February this year, speaking to the media on the sidelines of the Aero India 2017 exhibition Viktor N Kladov, Director International Cooperation and Regional Policy, Rostec had stated, "We are talking of new design and jointly developed fifth generation fighter jet.
It will have a new engine with fifth generation features... We are not talking about the PAK-FA (a Russian built prototype of the FGFA)." Defence Minister Manohar Parrrikar had also stated on February 14, 2107 that MoD had constituted a team to look into various aspects of the FGFA and it was likely to submit its report within a month. A year earlier, our media had reported that India pushing for talks with Russia for FGFA while the Russian media had said that both countries were finalizing the R&D design contract with both countries $4 billion each for the FGFA development. The R&D design contract was to be signed within 2016 in all probability, and that India is going in for an FGFA that would be a "variant" of the Russian single-seat FGFA termed Sukhoi T-50 or PAK-FA. The preliminary design of the Indian FGFA has already been worked out at a cost of $295 million, Russian developers having incorporated over 40 modifications that India wanted. Russian media had also reported that Russia has already permitted IAF test pilots to fly the prototype FGFA. There have been suggestions in recent times, perhaps wih vested interests, that while the issues facing the FGFA are still under discussion, the IAF should look elsewhere for its future stealth fighter. This is absurd, considering that India's indigenous Advanced Medium Combat Aircraft (AMCA) is set to fly on technology developed in Russia. India has the basic technology for the AMCA, however, critical technologies like thrust vectoring are being incorporated in cooperation with Russia.
Russian assistance for the AMCA project was sought in 2015 and a number of Russian companies are helping out. As per DRDO, four prototypes of the AMCA are expected in 2019 albeit that may be ambitious considering the time taken to develop stealth fighters in foreign countries, including countries like the US, Russia and South Korea experiencing developmental issues in such programs. The FGFA is important because the AMCA is to replace smaller ground attack jets such as the Mirage-2000, Jaguar and Mig-27, while the FGFA is to be an air superiority warplane, with ground attack and reconnaissance being secondary missions; heavy aircraft performing the role of that will perform the same role as the IAF's Su-30MKI - air dominance fighter. The IAF will always have a need for a mix of aircraft, including large, medium and small jets for a variety of combat roles. Therefore, both the FGFA and AMCA are required operationally, and further delay in the FGFA program, which is still on the drawing board, will adversely affect capacity building of the IAF. This must be understood by policy makers. Understandably, price negotiations take time but ultimately what matters is national security. The criticalities of the IAF are enormous and the FGFA under 'Make in India' will require large gestation period. China has already unveiled its fifth generation stealth fighter.
Intervening in the debate relating to MoD's functioning in Rajya Sabha on May 8, 2012, Leader of the opposition, Arun Jaitley (now Defence and Finance Minister) had said, "To analyze these security vulnerabilities of the country, the geo-strategic realities of India have to be re-assessed. Our defence preparedness today must be integral to these changed realities". Ironically, our two successive defence budgets including for FY 2017-2018, have been negative. China has already unveiled its stealth fighter and we must take into account the geostrategic reality of the enlarging China-Pakistan threat. We need to kick-start the FGFA project without wasting any more time.