By Lt. General P.C. Katoch (Retd)


Former Director General of Information Systems, Indian Army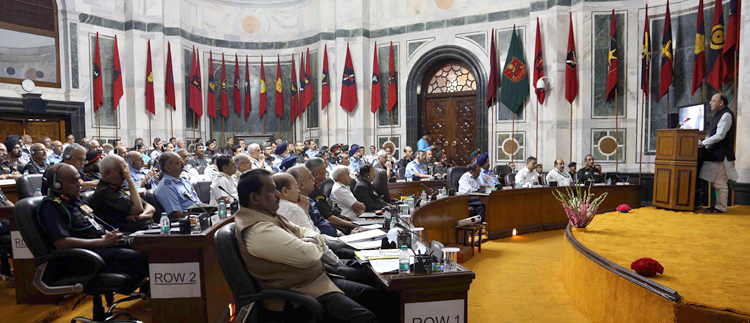 The Union Minister for Finance, Corporate Affairs and Defence, Arun Jaitley addressing the Unified Commanders' Conference, in New Delhi on July 10, 2017
At the recent two day Unified Commanders' Conference held on 10-11 July, Defence Secretary Sanjay Mitra apprised the audience that the Defence Cyber & Space Agencies and Special Operations Division (SOD) will soon become a reality. As per media reports, the special operations division will collate the three special operations forces of the Army, Navy and IAF, with their operations in support of offensive / or defensive operations. How soon SOD will get is anybody's guess considering that the outgoing President Pranab Mukherjee, as Defence Minister in October 2005 had stated that the government even had selected a CDS "few months back". But nothing has happened in the past 12 years.
In the case of SOD, it may actually fructify soon (in a year or two) along with the Defence Cyber & Space Agencies as mentioned by Mitra, given the upcoming general elections in 2019. What will be relevant to the establishment of the SOD is the shape it will come up, its manning, equipping, support, tasking, employment and command and control. Needless to mention that if we had the SOD that was appropriately employed; we would not have been surprised by the massive intrusions that Pakistan inflicted on us in Kargil during 1999. From the media reports, it is evident that the SOD will merely put together the Special Forces of the three Services. Unfortunately, the turf wars and inflated egos don't permit India to unite the way it should. Strategic sense should have indicated that the SOD should have integrated the National Security Guard (NSG) and relevant elements of the Special Frontier Force (SFF). Establishing an exclusive military SOD hardly meets the requirements of hybrid warfare. It is presumed that the SOD will be under the Chief of Defence Staff (CDS) with a Special Forces Cell directly under the CDS, but what will be its organization? In the US Special Operations Command (SOCOM), the Special Forces which are the teeth are one third of the overall manpower, balance two-third being support elements including civilian psychological warfare units. The SOD too in addition to 'Action Groups' will require: Special Operations Squadron (s); Support Group; Logistics Group; Intelligence Cell inked directly with the DIA, R&AW, NTRO and IB; Training Cell linked to the Special Forces Training School and latter placed under SOD; Cyber Cell; R&D Group and the like. It would also be prudent to raise the Marine Brigade, case for which is languishing in MoD for the last 20 years, and place it under the SOD.
It is reiterated that creating an exclusive compartmentalized military SOD is unlikely to meet our national security requirements. A dispassionate analysis should also make us arrive at the conclusion that the proposed SOD is unlikely to meet our strategic level needs; threats to India and our hierarchical structures are quite different from that of the US where US SOCOM caters for total requirements. What India needs is a two-tiered special operations capability: first tier under the highest political authority (the Prime Minister) for politico-military missions at strategic level and as deterrent against non-traditional threats (could be called National Operations Division (NOD), and; second tier as SOD under CDS as force multipliers for military operations beyond capabilities of regular military troops. The first tier is where the NOD based on a 'cutting edge' numbering about two-three battalions needs to be established, with the nucleus taken from existing Special Forces. Special Forces Teams (SFTs) of NOD individually may comprise 25-50 or more depending on the country / region and its relative importance in terms of national security objectives. They should have institutionalized access to integrated intelligence, varied insertion and extraction capability and adequate support elements.
It is important to remember that special operations are typically carried out with limited numbers of highly trained personnel that are adaptable, self-reliant and able to operate in all environments, and able to use unconventional combat skills and equipment, and special operations are usually implemented through specific, tailored intelligence The PM would need an advisory cell comprising Special Forces and R&AW officers tasked with: evolving a national doctrine and strategy for employment of Special Forces, oversee their manning, equipping, training, consolidation, operational and intelligence inputs, inter-agency synergy, strategic tasking and monitoring of all missions. The cell would continuously coordinate all source intelligence gathering and automated analysis and assessments (short, medium and long term) supported by an automated decision support system and real time dissemination to all concerned including provision of required operating picture. SFTs of the NOD should be tasked with: surveillance and target designation in areas of strategic interest; shaping asymmetric and conventional battlefield to India's advantage; deter opponents exploiting our fault lines; control fault lines of adversaries; undertake information / psychological operations and unconventional warfare; anti hijack; build partner capabilities with friendly countries; and provide cutting edge for strategic force projection. The SOD under the CDS should undertake employment at the operational level including tactical tasks supporting military missions. Special Forces are not meant for internal security. That is why the CCS note on which the NSG was raised had required the Army to provide manpower on deputation to NSG "only for 10 years", which has not been implemented. It is time that the police take on their own responsibilities for internal security; for internal security requirements, the police forces must raise their own specialists.